Julian Edelman Gives Tom Brady His Answer About a Comeback With Buccaneers
It was a storybook season for the Tampa Bay Buccaneers in 2020. They signed a legendary quarterback, Tom Brady, as a free agent. Brady encouraged a retired teammate to return to the NFL, and Rob Gronkowski played a significant role in helping the Buccaneers to their second Super Bowl title. But any thoughts of getting more of the band back together in Tampa Bay were quashed by Julian Edelman.
Edelman retired in April and said earlier this week that's final, despite what Gronkowski noted a couple of weeks back. Brady made a joke about Edelman retiring because he didn't want to face the wrath of Bill Belichick. Many athletes have done the retirement-unretirement dance, but Edelman seems sincere about being done.
Julian Edelman sounds like he's comfortable with his decision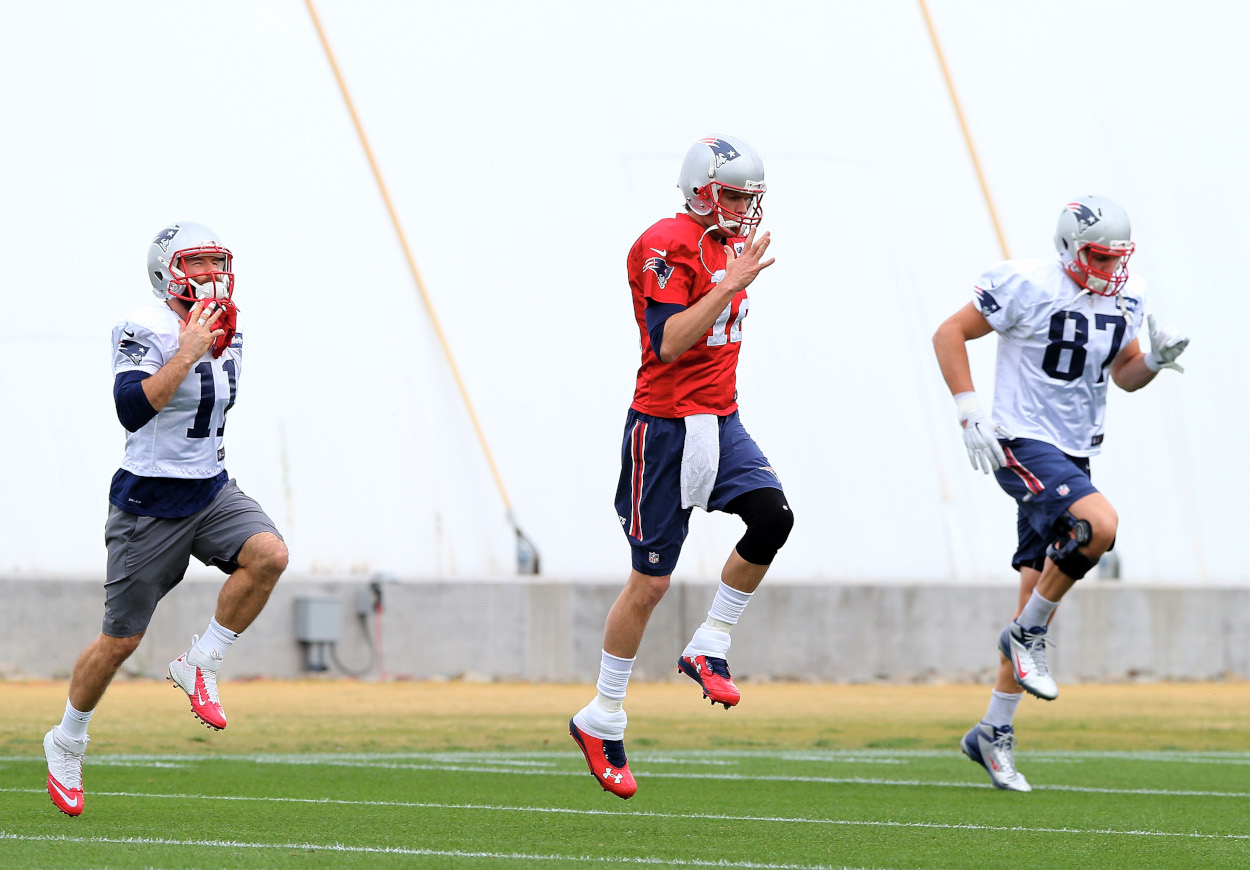 Appearing on The Michael Irvin Podcast Thursday, Julian Edelman made two points that make it apparent he is done.
"My knees breaking down, I'm not gonna sit here, you know, I got everything I wanted. I got three rings, played in a magical dynasty, with an unbelievable franchise coach, best quarterback of all times, like, yo, … I don't need anything else to prove."

Julian Edelman
Edelman emerged as a favorite target for Brady despite some humble beginnings. A quarterback at Kent State, Edelman moved to receiver after going to the New England Patriots in the seventh round. He had a pair of 100-catch seasons (2013 and 2019). Edelman was Super Bowl MVP in New England's victory over the Los Angeles Rams in February 2019.
Edelman caught 118 passes in 19 postseason games, averaging 12.2 yards per reception and scoring five touchdowns.
Gronkowski and Brady wanted a reunion
Whether joking or not, it sounded a lot like Julian Edelman was a wanted man in Tampa Bay. During an NFL draft show, Tom Brady joked Edelman was scared to tell Belichick he wanted to go to the Bucs. So he retired instead
Gronkowski told ESPN's Mike Greenberg on the Greeny podcast that he didn't know why Edelman wouldn't come back.
"Jules was an unbelievable player, and he literally gives it his all for his teammates. I just wish the best for Julian to heal up. Obviously, in his little press conference thing, he said he was going to go until the tires fall off, and he sure has. So I'm hoping he heals up. I want the best for him.

"I've been in that situation before. I believe, if Julian truly heals up whatever's hurting on him, and he fully heals and feels good, I think he'll be back. I don't know or see why he wouldn't be back, eventually in the future. Maybe a year or two away. Let me tell you: He's just a competitor. So I say if he heals up 100 percent and feels good, I think he'll be back in the NFL."

Rob Gronkowski
Edelman, however, says he has other plans now.
A television future for Julian Edelman
Like many former players, Julian Edelman will take a turn in front of the camera. He is joining the cast of Showtime's Inside the NFL. In addition, Edelman has a production company that has a deal in place with Viacom. The company will produce programming across that company's networks.
However, it doesn't sound like one of those shows will be a documentary about Edelman's return to the NFL. Edelman also downplayed Irvin's Hall of Fame discussions on Thursday.
"I'm not here to make a case, man. I didn't play the game to be in the Hall. … It's an honor even to be mentioned, you know, and if something happens, something happens, you know I'm not gonna be worrying about that. Imma be worrying about my new job here on 'Inside the NFL.'"

Julian Edelman
With three rings, a Super Bowl MVP, 620 receptions, and a legacy with the NFL's longest-running dynasty, Edelman is solid. Even without playing another down, he's had a better career than the majority of seventh-round picks, to be sure.
Statistics courtesy of Pro Football Reference.