Julian Edelman Finally Reveals Whether He Truly Plans to Join Tom Brady on the Buccaneers or Not
Is another reunion in the works? Ever since former New England Patriots wide receiver Julian Edelman announced his retirement earlier this offseason, many fans have been speculating whether he could actually change his mind about retiring. This would be so he could join Tom Brady on the Tampa Bay Buccaneers.
Well, it appears Edelman has finally addressed that speculation.
Tom Brady made jokes about Julian Edelman's Patriots departure
RELATED: Bill Belichick's Partnership With Tom Brady Is Over, but It Appears They're Currently on the Same Page About 1 Controversial Issue
Brady and Edelman recently appeared on the NFL's Draft-A-Thon Zoom Call, and when Edelman's retirement came up in conversation, Brady had jokes.
"We know Julian didn't retire, let's be honest," Brady said. "He's just too scared to tell Bill [Belichick] he wanted to come to Tampa."
Kevin Hart then asked Edelman if he's really done, and in response, the Patriots legend said he is. He did it with a wink, though, which has led to even more speculation. 
So, is he really retired?
He finally addressed his NFL future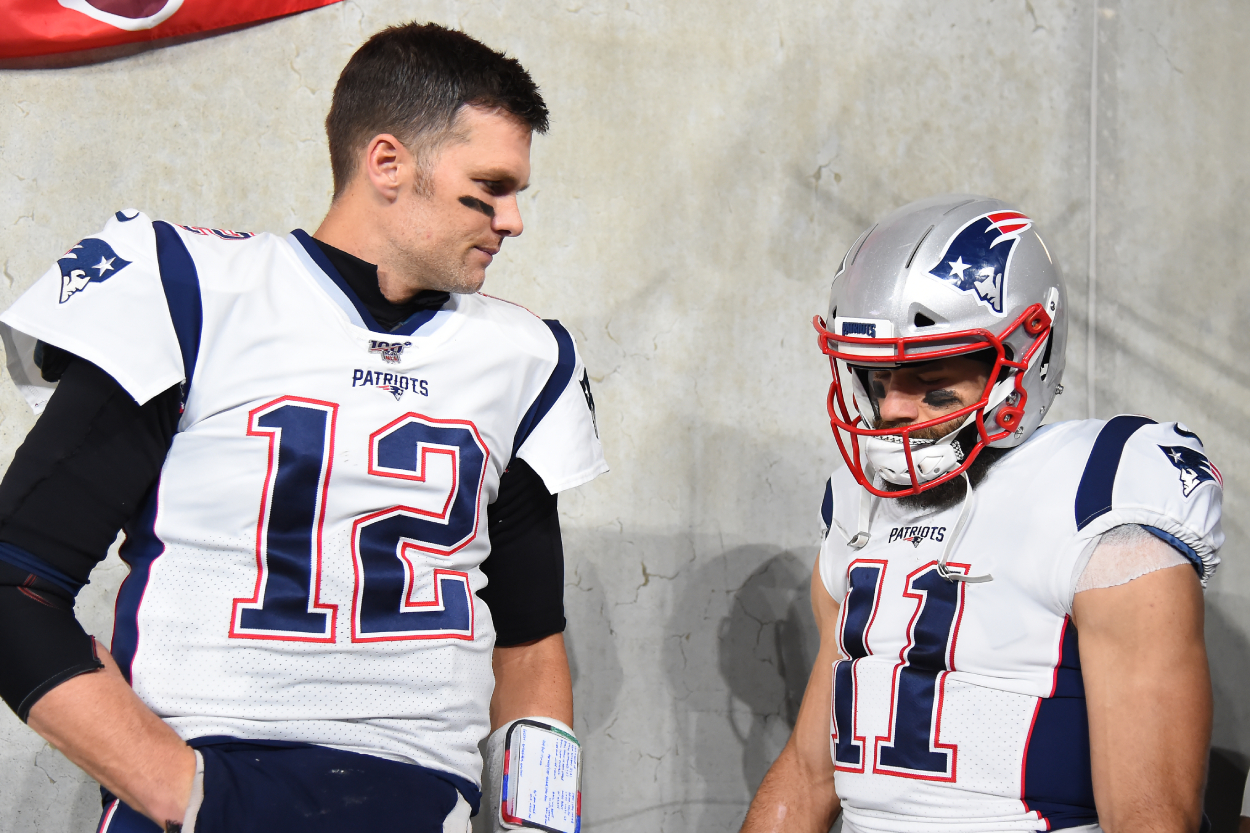 RELATED: Tom Brady Once Yelled 'Obscenities' and Threw 'Footballs' at a Patriots Teammate — for Doing Their Job
The Zoom call caught the attention of many, including former Indianapolis Colts punter Pat McAfee. On the April 30 episode of The Pat McAfee Show, McAfee speculated whether Edelman could go to the Tampa Bay Buccaneers, and then tweeted a clip of his show.
"If Julian does that after the 'Foxboro Forever' shirts," McAfee said, referring to t-shirts Edelman has been selling, "do you think the New England Patriots' fans will hate him forever? … If he doesn't go and join Tampa, I think he's an idiot. If he feels good, if his knee feels good, and he feels healthy; he knows that offense, him and Tom make magic together."
However, Edelman responded to McAfee's tweet a few days later with a tweet of his own. He ultimately gave the answer everyone has been waiting for, too.
"Ain't going any where Bubs #foxboroforever," Edelman said in his post.
That seems pretty clear. If Edelman's truly retired, is he a Hall of Famer?
Was Julian Edelman's career with the Patriots Hall of Fame worthy?
RELATED: Tom Brady Once Let His Anger Get the Best of Him While Gambling With a Teammate: 'He Then Takes the Board Game and Throws It'
Other than the Tom Brady/Buccaneers speculation, the other biggest question surrounding Edelman since his retirement has been whether he's a Hall of Famer or not.
Those in favor of Edelman making the Hall of Fame have brought up his three Super Bowl rings and Super Bowl MVP award. However, statistically, his resume isn't quite where it needs to be. Edelman never earned a Pro Bowl selection in his career, and he only gained over 1,000 receiving yards three times. His best season came in 2019 when he caught 100 passes for 1,117 yards and six touchdowns. Overall, Edelman caught 620 passes for 6,822 yards and 36 touchdowns. He also had 1,986 punt return yards and four career punt return TDs. However, his punt return yards are just 39th in NFL history. This is while his career receptions are just 75th and his career receiving yards are 156th.
Pro Football Reference has his Hall of Fame Monitor score at 36.18. The average score for a Hall of Fame wide receiver is 104.56, and the receiver with the lowest score to make the Hall is Tommy McDonald, who played in the 50s and 60s, and has a score of 55.03. The player with the closest score to Edelman to make the Hall, and at least play after 1987, is Andre Reed. His score is still significantly higher than Edelman's, though, as he has an 82.46.
This is essentially the long way of saying Edelman's chances of making the Hall of Fame are minimal at this point. That may, however, change if he decides to actually make the move to Tampa. But even if he doesn't, Edelman leaves New England as a Patriots legend.
Stats courtesy of Pro Football Reference