Julio Jones for Jordan Love? Tedy Bruschi Floats Ridiculous Idea to Make Aaron Rodgers Happy
Tedy Bruschi put together an impressive resume as a football player. Three Super Bowl rings to go with coming back from a stroke at age 31 bring a lot of street cred with it. But when attempting to weigh in on the Aaron Rodgers situation with the Green Bay Packers, Bruschi did a lot of talking about two possible solutions. One of them made absolutely no sense at all.
Rodgers is reportedly in Hawaii this week. That's interesting, considering many of the rest of the Packers are at the allegedly voluntary offseason team activities. (These used to be called mini-camps, but as with everything, longer names are better, right?) Adding to the intrigue in Packerland, Green Bay's top five wide receivers are also skipping OTAs. So, the next man up should Rodgers leave Titletown, Jordan Love, is getting a chance to develop his timing and chemistry with the throwing net.
Tedy Bruschi's take: Make Aaron Rodgers happy to stay, unless you don't
When longtime ESPN personality Kenny Mayne hosted his final SportsCenter, Aaron Rodgers appeared as one of his guests. As always, Rodgers had plenty of things to say. And as always, Rodgers made his most significant points by what he did not say. Praise for just about everyone in and around the Packers included coaches, teammates, and fans. It did not, however, include management.
So along comes Tedy Bruschi with a suggestion: Make Aaron Rodgers happy by getting him a big-time weapon.
With Atlanta Falcons wide receiver Julio Jones making the rounds as the popular trade-rumor target of the day, Bruschi made it simple. Trade Love for Jones. Nothing to it, right? Rodgers would no longer have that pesky heir apparent thing looming over his shoulder. On top of that, he'd have a Pro Bowl-caliber receiver (circa 2019, at least) to throw to.
But in his very next breath, Bruschi's solution switched to the absolute need to trade Rodgers because veterans don't want the distraction of having to answer questions about Rodgers should he stay.
For a former linebacker, Bruschi made one heck of an instant change of direction. Almost wide receiver-worthy, it was. Maybe if he's not busy, he could run some routes for Love.
First, the obvious: Getting Julio Jones for Jordan Love isn't feasible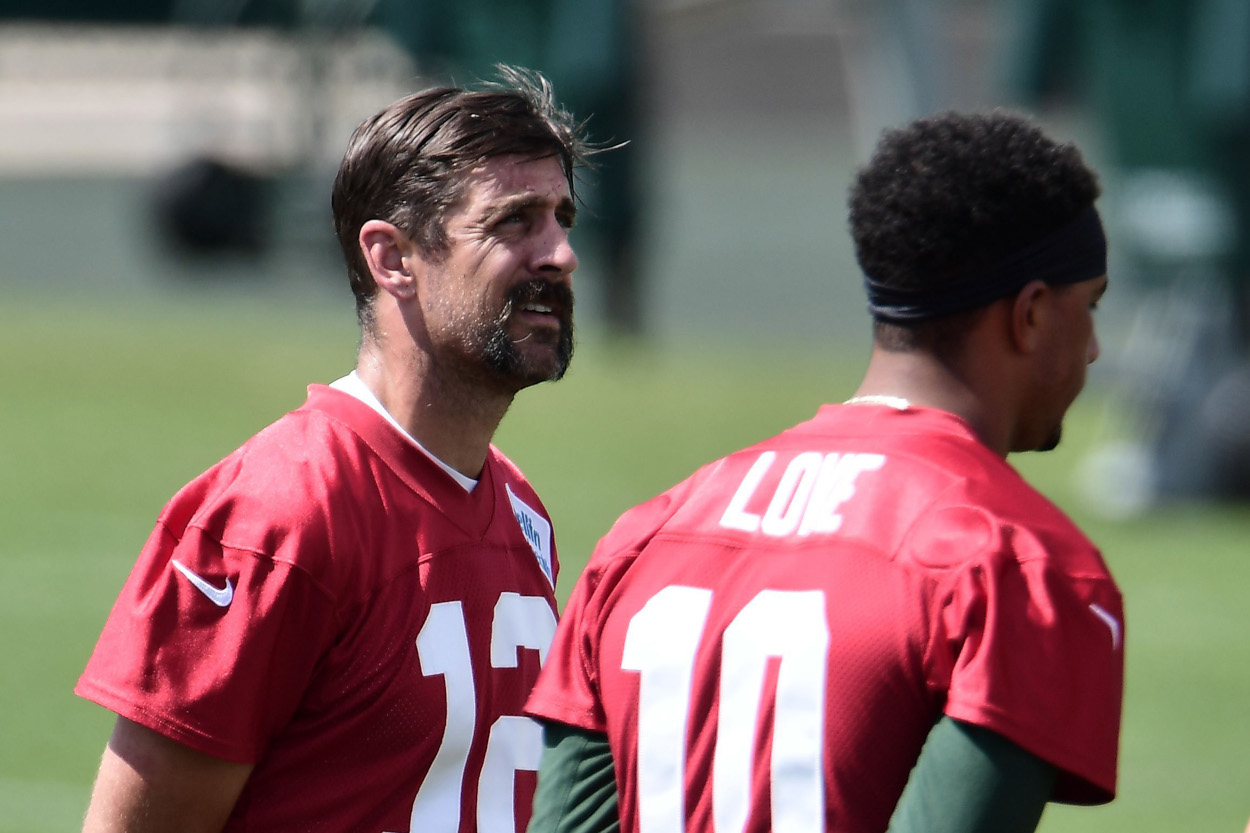 Per Over The Cap, the Green Bay Packers have a little more than $2.5 million in available space under the salary cap. Jordan Love has a cap number of roughly $2.8 million.
The Atlanta Falcons have around $338,000 available. Julio Jones has a cap number of $23.05 million. So this trade, as Bruschi proposed it, would miss by a tad. A more than $20 million tad.
That doesn't even mention the $23.25 million in dead money the Falcons would incur if the trade occurred before June 1. That number falls to $7.75 million after June 1, but that doesn't fit into a $338,000 space. At least not without some serious pushing and shoving.
For that matter, Green Bay would eat $4.9 million and change in dead cap space by trading Love before June 1. The $1.64 million figure after June 1 at least fits under their cap (even if Jones' salary so very much doesn't).
How does the Aaron Rodgers situation play out?
The man caught in the very middle of this Aaron Rodgers-general manager Brian Gutekunst staredown is coach Matt LaFleur. Being a professional football coach almost always translates into some issues about needing to control things. On that level, this must be difficult for LaFleur, what with the severe crimping of his offseason workout mojo.
But he's saying the right things, per Rob Demovsky of ESPN.
"I just want to keep it about the guys that are here right now. We're just going to continue to try to work through this, and hopefully, we can get (Rodgers) back in the building."

Matt LaFleur
Gutekunst made it clear Rodgers isn't available on the trade market. But if modern pro sports history tells us anything, everyone is open on the trade market. That is if the price is right.
The gap between OTAs and training camp won't be boring for the Green Bay Packers and their fans. Excruciating? Probably. But certainly not dull.
RELATED: Aaron Rodgers Must Face the Reality That the Packers Won't Bend to His Will