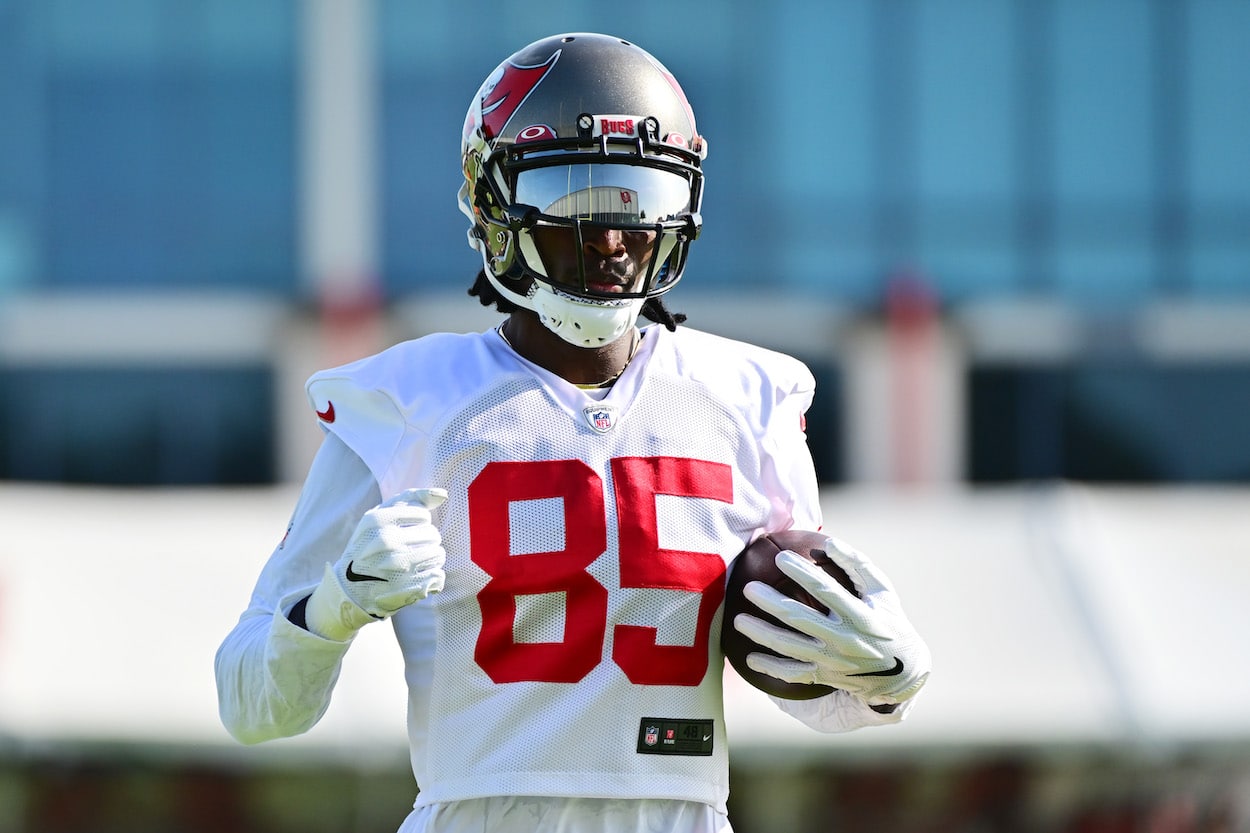 Julio Jones Joining Forces With Tom Brady is Bound to Leave Buccaneers Fans Disappointed
Don't expect too much from Julio Jones, Tampa fans.
Too bad for Tom Brady that it took this long for Julio Jones to finally become his teammate.
During TB12's later days in New England, persistent rumblings about a potential trade for the longtime Atlanta Falcons star gave Patriots fans dreams of their beloved quarterback throwing touchdown passes to one of the best receivers in NFL history. However, the Brady-and-Jones marriage didn't become official until July 27, 2022. 
While the Tampa Bay Buccaneers certainly turned heads by signing the seven-time Pro Bowl wideout, the likelihood of the move living up to the hype is low. In fact, as much excitement as fans of the NFC South franchise may feel at the moment, they shouldn't be surprised if they're ultimately left disappointed by season's end. 
Julio Jones injury history is a major red flag
At 33 years old, Julio Jones doesn't have quite the same speed or explosion he did in his prime. Plus, the big-bodied pass-catcher has dealt with quite a few injuries over the course of his legendary career —particularly in recent years.
After playing all 16 games in back-to-back seasons in 2017-18, Jones missed one in 2019 due to an AC joint sprain in his shoulder. Unfortunately for both him and the Falcons, his 2020 campaign was marred by persistent hamstring woes that limited him to just nine appearances. 
Things didn't get much better in Jones' first and only season in Tennessee, either.
Acquired for a second-round pick (the Titans and Falcons also swapped late-rounders in the deal), the 6-foot-3, 220-pound receiver struggled to overcome a Week 3 hamstring injury. Multiple setbacks left Jones available for only 10 games, and he totaled a mere 31 catches for 434 yards and one touchdown. 
Coming off those consecutive injury-riddled seasons, can the Buccaneers count on the aging wideout to stay healthy and be a consistent contributor? Draft Sharks puts Jones at a "very high risk" for injury (91%) and projects him to miss 2.5 games.
Perhaps being around the ultra-durable Brady will rub off on the fellow future Pro Football Hall of Famer. At the very least, Jones should consider trying the TB12 Method. Still, the odds of him making it through a 17-game season unscathed don't look particularly promising. 
Competition for targets caps Jones' ceiling 
Luckily for Tom Brady, he has an abundance of riches at his disposal. On the other hand, the presence of two No. 1 receivers and multiple other capable pass-catchers doesn't bode well for the quarterback's newest shiny toy. 
Between Mike Evans and Chris Godwin, you have two elite wideouts who recorded 114 and 127 targets, respectively, in 2021. Running back Leonard Fournette (84), tight end Cameron Brate (57), and slot receiver Tyler Johnson (55) also return from last year's team. In addition, the Buccaneers signed former Falcon Russell Gage to a three-year, $30 million contract in free agency that includes $20 million guaranteed.
Needless to say, they didn't make that type of investment to not feature him in the passing game. 
Ironically, Jones may not have as many opportunities to produce, largely because of his ex-teammate. Gage saw a major uptick in usage during Jones' final injury-shortened season in Atlanta, totaling career highs in targets (109), receptions (72), and receiving yards (786). Even if he doesn't see that type of action, the 26-year-old appears to be third in the pecking order behind Evans and Godwin, which would make Jones more of a package-specific player rather than an every-down force. 
The future Hall of Famer is more of a luxury than a necessity for the Buccaneers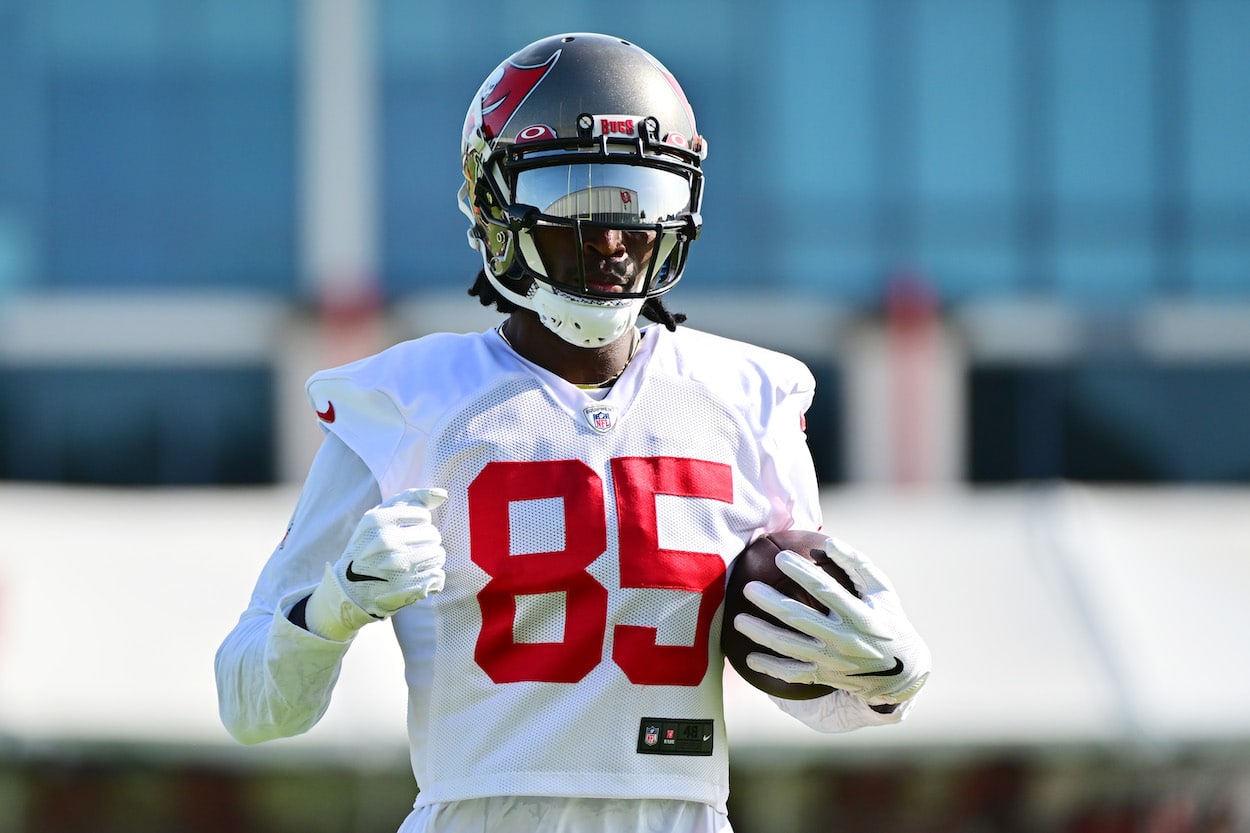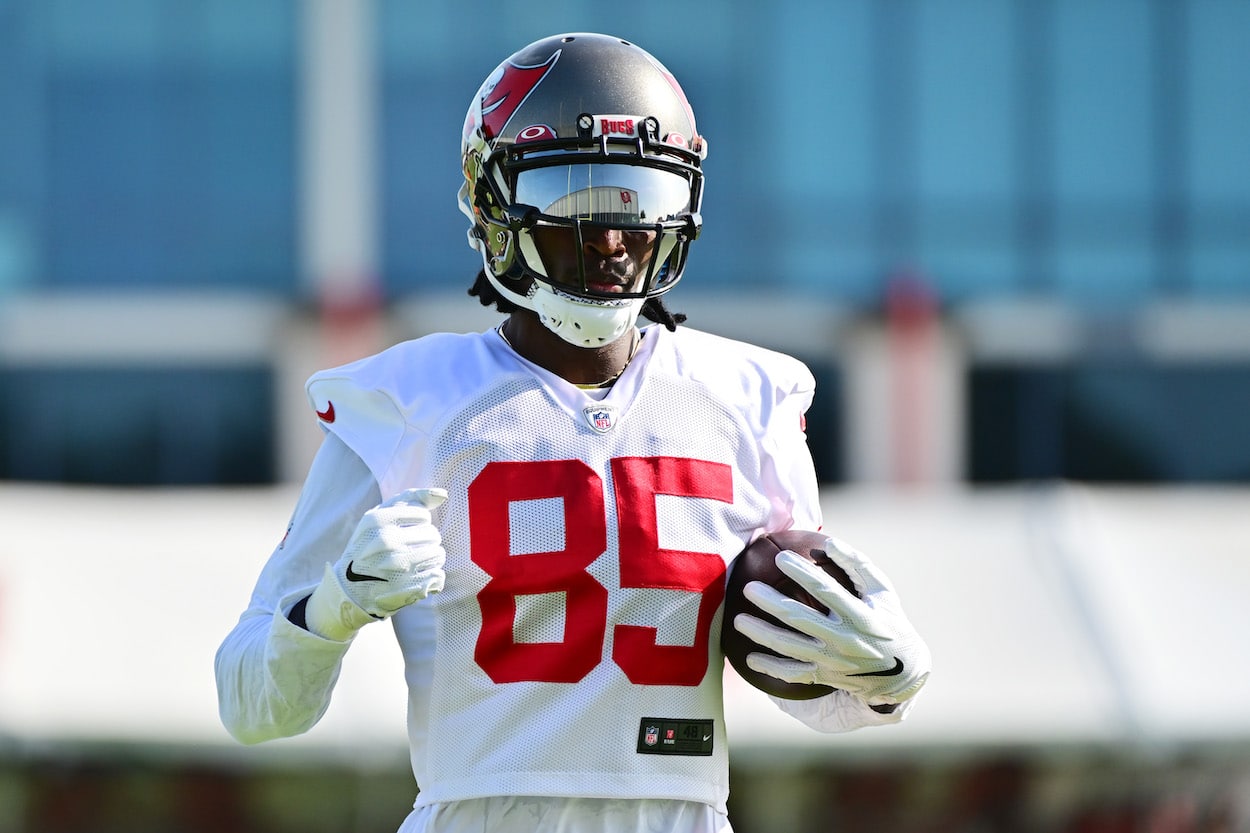 Look, nobody's wishing ill upon one of the greatest offensive players of the last 20 years. Given all the high-maintenance types who've starred at receiver, it's easy to root for the humble and hard-working Jones. And perhaps relocating to Florida will lead to a rejuvenation of sorts for the Alabama native. 
However, when push comes to shove, Jones is a luxury piece on an offense that's already deep at the skill positions. Sure, the Buccaneers lost Antonio Brown and Rob Gronkowski this offseason. But they inked Gage to a deal that pays him an average annual salary of $10 million, and they recently signed veteran tight end Kyle Rudolph, who comes to Tampa with 49 touchdown grabs in 156 career games. 
Tampa has plenty of flexibility and depth to attack defenses in whatever manner Todd Bowles and Byron Leftwich want. 
That gives Tom Brady an excellent chance to win his fourth MVP award. It gives the Buccaneers a legitimate shot to capture their second Super Bowl in three seasons. And it gives Julio Jones a clear path to cross the final item off his NFL bucket list. 
But Tampa fans shouldn't expect the vintage version of the high-profile wideout to star on Sundays. 
Just ask Titans fans how that experiment went.
Like Sportscasting on Facebook. Follow us on Twitter @sportscasting19 and subscribe to our YouTube channel.