Julio Jones' Lucrative Contract Has More Guaranteed Money Than Some Quarterbacks
If you happen to be an up-and-coming football player with a real shot at the NFL, one position will guarantee the biggest contract of all. It nearly goes without saying. Quarterbacks are the position that most teams live or die on. Their impact is too high for a free-agent market not to compensate them with huge, competitive contracts. Unless you're Julio Jones.
The veteran Falcons wide receiver makes his value known to the league. And he's compensated accordingly despite his position rarely earning the massive QB salaries that grab headlines. Let's look at Jones' lucrative contract.
Why Julio Jones' contract is a huge success for him and his agent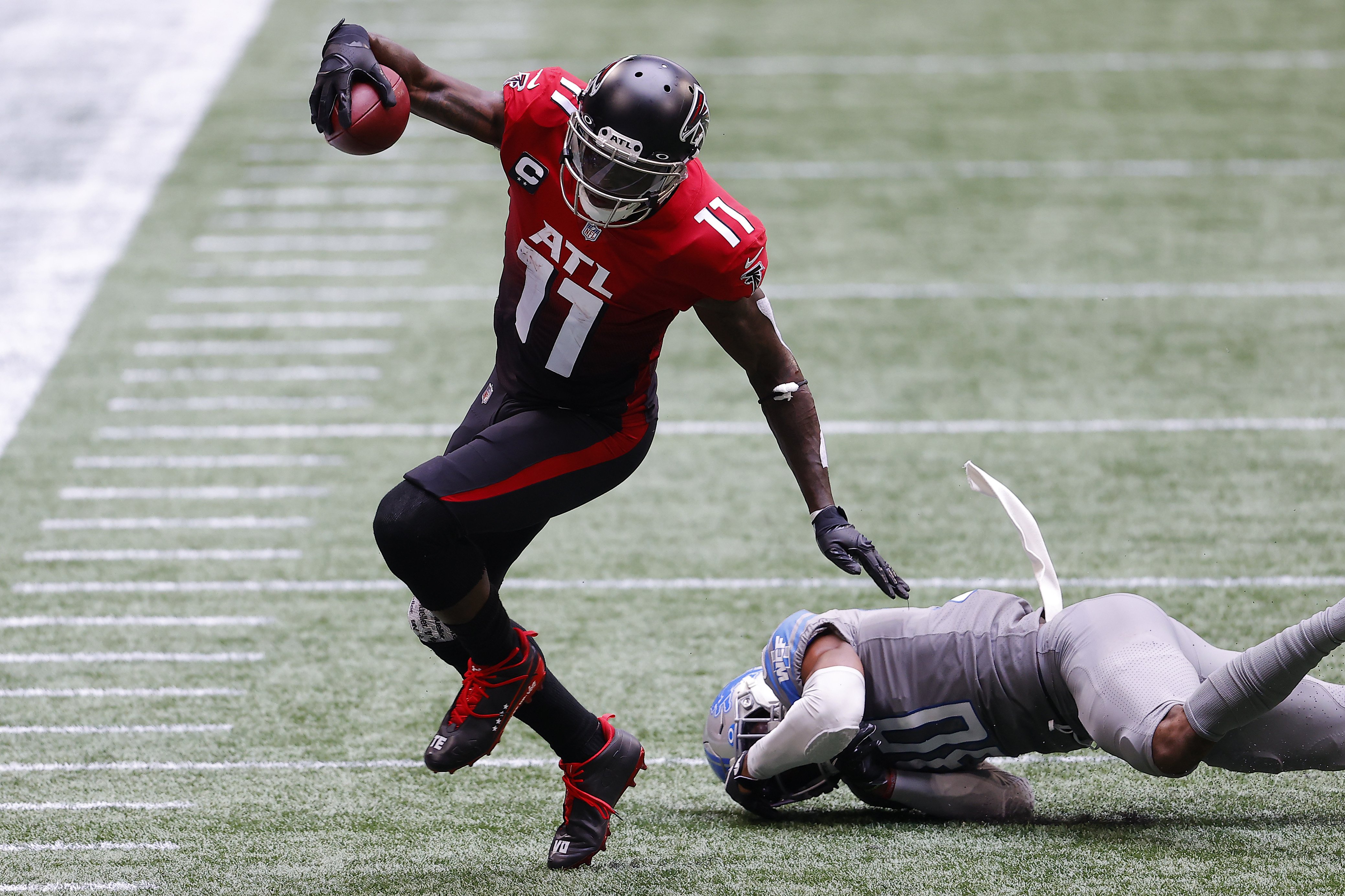 RELATED: Hendrick Motorsports, Alabama Crimson Tide in Mourning After a Terrible Tragedy
The Falcons picked up Jones with the sixth overall pick in the 2011 NFL draft. He was already a well-known superstar, thanks to his historic run with the Alabama Crimson Tide. It was a foregone conclusion that Jones would be a huge figure for the foreseeable future in Atlanta.
What couldn't be predicted was his longevity. According to Statista, the average wide receiver sticks it out in the NFL for just 3.3 years. Jones, on the other hand, is making up for any signs of physical decline with an intense work ethic and a mind for the game. Starting with his ninth year in the league, Jones was worth a massive three year, $66 million contract.
Is Julio Jones earning his massive deal?
Is Jones really worth such a huge deal, especially at his advanced age for his position? Receivers basically age in dog years, yet the 31-year-old Falcon is as dependable as they come. While his best year was back in 2015, his 2018 run earned him his contract according to Pro Football Reference.
That 1,677 receiving yards proved that he was still capable of career numbers. It improved notably over his 1,444 receiving yards in 2017. But, most importantly, he stayed healthy through much of his late-career spike in production. That explains the most attention-grabbing feature of his latest contract: 97% of that $66 million is fully guaranteed.
Why guarantees are so crucial in the NFL
QBs still dominate the list of highest-paid athletes from the NFL, according to Forbes. But will they actually take on every dollar they earn? Consider Jared Goff, who rates at 15th overall on Forbes' list of the top paid athletes in the world. The LA Rams starting QB plays under a four-year, $134 million contract.
Sports Illustrated reports that Goff's overall contract surpasses Jones' easily. But actual outcomes could actually lead to Jones having a safer deal, perhaps even walking away with more money for certain years if Goff doesn't perform to the highest standards. With only 42.6% of Goff's contract guaranteed compared to Jones' 97% deal, it's a distinct possibility.
It's an interesting discrepancy, once one digs into the numbers. QBs play at a low-risk position, at least relative to the overall brutality of most other spots in the NFL. That usually leads to deals that, in terms of guarantees, look more like the one Patrick Mahomes recently signed. Yes, that contract was unprecedented in many ways, but the easy guarantee milestones are common for QBs.
For Jones, though, that 97% guarantee is nothing short of a well-earned miracle. Injuries end most WR careers years earlier than his run has brought him so far. If Jones is hurt in a way that permanently slows his production for the remainder of his career, his future is still largely sealed for the better.