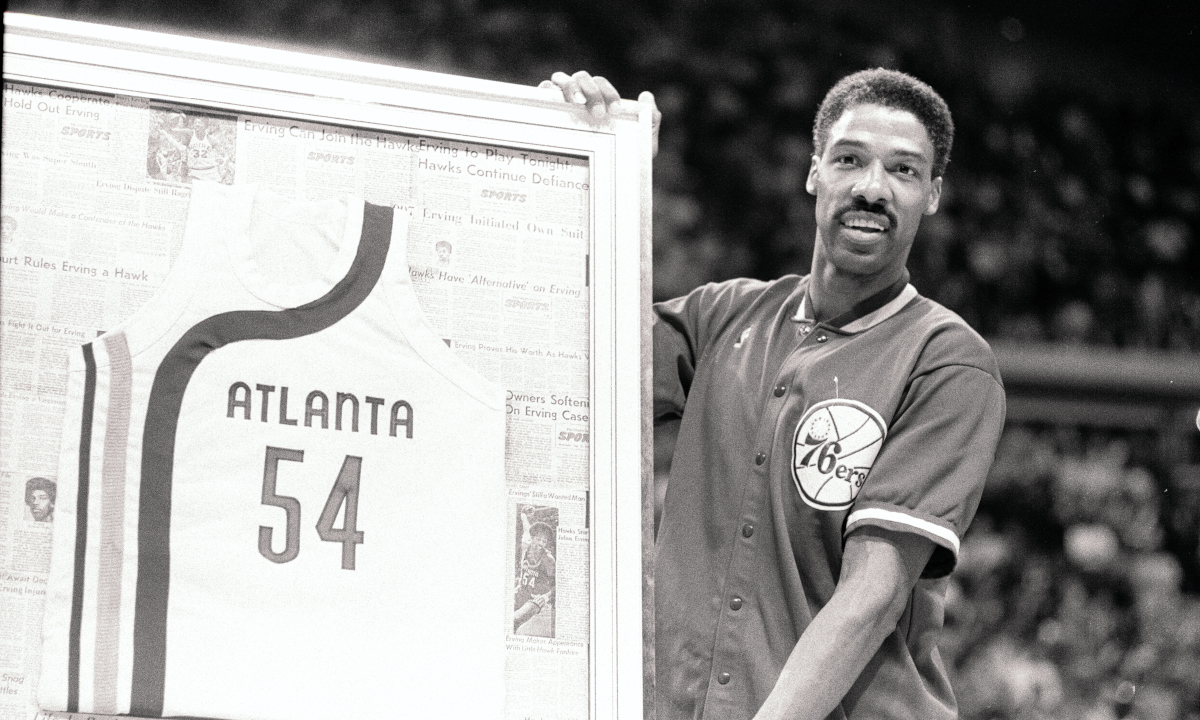 Julius Erving Was Only With the Atlanta Hawks for a Short Time but Fawned Over 1 of Their Stars: 'The Most Skilled Basketball Player I've Ever Seen'
Julius Erving was with the Atlanta Hawks for a short time during the 1972 preseason and teamed up with a player he later called the "most skilled" he ever saw.
A quick check of Julius Erving's career record shows he played 16 seasons as an ABA and NBA player. He spent two years with the Virginia Squires and three with the New York Nets before an 11-year stint with the Philadelphia 76ers. During those 16 years, he played with a legion of Hall of Famers. But if you ask him who was the most skilled player he ever saw, he'll name a guy with who he only played briefly for one preseason.
Erving's list of teammates reads like a Who's Who of Springfield Inductees. There's pioneer Charlie Scott, the first Black player at the University of North Carolina. He played with George Gervin, George McGinnis, Maurice Cheeks, Bobby Jones, Moses Malone, Charles Barkley, and Bob McAdoo as well, but none of them impressed Erving quite the way another short-lived teammate could.
Julius Erving briefly jumped to the Atlanta Hawks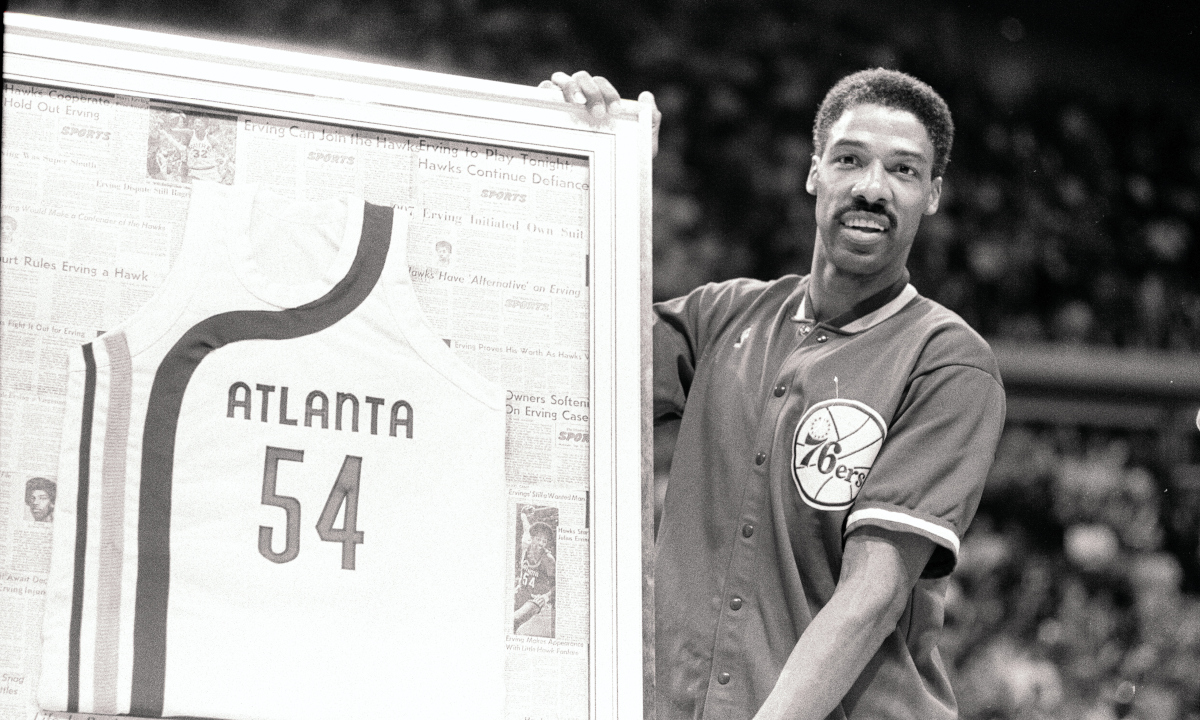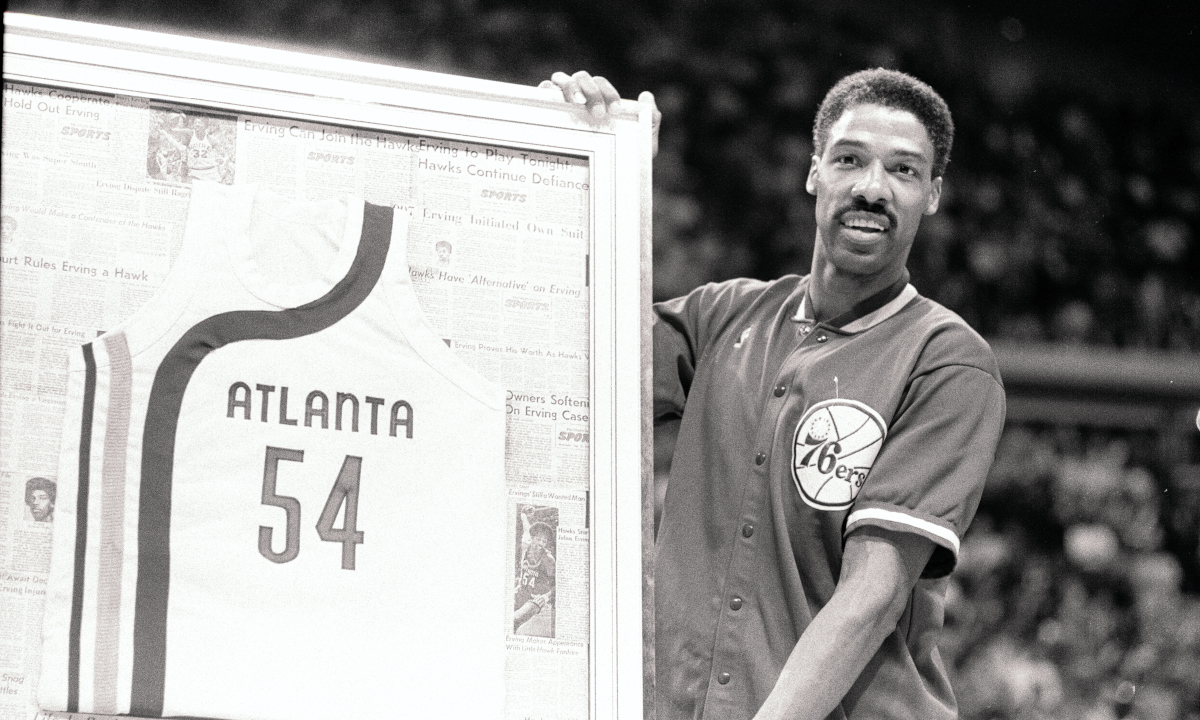 After his rookie season with the Squires, Erving tried to jump to the more established NBA. He got a $2 million deal from the Atlanta Hawks, per ESPN. There he would team up with another future Hall of Famer in Walt Bellamy.
But it wasn't to be. Virginia owner Earl Foreman filed for an injunction and got it, barring Erving from playing in the NBA. Beyond that, NBA commissioner Walter Kennedy fined the Hawks $25,000 for each exhibition game Erving played.
The Milwaukee Bucks used their first-round pick in 1972 on Erving. Atlanta signed Dr. J without having his rights. The NBA thought that was kind of a big deal; the Hawks eventually paid a $250,000 fine (later reduced to $100,000) and surrendered two second-round picks to the Bucks as compensation, per NBA.com.
After three exhibition games, Erving went back to the Squires. Virginia sold Erving to the Nets in 1973. (Atlanta recouped their losses for Erving's salary and assorted legal fees as part of that complicated transaction).
When the Nets joined the NBA in 1976, they could no longer afford Erving's asking price. New York sent him to the 76ers for cash. He's still considered the greatest Net of all time, with three ABA MVP awards and two championships to show for his three seasons on Long Island.
But the player he remembers most as a teammate never played with him in a game that counted.
Julius Erving and his practice battles with Pete Maravich
According to his 2013 autobiography, Dr. J, Julius Erving very much wanted to join the Hawks. Besides Bellamy, the Hawks had sweet-shooting Lou Hudson and a new coach in Cotton Fitzsimmons. And then there was Pete Maravich.
A collegiate legend at LSU, Maravich was a dynamic passer and ball-handler who could score as well as any player ever. After practices with the Hawks, Erving and Maravich engaged in some legendary one-on-one battles, playing to see who would pay the dinner check.
Erving said playing against Maravich was like nothing else he experienced.
"He's got the kind of shooting range that I've never seen before," Erving wrote. "He can shoot it consistently out to 35 feet, but if I'm going to go out there and defend that, then he'll cross me up on the dribble and get a layup or a dunk. Pete has some great ups, and while he's not known for getting to the rim, he throws some nice dunks down in our games, his hair flapping in the hot Georgia air."
Erving figured he and Maravich split things evenly on the dinner checks. But Erving felt free to make moves on the court he hadn't before — behind-the-back passes, jumping into passes in a way frowned upon by coaches.
But for all the great players Erving played with and against, Maravich stood out:
"Pete Maravich is the most skilled basketball player I've ever seen."
Coming from one of the greatest players ever, that's a tremendous endorsement.
Pete Maravich never tasted much winning
Pete Maravich played 10 NBA seasons, mainly with the Hawks and New Orleans Jazz. Knee trouble cut his career short, and the Boston Celtics cut him before the 1980–81 season. He died from heart failure in 1988.
Maravich won a scoring title in 1976–77 with the Jazz and was a four-time All-NBA performer. His career average of 44.2 points per game at LSU is still an NCAA Division I record, and his record of 3,667 points came in just three seasons (first-year students were not eligible when Maravich was in college).
His NBA scoring average of 24.2 points per game is in the top 20 all-time. He finished third in the NBA MVP voting in 1976–77 despite playing for a 35-win New Orleans club.
One of the great what-ifs in NBA history involves what Julius Erving and Pete Maravich could have accomplished together. It likely would have been legendary.
Statistics courtesy of Basketball Reference.