Julius Erving Goaded a Fellow Hall of Famer Into Staying Late at Practice Before Busting Him up in a 1-on-1 Matchup for the Ages
Julius Erving and George Gervin are legendary NBA players. Erving was NBA MVP in 1980–81 and won a ring with the Philadelphia 76ers in 1983. While Gervin never won a title or MVP hardware, Iceman was a four-time scoring champ who could beat just about anyone with his signature finger roll. They played in the same era, but few recall they were teammates to begin their careers.
Erving signed with the ABA's Virginia Squires in 1971. In January 1973, 20-year-old Gervin joined him. His college career at Eastern Michigan ended with questions about his eligibility. He also threw a punch at an opponent during the NCAA college division tournament as a sophomore. Erving was an immediate star in the upstart league, while Gervin's climb to greatness came a bit more slowly.
The partnership between Julius Erving and George Gervin ended quickly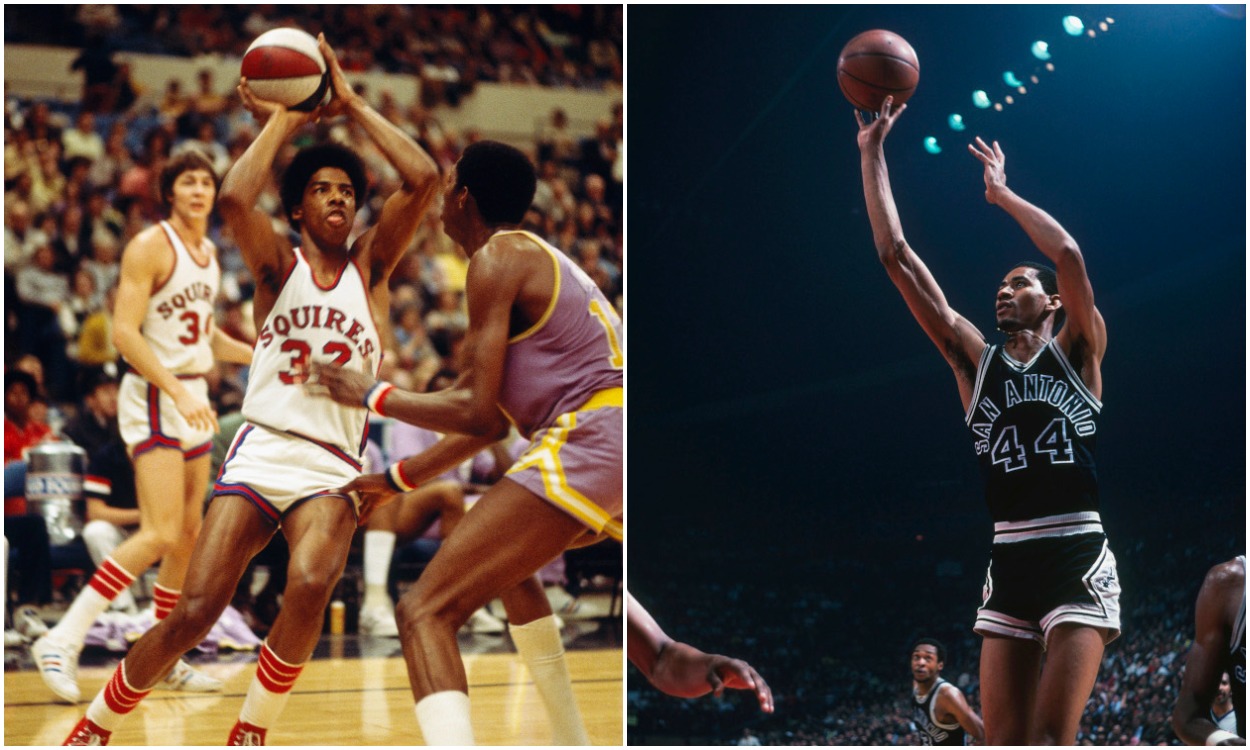 While the Squires had an excellent track record for stealing young talent away before the NBA could draft it, Virginia was never financially stable. As fast as the great players came, they left.
The team signed North Carolina star Charlie Scott in 1970. He jumped to the NBA before the end of his second season. Julius Erving tried to go to the NBA only to return to Virginia by court order. After his second year, he went to the New York Nets for cash. George Gervin left at the All-Star break in 1974 the same way, dealt to the San Antonio Spurs.
The Squires limped to the finish line in the ABA, finishing their last two seasons with a combined record of 30–137. The ABA folded the franchise before an agreement with the NBA brought the Nets and Spurs to the established league with the Denver Nuggets and Indiana Pacers. The owners of the Kentucky Colonels and Spirits of St. Louis received lucrative deals to fold.
But during their short time together, Erving and Gervin teamed up for an epic one-on-one battle.
Dr. J tells the story of goading George Gervin to stay after practice and work
During a recent appearance on the Knuckleheads podcast with Quentin Richardson and Darius Miles, Julius Erving remembered a one-on-one matchup for the ages with George Gervin in 1973:
"It was practice, man. He was trying to go home, and I said, 'Well, you can't leave, man! We gotta go into the gym; we still got work to do.' He came midseason after we replaced Charlie Scott on our team. He was going to go home, and I said, 'Nah, let's go to the gym.' So I wasn't holding back, you know, I wanted to see what he really had. And then Ice would go in and do this move where he always kept his eyes on the little white square.
"He started coming in; I was like, 'What you looking at, man?' And he said, 'I'm looking at the big square.' And he was placing the ball on different spots on that big white square."
Erving got the better of the matchup. Gervin remembered the game in a much more humbling way.
Iceman gave props to Julius Erving for the lessons he delivered
George Gervin was barely out of his teens when he joined Julius Erving with the Virginia Squires. Erving was only 22 when Gervin signed but was already an All-ABA player.
Gervin told Richardson and Miles during a December 2020 episode of Knuckleheads that the one-on-one beatings from Dr. J helped his career:
"Being in the ABA, we didn't have that national media exposure. But we all knew who the Dr. J was. And, you know, having that opportunity to play with him as a rookie gave me the confidence as a rookie to succeed in my own career. You know, me and Doc, we used to practice. And then after practice, Dr. J used to come get me and say, 'Hey, we're going one-on-one.' So most practices, me and Doc played one-on-one after practice.
"Now, the Doc operated, but he gave me the confidence too, after a week or so. Then the Iceman in me came out because I was probably a better jump shooter than Doc. Doc was more of a scorer. Once I understood what I was dealing with, the one-on-one games got even."
Erving retired after the 1986–87 season and entered the Hall of Fame in 1993. While Gervin's final NBA campaign was in 1985-86, he played until 1990 in Italy and the Continental Basketball Association.
Reunited in Springfield, Julius Erving and George Gervin are enduring knights of basketball. Gervin credits some of that to what he learned from Erving when both were young Squires in a maverick league.
Statistics courtesy of Basketball Reference.
RELATED: Julius Erving Makes a Case for Why the Philadelphia 76ers Need to Give Ben Simmons More Time