Julius Erving Makes a Case for Why the Philadelphia 76ers Need to Give Ben Simmons More Time
Julius Erving was a generational talent in the 1970s. A superbly athletic wing who could jump out of the gym and control the ball in his giant hands, Erving was an All-Star in each of his 16 pro seasons and was a four-time MVP in the ABA and NBA. But Dr. J was also a player who had consistency issues with his jump shot, so he's familiar with some of the difficulties young Philadelphia 76ers star Ben Simmons is having.
Erving also was on the cusp of the old-school days of pro basketball and the new era when players began to receive creature comforts such as private planes and top-of-the-line accommodations on the road. As such, he recognizes today's generation of players has things easier than did his era. Taking that all into account, though, Erving believes the 76ers need to give Simmons more time and space to work through his problems rather than trading him away.
Julius Erving became a cult superstar in a dying league
For an object lesson on how the NBA learned to market its stars, one need not look much farther than how the ABA handled the rise of Julius Erving to superstardom. Erving left the University of Massachusetts after his junior year.
Ineligible for the 1971 NBA Draft, he signed a four-year contract with the ABA's Virginia Squires and took the new league by storm. When Virginia ran into financial problems, which it often did, Erving was sold to the New York Nets and spent three seasons in the league's biggest market.
After the merger, Erving's demands for a new contract led the cash-strapped Nets to sell the most outstanding player in franchise history to the 76ers. That is where his link to Ben Simmons comes into play.
Erving believes in Ben Simmons
Julius Erving has never been shy with his praise for Ben Simmons. In 2018, Erving told ESPN just how special he believed the youngster was.
Simmons notably struggled during the playoffs, particularly during Philadelphia's shocking seven-game loss to the fifth-seeded Atlanta Hawks in the Eastern Conference semifinals. He didn't attempt a fourth-quarter shot in the last five games of the series. Simmons faces long-standing criticism over his reluctance to shoot from more than a foot from the cup.
Erving is preaching patience with a player who fans have clamored to see excised from the Philadelphia roster. The Doctor is fully aware it's been a long time since the 76ers won an NBA championship; he was on the last team to do so in 1983. He talked about the Simmons situation on the Nothing Personal with David Samson podcast.
"So it's been a long drought in Philadelphia; our fans are eagerly waiting for the team to get over the top. There's a lot of controversy with the Ben Simmons situation, but it seems like the team is staying pat with their big three of Joel (Embiid), Ben, and Tobias (Harris). I think if they add pieces, get another year in with Doc Rivers because, you know, last year was his first year on the job with the Sixers. Sometimes you need time with people to really know how to bring out the best in them."
If nothing else, a bit more patience with Simmons falls in line with trusting the process. That's still a thing in Philadelphia.
Julius Erving still thinks today's players are 'softer'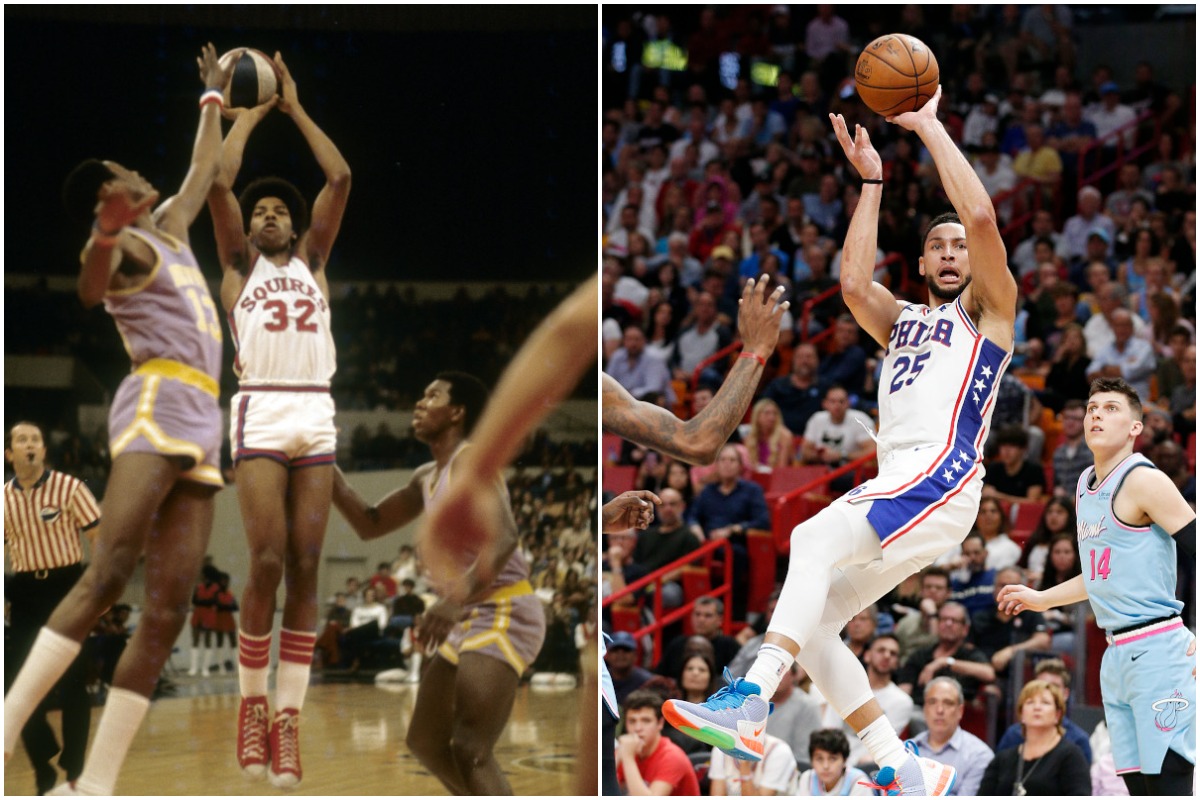 Julius Erving played when teams flew commercial, played three and sometimes four nights in a row, and didn't have many creature comforts. Today's generation of players is much different.
"That was the good old days; it kept the humility intact. You felt honored to be a professional athlete and not privileged because there were just some things you had to suck it up and go do. … We didn't have a lot of the conveniences they have today, but that's OK. I think it's made some of the players a little softer than the '70s, '80s, '60s, and '50s players, but there's fan appreciation for the softness and the finesse, and it is what it is."
Give Julius Erving some kudos for not dismissing today's generation of players as having it too easy. He also has a point that the 76ers have invested too much into Ben Simmons to pull the ripcord without giving Rivers a chance to get things on track.
Like Sportscasting on Facebook. Follow us on Twitter @sportscasting19.
RELATED: Ben Simmons Could Force the 76ers' Hand With His Next Move