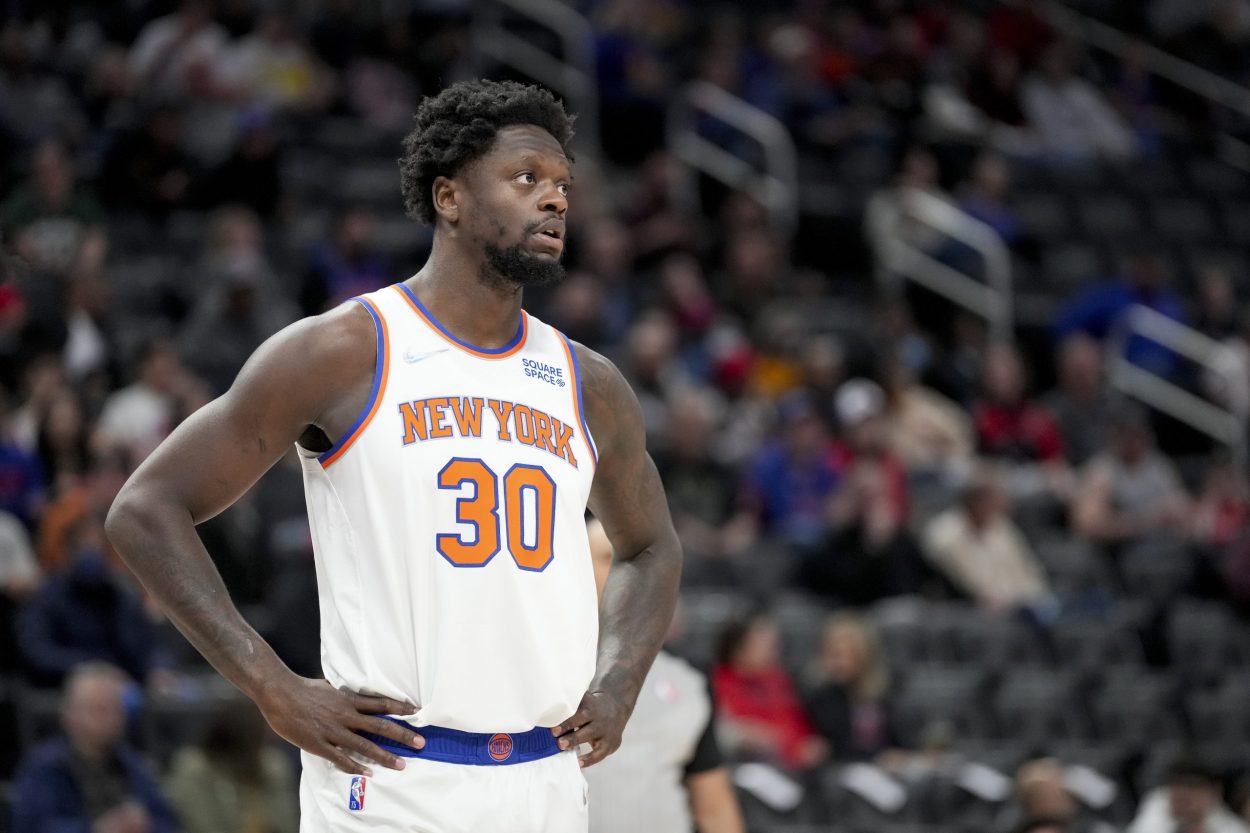 Julius Randle Defiantly Denies Rumors That He Demanded a Trade
New York Knicks forward Julius Randle has been the subject of trade rumors and apparent angst all season. But he denies requesting a trade.
The 2021-22 NBA season surely hasn't been the kind of encore that New York Knicks forward Julius Randle wanted.
After winning the Most Improved Player Award last season, Randle has struggled to replicate his success this time around. He's also had difficulty dealing with the pressure, making thumbs-down gestures at Knicks fans and grappling with the Knicks' unsuccessful efforts to trade him before the Feb. 10 deadline.
However, Randle remains insistent that he wants to stay in the Big Apple.
Recent reports alleged that Randle submitted a trade request to New York's office. The 27-year-old responded to the rumors on Wednesday, and he doesn't seem to have a pressing interest in playing for another franchise.
An explosive and unfounded report alleged that Julius Randle demanded a trade from the Knicks
The Knicks earned a win over the Chicago Bulls on Monday, but Randle didn't exactly relish the victory.
Randle scored just five points on 1-of-9 shooting from the field. He hardly touched the ball late in the game and did not attempt a single field goal in the fourth quarter. The Dallas native quickly exited the floor and reportedly took his grievance right to the executive boxes.
Craig Carton of WFAN Sports Radio reported that Randle made an official trade request after the Bulls game. Carton noted on the air that his report was unconfirmed, but he stated that the rumor had "legs" and that Randle made it clear he was "done as a Knick."
In a market such as New York, this kind of rumor surrounding a polarizing star such as Randle is sure to garner plenty of engagement. It's not as if the report lacks sensibility, either. The Knicks forward has been visibly frustrated on numerous occasions this season.
Still, a player's voice matters, and Randle is using his to reaffirm his commitment to the franchise.
Randle denied the rumors and expressed a desire to stay in NYC
Julius Randle just signed a $117 million contract last summer. The first year of that deal hasn't gone as planned for Randle or the Knicks, but he hopes to see things through.
The former Kentucky Wildcats star responded to the unfounded reports regarding his alleged trade request, calling it malarkey. Randle stated (h/t SNY) that nothing is not accurate unless it comes from him directly.
"I mean, that's just not true bro. It's just not true. Simple as that. It's just not true at all. If it ain't coming from me, it ain't true."

–Julius Randle on latest trade rumors
The reality is that Randle probably isn't going anywhere even if he does want out. Although the All-Star forward has shown flashes, his scoring average is down 4.0 points, while his player efficiency rating (PER) has dipped from 19.7 in 2020-21 to 15.8 during the current campaign.
Next season is the first of Randle's upcoming contract extension, which will pay him over $29 million in annual average value (AAV). Unless the Knicks accept a somewhat lighter return or attach draft compensation, it's unlikely that they trade Randle this summer.
Can the two sides smooth things over?
Reasons for Knicks fans to feel encouraged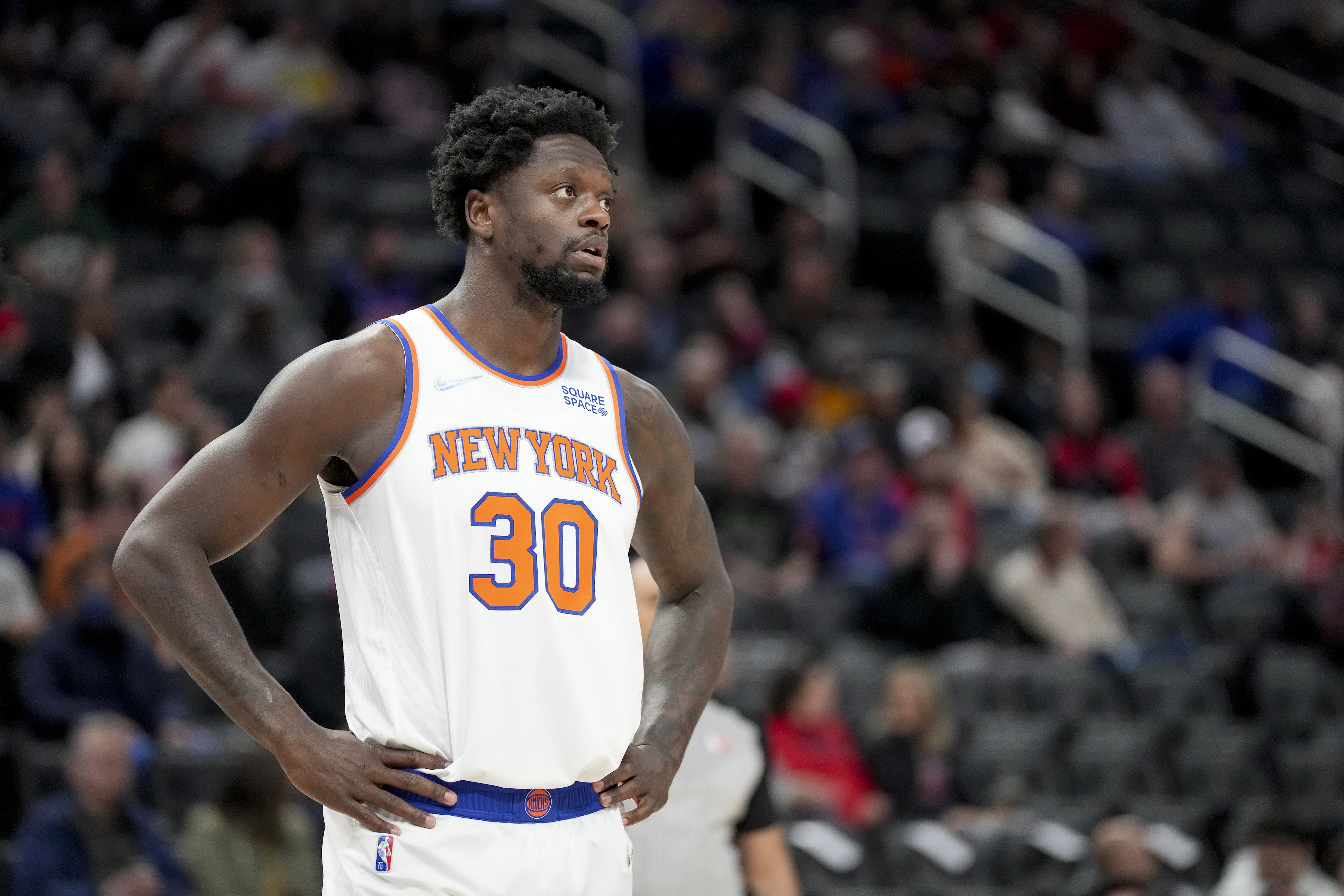 Knicks fans will find little solace in missing the playoffs just one season after a surprising run to the No. 4 seed in the Eastern Conference. But there have been encouraging signs.
RJ Barrett hasn't been quite as efficient this season, but he's made leaps as a scorer and shot-creator. Obi Toppin still shows promise as a two-way, undersized 4-man who can (ideally) space the floor and make plays in transition. Immanuel Quickley's slashing ability and playmaking upside are notable.
Randle has been even more inefficient since the All-Star break and occasionally looks disengaged on both ends, particularly on defense. Still, he's proven himself capable as a guy who can score and infuse the offense with playmaking.
The best thing for the Knicks might be to turn the page on this season and look ahead. If they can shed some veteran salaries and reconstruct the roster with an eye on players who can make Randle's job easier, that might show a level of dedication to reasserting him as a franchise cornerstone. A coaching change might also benefit New York.
It's been a disappointing season in the Big Apple. But Randle seems to understand that the Knicks are still building. He might have openly expressed dismay throughout this season, but shooting down the rumors and expressing a will to meet the challenges head-on seems like a positive step from a leadership perspective.
Stats courtesy of Basketball Reference.