Julius Randle's Reportedly Low Trade Value Could Doom the Knicks Before the Deadline
The New York Knicks very likely want to act like a big-market NBA franchise before the Feb. 10 trade deadline. However, Julius Randle's reputation has seemingly taken a hit this season, which could negate any possibility of the Knicks making a splash.
Randle's on-floor performance is markedly worse this season. He's also stirred the pot with his "thumbs-down" gesture and unfollowing the Knicks on Instagram. Both sides could use a reset, but New York could have difficulty flipping Randle for a young star of substance.
Julius Randle, hypothetically, is the Knicks' best trade asset
Despite the tumultuous nature of this season, Randle is probably the Knicks' best trade asset ahead of the NBA trade deadline.
The 27-year-old made All-NBA Second Team and won the Most Improved Player Award last season. Randle can handle the ball and make plays for his teammates off the bounce. He's also capable of stretching the floor and pulling opposing bigs out of the paint.
Now, one season does not define trade value. Randle's scoring average is down over five points as his three-point percentage has plummeted, and the Knicks have been far worse with him on the floor.
Still, there's reason for optimism. Since his early days with the Los Angeles Lakers, Randle has projected the athletic, stretch-4 skill set. He's been a slightly above-average defender (per defensive box plus-minus) in each of the past two seasons, as well.
It's entirely possible that Randle could regain confidence from a change of scenery and build back to All-NBA status. Sure, his upcoming four-year, $117 million extension currently looks like an albatross, but it's a value contract if the former Kentucky star finds his stride.
New York could use a rising backcourt or wing star. Attaining such a player would likely necessitate trading Randle. However, the Knicks could struggle to convince opposing teams that he is a star-caliber player.
Randle's trade value is reportedly tanking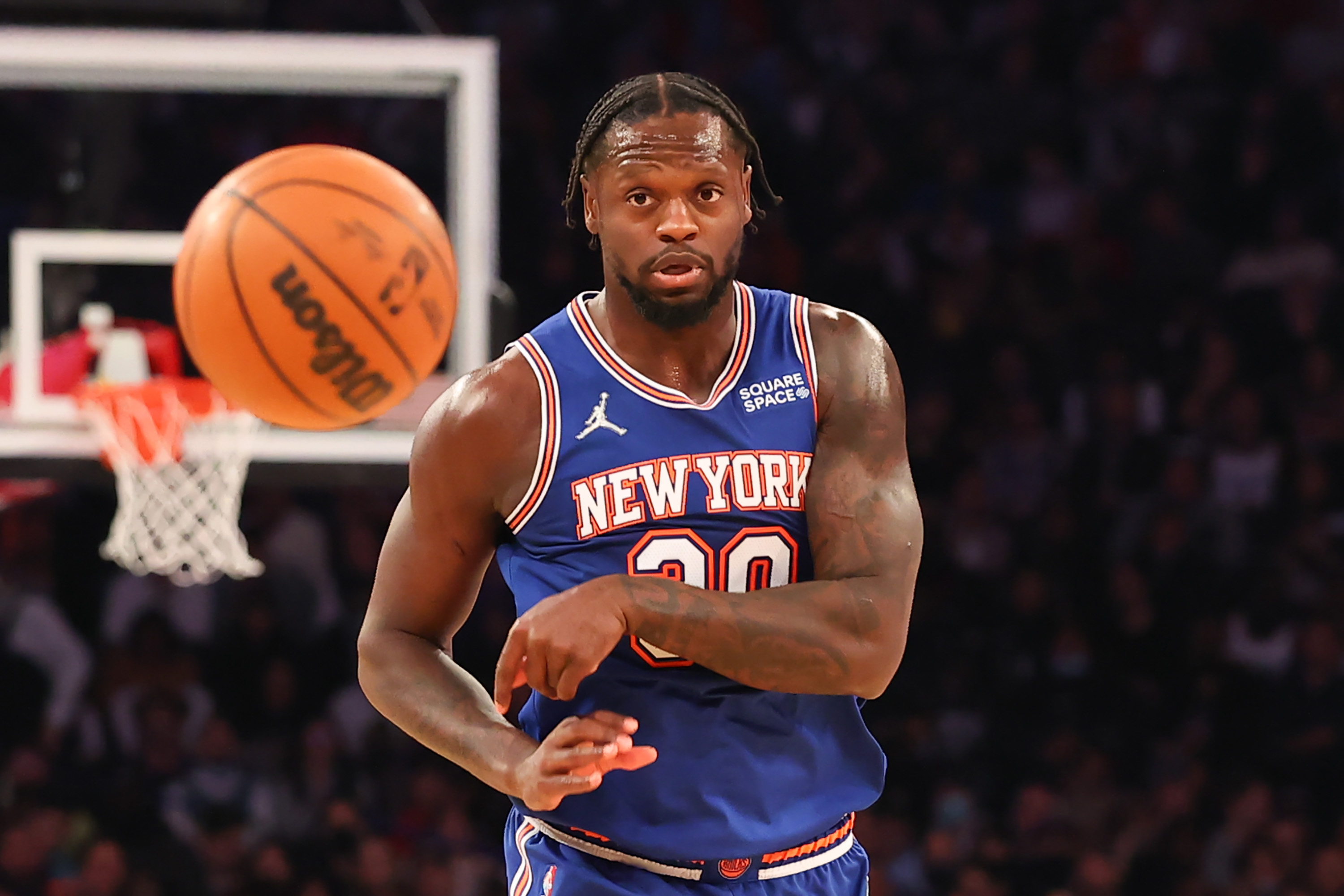 The Knicks have reportedly begun exploring trade avenues for Julius Randle prior to the NBA trade deadline, and they could have their eyes on Sacramento Kings guard De'Aaron Fox.
But do the Kings, or any other team, value Randle highly enough to send a young star to New York? Probably not.
One NBA scout told Marc Berman of the New York Post that Randle no longer has relevant trade value to help the Knicks acquire a star. Another explained that Randle's upcoming contract extension isn't an issue, but his attitude poses problems.
"It's a low trade value. [Randle] hasn't come across as a good teammate. He has played selfish. His contract isn't an issue. Perception is."

–NBA scout to the New York Post
Randle has openly vented his frustrations on multiple occasions, including the "thumbs down" saga and unfollowing the team on social media. As Berman noted, he recently ripped into reporters for including his name in trade rumors.
Fair or not, perceived attitudinal issues are real regarding trade talks and player value. Said problems are reportedly making rival teams hesitant to trade for Randle. That could limit New York's potential to tangibly alter the complexion of the roster.
Can the Knicks swing a deal, or should they pivot?
In some respects, it's worth wondering whether the Knicks should even trade Randle.
Yes, he's struggled on the court, and the New York spotlight has proven challenging. Still, Randle could reinvigorate his status as a cornerstone if the Knicks manage to add more playmaking around him and take some of the offensive burdens off his shoulders.
Then again, if the Knicks don't trade Randle, they'll likely be hard-pressed to find a player capable of doing just that.
New York is almost guaranteed to see what it can get for its veterans, most notably Alec Burks and Kemba Walker. But those guys aren't going to net the Knicks much of a return unless they also deal from their trough of draft picks.
The wishes and whims of opposing teams also complicate matters. The Knicks could use a guy like Dallas Mavericks combo guard Jalen Brunson, but Dallas has not given any indication it will move him before the NBA trade deadline.
New York finds itself between a rock and a hard place. Perhaps the best solution is to retain Randle, get off veteran salaries, and reset in the summer. Otherwise, the Knicks might have to accept getting a lesser player or return than they previously envisioned.
Either way, the Knicks (24-29) are out of playoff position and going nowhere fast. It's likely not what New Yorkers envisioned after last season.
Stats courtesy of Basketball Reference.
RELATED: NBA Trade Deadline: 3 Moves the Reeling New York Knicks Need to Consider to Regain Their Balance