Julius Randle Shot 1,200 Baskets Every Single Day in the NBA Offseason: 'He Took It to an Unbelievable Level'
The New York Knicks may not have returned to the elite NBA title contender status they enjoyed in the '90s. But they are in playoff contention in large part due to Julius Randle. Once viewed as a Lakers castoff, the 26-year-old has been lights out in 2021. If you ask those close to him, it's due to his ridiculous dedication to preparation. Here's how Randle leveled up in 2021.
Julius Randle is having an insane 2021 season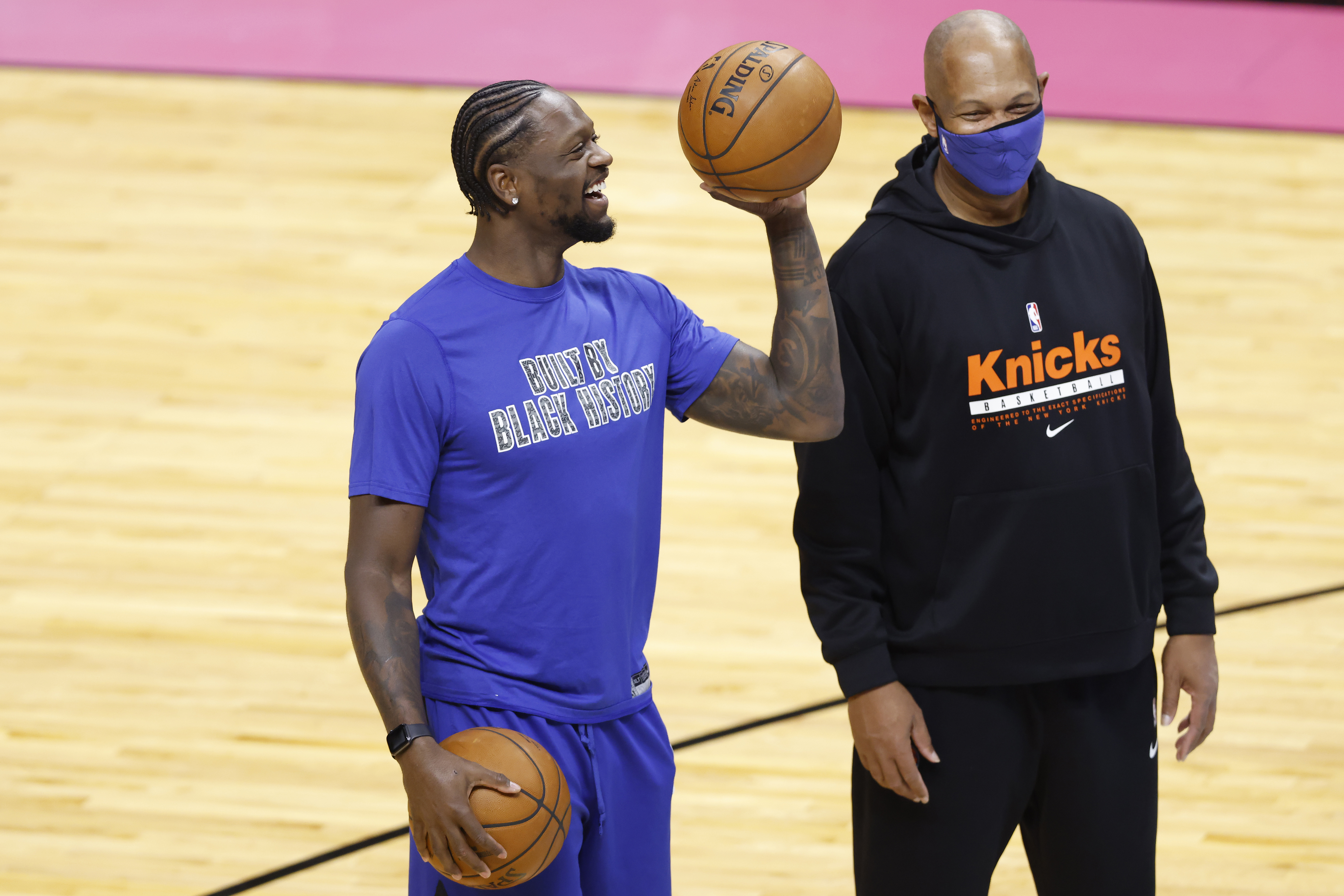 RELATED: Why Don't Free Agents Want to Sign With the Knicks?
Randle came to the Knicks as a free agent prior to the 2019-20 season. That summer, some Knicks fans dreamed of Kevin Durant, Kyrie Irving, and Zion Williamson dancing in their heads. In a cruel twist of fate, the first two chose the Brooklyn Nets; the last one landed in New Orleans after they won the draft lottery.
Randle was the consolation prize. Even at the time, there was no doubt Randle was a solid player with the capability for greatness. But the fact remained that the team had set their sights a bit higher, and Knicks fans weren't particularly high on the move.
Now, though? The move to get Randle looks genius, as he's playing out of this world. According to Basketball-Reference, Randle is in the midst of a career year. Through 61 games played, he's averaging 23.9 points per game, 10.4 rebounds per game, and 6.0 assists per game. If those numbers hold up, they'll represent career highs for the 26-year-old forward.
Randle's serious approach to nutrition has helped fuel his season
RELATED: Julius Randle Enjoyed Private Jets and 5-Star Hotels Before He Even Played a High School Game
Randle always showed flashes of greatness in LA and New Orleans, but he seems to have hit his stride in New York. So what's facilitated his move from being a player with promise to being one who fulfilled his potential? For one, his diet.
In an interview with GQ, Randle said he's taking a much more serious approach to his nutrition, including using the services of a personal chef. Randle said he feels much better than he did as a young player in his first three NBA seasons:
I feel amazing. My body responds and recovers really well game after every game. But it's a journey and a process. I've learned more and more about my body and ways that I can help myself recover better to get the best optimal performance out of myself. That's what it's all about.

Julius Randle on his transformation
It sounds like Randle has mastered that aspect of preparing. But there's one other thing he did to help him dominate in 2021.
How Julius Randle prepared for the 2021 season
Randle took the opportunity presented by an extended 2021 offseason to put himself through what the New York Post referred to as "relentless workouts." When Randle found out his Knicks wouldn't qualify for participation in the NBA bubble, his longtime trainer Tyler Relph said, "That made him mad."
Relph developed a program for Randle that addressed his footwork and conditioning. It also involved him hoisting 1,200 shots a day. Randle was up at 6:00 a.m. every morning, putting in the time to improve.
As far as the results? The numbers speak for themselves. Randle was a fine player before this past summer. But it seems as though he has gotten even better. Now Knicks fans have turned from doubtful to grateful as he has them smelling the playoffs for the first time in a long time.