Julius Randle Wanted to Compete Against LeBron James: 'I'd Rather Compete Against LeBron James And Beat Him Than Be On His Team'
New York Knicks star Julius Randle thought he would get one of his earliest NBA wishes on Nov. 23 when the Los Angeles Lakers come to Madison Square Garden. The soon-to-be 27-year-old Randle said even before the Lakers made him a lottery pick in 2014 that he'd rather compete against the best than play with them. But a suspension for LeBron James will deny Randle a chance to square off against James on a national broadcast.
Randle is now in his eighth NBA season. He's coming off the best year of his career, earning Most Improved Player honors and gaining an All-NBA berth while carrying New York to its first playoff appearance since 2013. It was Randle's first postseason experience, and while it didn't go as he hoped, he and the Knicks hope to build on that momentum this season.
Julius Randle left the Lakers just before LeBron James arrived in LA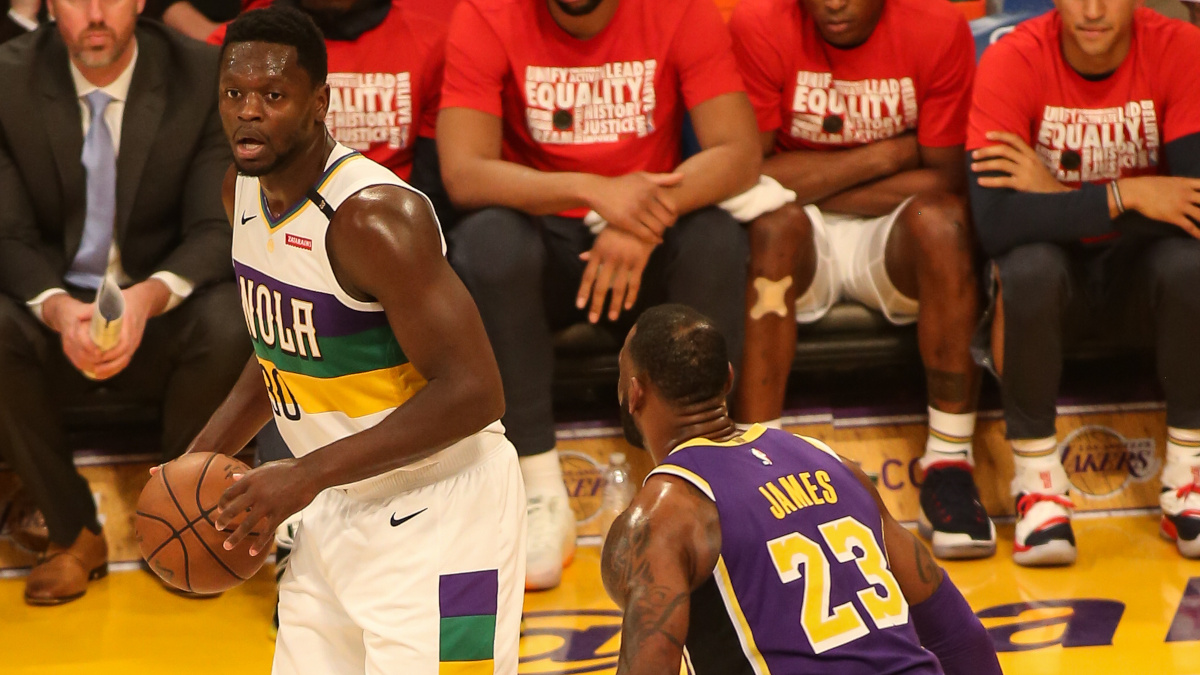 Julius Randle's NBA career got off to a horrific start. In the fourth quarter of his debut, he broke his right leg in a blowout loss to the Houston Rockets. His rookie season was over after just 14 minutes and two points.
He improved steadily over the next three seasons, but the Lakers opted not to offer him a rookie extension before the 2017–18 season. LA initially extended a qualifying offer to Randle to make him a restricted free agent. But after LeBron James agreed to sign with the Lakers, the proposal was withdrawn.
Randle instead signed a one-year prove-it deal for $8.6 million with the New Orleans Pelicans. His gamble on himself paid off in a big way. After averaging 21.4 points and 8.7 rebounds per game in 73 games for the Pelicans, Randle got a three-year, $62.1 million deal from the Knicks.
After his breakout last season, Randle took less money than he could have made next summer on the open market, agreeing to a four-year, $117.1 million extension to remain in New York. The deal includes a $29.5 player option for the 2025–26 season.
But even before he reached the NBA, Randle wanted to challenge himself against the best the game had to offer.
Randle wanted the challenge of facing off with LeBron James
In an interview with GQ on the eve of the 2014 NBA Draft, Julius Randle said the idea of joining forces with superstar LeBron James, who would rejoin the Cleveland Cavaliers shortly after the draft, didn't excite him as much as the challenge of going against The King:
"I'd rather play against LeBron. I just have an older mentality. I want to beat the best. Maybe in the future, I'd want to play with him. I've been watching him my whole life. I'd rather compete against him and try and beat him than be on his team."
The matchups haven't gone Randle's way often. In 11 career meetings against James' teams, LeBron's squads have won nine of those games.
But the first win was a spectacular one for Randle. In March 2018 at Staples Center, Randle went off for a then-career-high 37 points on 14-of-18 shooting, adding 14 rebounds and seven assists in a 127–113 victory over James and the Cavaliers. The other victory came in February 2019 when New Orleans beat James and the Lakers 128–115 at Smoothie King Center in the Big Easy.
Julius Randle and the Knicks off to an inconsistent start
Neither the Knicks nor the Lakers are where they expected to be to open the 2021–22 season. New York fell to 9–8 with a road loss to the Chicago Bulls on Nov. 21. James earned his second career ejection the same night while the Lakers beat the Detroit Pistons to even their record at 9–9.
The NBA suspended James for the matchup with the Knicks. He got a Flagrant 2 for hitting Detroit center Isaiah Stewart in the face during the third quarter of their game.
James has played against the Knicks twice since Julius Randle joined the club. LA swept the two meetings in 2019–20, but James was injured for both games last season. The teams split last season, with New York and the Lakers each winning at home.
It's been a slow start for Randle this season. He's averaging 20.4 points, 10.0 rebounds, and 5.1 assists, but his shooting has dropped off dramatically. Last season, he hit 45.6% overall and 41.1% from 3-point range; this season, Randle's percentages are 42.2% and 35.3%, respectively.
The most significant change this season is pull-up shooting. This season, Randle is making only 34.1% of his pull-up jumpers overall, 37.0% from deep. Last season those numbers were 41.5% and 40.0%, respectively.
But the Lakers present Julius Randle with an opportunity to get back on track. With or without LeBron James, LA has been woeful defensively. They surrendered 116 points in the win over the Pistons, who have the third-worst offense in the NBA.
Statistics courtesy of Basketball Reference and NBA.com. Contract information courtesy of Spotrac.