Just a Kid From Akron: What LeBron's Website Means for Cleveland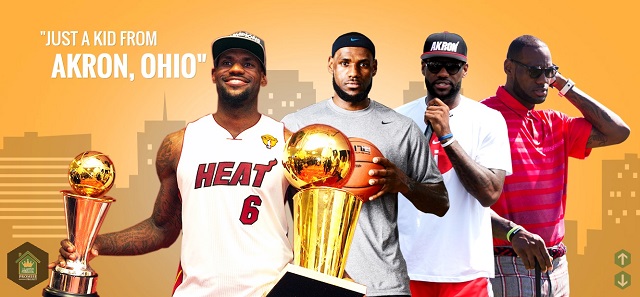 LeBron James, the NBA's best player and current prize of the free agency pool, has changed his website to loudly advertise the fact that he's "just a kid from Akron, Ohio," continuing a hunt for clues as to James's eventual destination — narrowed between Cleveland and Miami — that would make Dan Brown proud. With a legion of journalists, bloggers, and fans all vying to be the one to break the story, no stone is being left unturned in the quest for LeBron's landing spot, from secondhand photographs posted on Twitter to questionably accurate claims about LeBron's website coding (also via Twitter.) For what it's worth, James also has the "just a kid from Akron, Ohio" image promiently displayed on his Twitter account.
Using the Internet Archive's ever helpful Way Back Machine, we can see that James has his people updating his website fairly frequently. Back in January, it looked like this, and featured a story that called him "A True Hometown Hero." (Foreshadowing?) In February, it postulated about what would happen if he ran for president. At the close of the regular season, it was promising 16 wins for Miami in the playoffs, which would have lead to another Heat championship. So what does it all mean? We came up with four different conclusions.
Conclusion one: James has always been proud of where he came from, and the circumstances that he overcame in order to make it to the NBA — look no further than the "I wasn't even supposed to be here" speech when he won the Finals MVP in 2013 if you're not sure about that –  so this means nothing more than a shoutout to his home town. LeBron never stopped owning a home in Ohio, and has always spent at least some of the off season there. No smoke, no fire — this is all a non-story being perpetuated by the 24 hour sports news media.
Conclusion two: James is heading back to Cleveland, and is slowly cleaning up shop before he does so. After all, LeBron James is a brand as much as he is a person, and even if he is acting according to a fit of whimsy there's still a metric ton of steps between choosing to leave Miami and actually signing with the Cavs. It wouldn't do to have James suit up at the Quicken Loans Arena with a personal website that was done up in the Heat's colors, for example. These sort of mechanisms would have been able to stay under wraps if this was 1994 or even 2004, but in today's day and age information leaks are inevitable.
Conclusion three: LeBron's using his free agency as a Rorschach test to see how the public would feel about a move to Cleveland, and is going to let the will of the public determine where he signs his next NBA contract. James has always been sensitive to public opinion, and he could be using it to shape his destiny.
Conclusion four: James is letting Cleveland know that they'd better start prepping that Kevin Love trade package. Between James, Kyrie Irving, Andrew Wiggins and Kevin Love, the Cavaliers would be a top team in the Eastern Conference (even if James would probably have to play all the defense.) We're sure Dan Gilbert's got the welcome letter already written up — and it's definitely in Comic Sans.