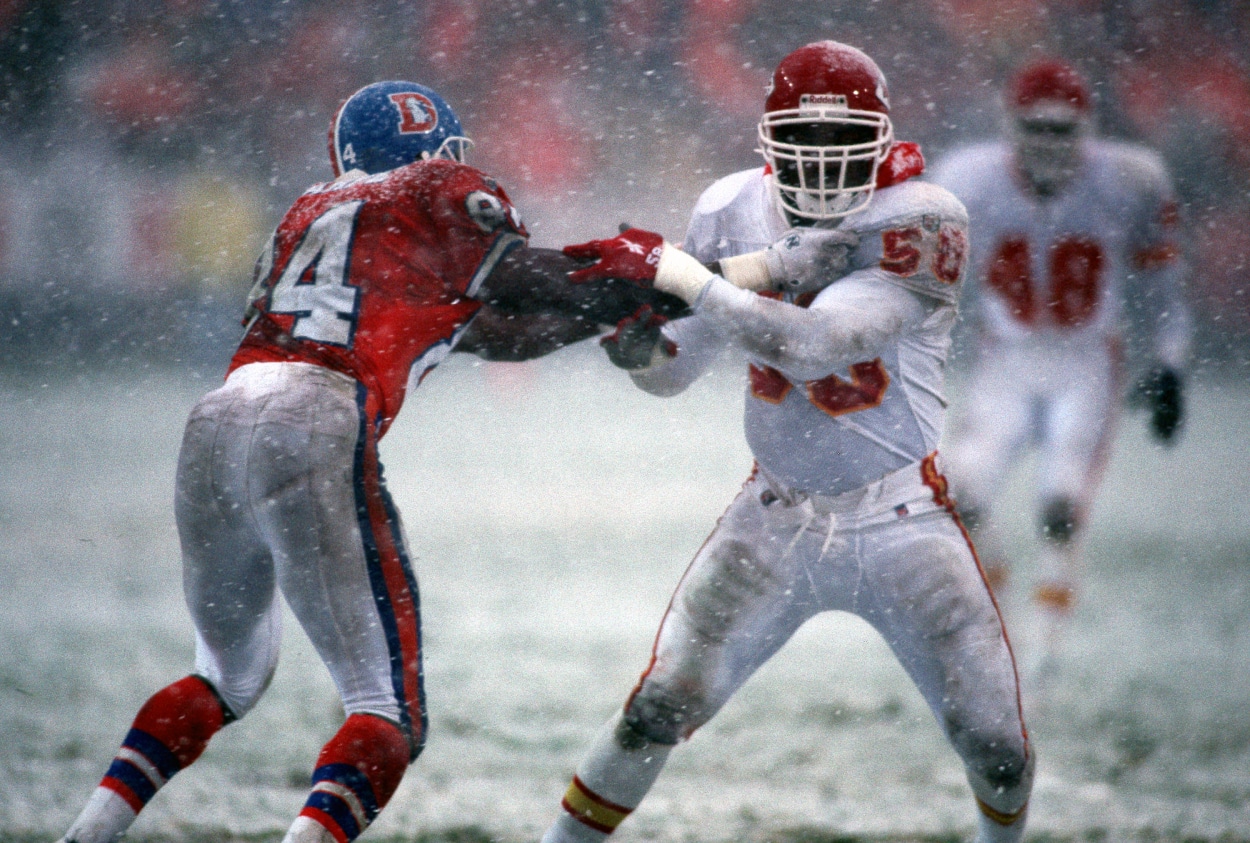 Just How Good Was Derrick Thomas? He Was A-Plus On and Off the Field
Former Kansas City Chiefs linebacker Derrick Thomas was just as impressive off the field as he was on it.
Derrick Thomas was part of an impressive 1989 NFL Draft class, and he didn't disappoint. The fourth overall pick out of Alabama, Thomas dominated as a rookie linebacker with the Kansas City Chiefs.
He played 11 years in the NFL and continued his domination before he died from complications suffered in an automobile accident in 2000. It's been nearly 23 years since his death, but we reflect on Thomas' performance on and off the football field on what would have been his 56th birthday Sunday.
Derrick Thomas dominated as an NFL linebacker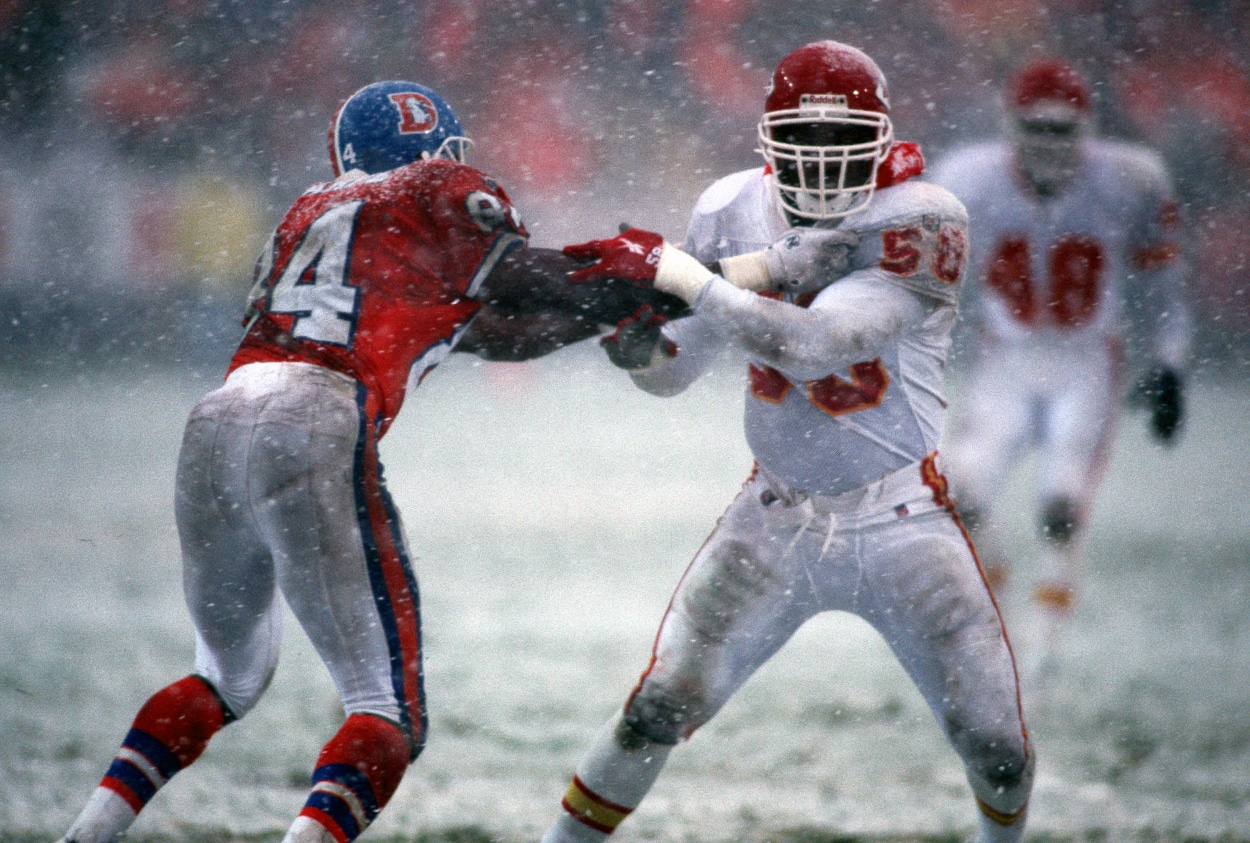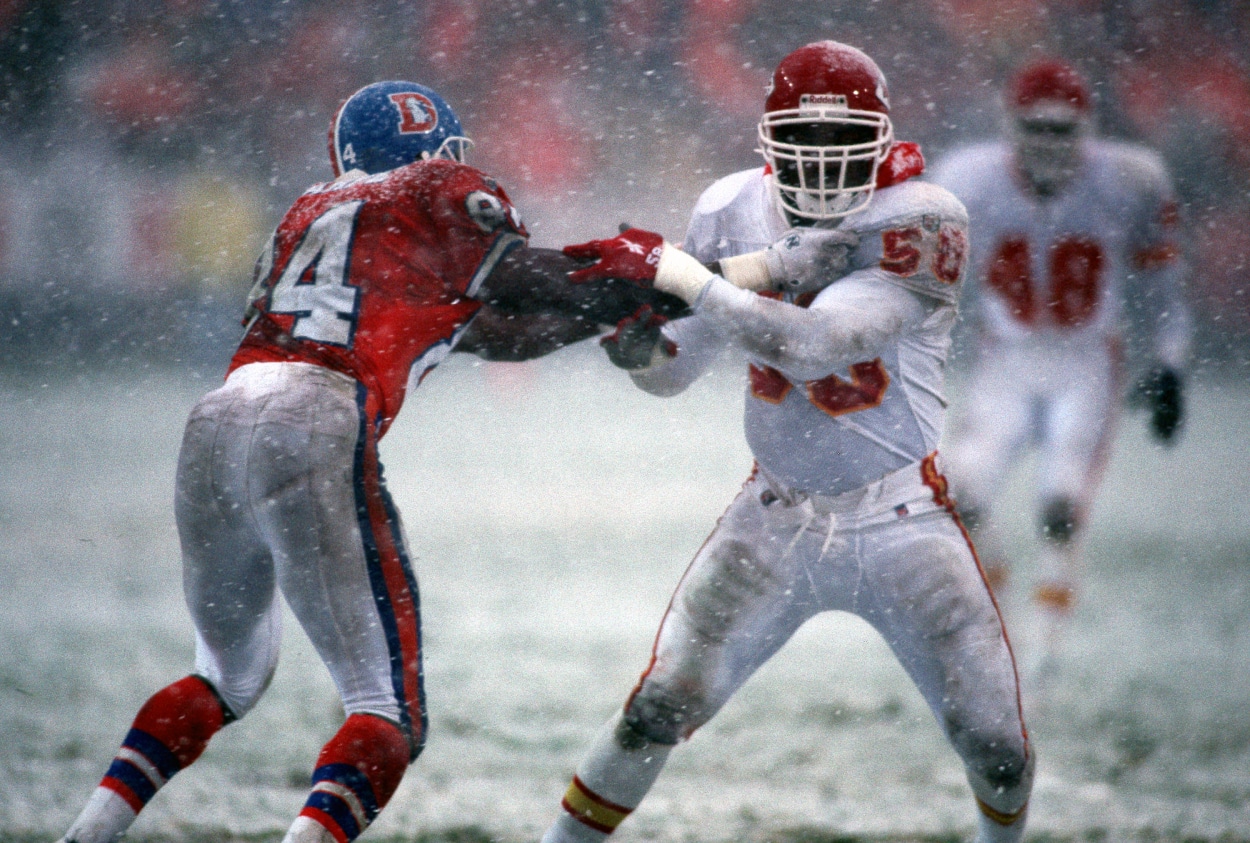 The list of quality players to come out of the 1989 NFL Draft is endless. Thomas was selected fourth by the Chiefs, just after the Detroit Lions picked running back Barry Sanders at No. 3. Quarterback Troy Aikman was the top pick, followed by Tony Mandarich. Deion Sanders was selected right after Thomas.
Thomas made an immediate impact, racking up 10 sacks and forcing three fumbles as a rookie. He was named AP Defensive Rookie of the Year and made the first of nine straight Pro Bowl appearances that season.
In his second season, Thomas finished with a league-high 20 sacks. That year, he set a record with seven sacks in a game against the Seattle Seahawks. He finished that year with an NFL-leading six forced fumbles.
For the first four years of his NFL career, Thomas had double-digit sacks, including 14.5 in 1992, to go along with his league-leading eight forced fumbles. Thomas had 126.5 career sacks before his automobile accident. He was injured after speeding on an icy road on his way to the airport. He was headed to St. Louis to watch the NFC title game between the St Louis Rams and Tampa Bay Buccaneers.
According to The New York Times, Thomas sustained a broken spine and neck in the crash and had no movement from the chest down. Sixteen days after the accident, Thomas died unexpectedly in a Miami hospital. Doctors said Thomas suffered from cardiorespiratory arrest while he was being shifted from his bed to a wheelchair to take part in a physical therapy session. He was 33.
Thomas was just as impressive off the field
Thomas was terrorizing on the field, but he was a gentle giant off it. He began the Third and Long Foundation for underprivileged children. Every Saturday before a Chiefs home game, he read books to children at area libraries. In 1993, Thomas was named the NFL's Man of the Year.
"Derrick's immense talent on the football field was matched by his caring and generous spirit in the Kansas City community," Paul Tagliabue, then the NFL Commissioner, said in a statement, according to The New York Times. "As both a football player and an individual, Derrick Thomas leaves a tremendously positive legacy that will permanently enrich everyone whose life he touched."
Gunther Cunningham, Thomas' head coach when he was with the Chiefs, was crushed when he heard the news of Thomas' death.
"I looked at Derrick Thomas as one of the finest people I've ever been around and a friend," Cunningham said then. "Derrick will hang over the stadium forever."
Thomas was posthumously inducted into the Pro Football Hall of Fame in 2009. He certainly had the credentials to find a home in Canton, Ohio, but more importantly, he was a top-notch person as well.