Justin Fields Strongly Addresses Ohio State's Disastrous NFL QB Track Record: 'I'm Different Than Those Guys'
During the past two college football seasons, Justin Fields proved to be one of the greatest quarterbacks in Ohio State Buckeyes history. He is now hoping to become one of the top quarterbacks picked in the 2021 NFL draft. However, many people have speculated whether Fields can actually succeed in the NFL. This is due to the fact that, in recent history, Ohio State quarterbacks have consistently failed to play well once they got to the pros. Fields, though, just addressed that issue.
Ohio State quarterbacks have struggled in the NFL
RELATED: Why Is Ohio State's Football Team Called the Buckeyes?
Through the past two decades, Ohio State quarterbacks have failed to really have any success in the NFL. (This isn't counting Joe Burrow, as he was never the starter at Ohio State and then transferred to LSU.)
Going back to 2001, Steve Bellisari threw for 5,558 yards, 33 touchdowns, and 28 interceptions during his OSU career. He, however, never played in one NFL game. After Bellisari, Craig Krenzel, who led the Buckeyes to a national championship during the 2002 season, went to the Bears in the fifth round of the 2004 NFL draft. He only appeared in six career NFL games. 
Many people then thought that Troy Smith could make it in the pros, as he won a Heisman Trophy at Ohio State. Smith, however, only threw for 1,734 yards, eight touchdowns, and five interceptions during his NFL career.
Following Smith's legendary career at OSU, Todd Boeckman then started for the Buckeyes and he was then followed by Terrelle Pryor and Braxton Miller. Boeckman never played in the league and Pryor and Miller both played wide receiver in the NFL. The Buckeyes then also had Cardale Jones, who led Ohio State to a national championship. Jones, though, only threw 11 career NFL passes. J.T. Barrett, Ohio State's all-time leader in passing yards and passing touchdowns, also played for the Buckeyes during the same era as Miller and Jones. He hasn't played one game in the league, either, though.
After Barrett's career at OSU, Dwayne Haskins then became Ohio State's starter. He even went to the Washington Football Team in the first round of the 2019 NFL draft. Haskins has struggled in his first two seasons, though, and saw the Washington Football Team, who drafted him with the 15th overall pick, cut him during his second season.
So, now we turn to Justin Fields, who became the starter at Ohio State after Haskins.
Justin Fields responded to Ohio State's lack of QB success in the NFL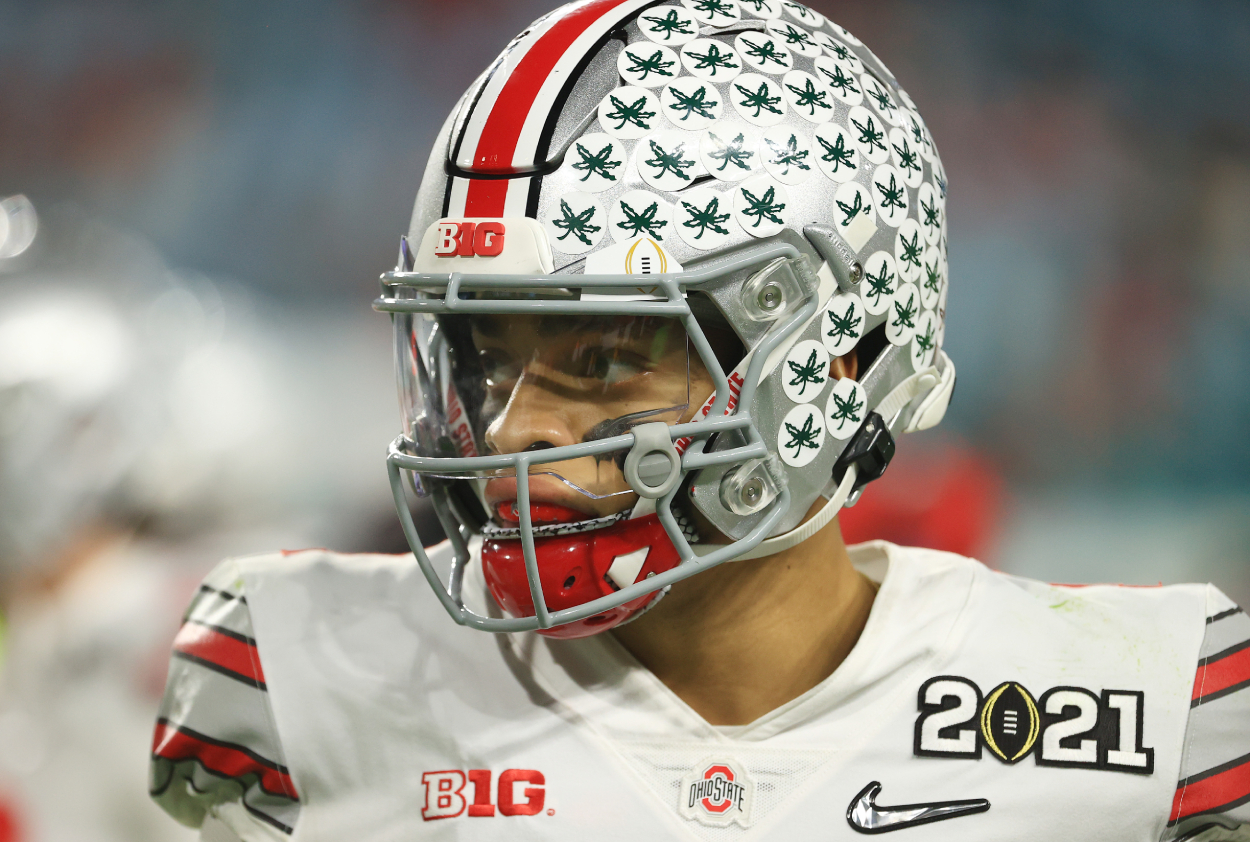 RELATED: Ohio State DT Haskell Garrett Was Shot in the Face Just Months Before Leading the Buckeyes To the National Championship Game
Justin Fields recently addressed the perception that Ohio State quarterbacks can't succeed in the NFL, and he made it known that he is not the guys who came before him.
"I don't know those guys personally. I don't know their work ethic," Fields said, according to CBS Sports.
He continued: "I don't know what they were taught. I know what Dwayne (Haskins) was taught was a little similar to what coach [Ryan] Day was teaching me. But in all honesty, I think I'm different than those guys. I know my work ethic is unmatched, and just my dedication and passion to wanting to be great is just another level. In terms of the past quarterbacks, I can't control that. The only similarity that me and those guys have is that we wore the same uniform. So if they want to say that, then that's on them. I'm going to focus on myself and focus on continuing to get better in every aspect of the game."
That's probably exactly what NFL teams want to hear, and Fields is 100% right. He's not those guys. Fields proved that during the last two seasons at Ohio State, too.
Justin Fields was incredible at Ohio State
RELATED: Woody Hayes' Dominant Run at Ohio State Came To an Abrupt End After He Foolishly Punched a Player From Another Team
After spending the 2018 season at Georgia, Justin Fields transferred to Ohio State in 2019. He proved to be one of the best quarterbacks in the country during that season, too. Fields threw for 3,273 yards, 41 touchdowns, and only three interceptions in 2019. He also ran for 484 yards and 10 touchdowns. Fields' play helped lead Ohio State to an undefeated record in the regular season that year and to the College Football Playoff.
In 2020, Fields played in fewer games because of COVID-19, but he still had an excellent season. He threw for 2,100 yards, 22 touchdowns, and six interceptions in eight games. Fields also led Ohio State to the CFP again and a win in the semifinals over Clemson to reach the national championship game. Fields had an incredible game in that semifinals matchup, too, as he threw for 385 yards and six touchdowns.
Justin Fields had an incredible career at Ohio State. It's almost a foregone conclusion that he should be better in the NFL than any of the Ohio State QBs who came before him.
Stats courtesy of Sports Reference and Pro Football Reference