Justin Fields and Andy Dalton Are Already Proving That the Bears Are Making a Big Mistake
The biggest NFL storyline this offseason has been around Aaron Rodgers and the Green Bay Packers. However, Green Bay's NFC North rival has also had a pretty significant storyline in recent months: the Chicago Bears; should they start Justin Fields or Andy Dalton at quarterback?
The Bears have consistently said that Dalton will be the team's starter, as Fields, like most rookie quarterbacks, needs time to grow. However, based on their play so far, Fields and Dalton are both proving that the Bears are making a colossal mistake.
The Chicago Bears have Andy Dalton and Justin Fields at quarterback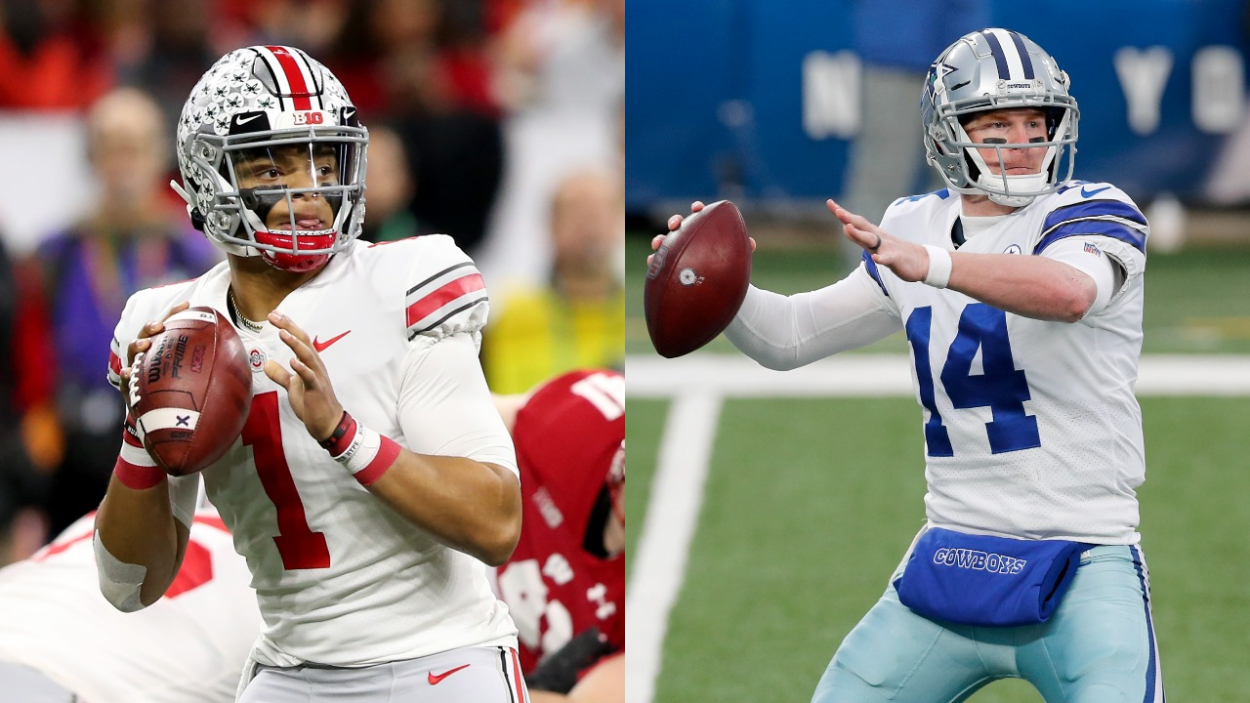 After deciding to move on from 2017 No. 2 overall draft pick Mitchell Trubisky, the Bears signed Dalton this offseason.
Throughout his career, Dalton has proven to be a more-than-serviceable quarterback, but he's never going to be elite.
Dalton earned three Pro Bowl selections with the Cincinnati Bengals and even threw for 33 touchdowns in 2013. He also led Cincinnati to five consecutive playoff appearances in each of his first five NFL campaigns.
However, after nine seasons with the Bengals, Dalton played with the Dallas Cowboys in 2020. In place for Dak Prescott, who missed most of the year due to injury, Dalton threw for 2,170 yards, 14 touchdowns, and eight interceptions in 11 games and nine starts. The Cowboys went 4-5 in the games he started.
Following the Bears' signing of Dalton, though, they also drafted Fields, the former Ohio State quarterback, with the No. 11 overall pick in the 2021 NFL draft.
Fields only lost two games as a starter for the Buckeyes, one being in the College Football Playoff semifinals and the other being in the national championship game. In 22 games as a starter for OSU, Fields threw for 5,373 yards, 63 touchdowns, and nine interceptions. He also ran for 867 yards and 15 touchdowns. Fields' play helped him finish third in the Heisman Trophy race in 2019 and seventh in 2020.
The selection of Fields immediately made people question whether the Bears should just go ahead and start him over Dalton in 2021. While the team has consistently said Dalton is the starter, Fields is probably making that decision a little harder on them.
Justin Fields is shining in OTAs … while Andy Dalton is struggling
The Bears have held organized team activities this week, meaning both quarterbacks have had a chance to show off in front of head coach Matt Nagy and his staff.
According to Brad Biggs of the Chicago Tribune, Fields had a strong showing on June 9, as Biggs noted that he had "a couple nifty passes and one nice bomb."
Darnell Mooney, who caught 61 passes for 631 yards and four touchdowns in his rookie year at receiver for the Bears in 2020, also had a lot of praise for Fields.
"It's a beautiful ball, man. He knows where he wants to put it, and it's very accurate. … Great player, great person as well," Mooney said, per 670 The Score's Chris Emma.
Mooney also said: "The very first one he threw to me I was smiling mid-route," per Pro Football Focus.
So, how did Dalton do? Well, according to Biggs, Dalton threw three interceptions combined between seven-on-seven and team play.
The Chicago Bears are making a big mistake at quarterback
As mentioned above, throughout this offseason, Nagy and Bears general manager Ryan Pace have consistently stated that Dalton is the team's starting quarterback.
"Andy is the starter," Nagy said in May, per NFL.com. "Andy's going to get the one reps."
However, this could ultimately be a massive mistake.
Not even considering how much Dalton struggled in OTAs on June 9, he has shown everyone his ceiling. He can win some games, but he will never be an elite quarterback, or a guy who can at least lead a team on a playoff run. With the Bears going 8-8 in each of the least two years, they need someone who is more than just a game manager.
Fields, on the other hand, proved on Ohio State that he has the exact skill set teams are looking for in quarterbacks today. He has a huge arm, can make tight throws, and has the ability to scramble and run if needed.
Fields also took care of the ball for the most part at Ohio State. In 2019, he threw for 41 touchdowns and only three interceptions. Dalton has thrown for 11 or more interceptions in seven of his ten NFL seasons and threw for 20 in 2013. He has always been pretty turnover-prone, which is something no team wants to worry about.
We all know Fields has the potential to be much better than Dalton. Now, his play in practice seems to be proving that the Bears are making a huge mistake by starting the former Bengals QB over him. It'll be interesting to see if Nagy and the Bears realize their mistake before it's too late.
Stats courtesy of Sports Reference and Pro Football Reference