Justin Fields and the Bears Have a Gigantic Problem on Their Hands That Has Nothing to Do With Matt Nagy's Horrific Play-Calling
Most NFL fans got exactly what they've been asking for during Week 3 — Justin Fields finally got to start a game for the Chicago Bears.
Since the moment the Bears traded up for the former Ohio State prospect, fans and analysts alike have constantly been clamoring for the big-armed gunslinger to start a game under center for the Bears. Many viewed Fields failing to 12th overall as a massive "steal" for Chicago, with some predicting an Offensive Rookie of the Year season for him.
Due to an Andy Dalton knee injury that he suffered during Week 2, Fields was named the Bears' starting quarterback for their game against Baker Mayfield and the Cleveland Browns. To put it rather bluntly, it went disastrously bad.
Justin Fields had a horrible first start in the NFL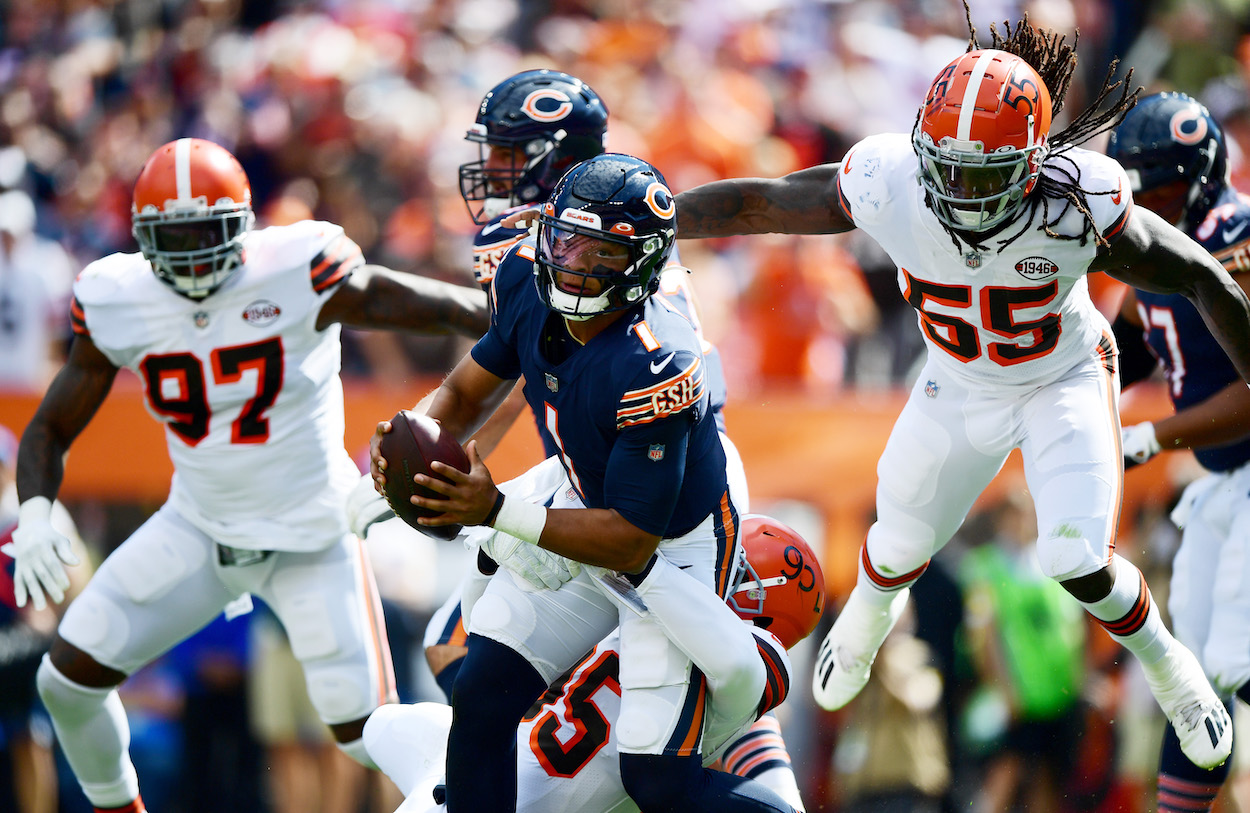 Fields went 6-for-20 during his start against the Browns and only managed 68 total passing yards on the afternoon. He didn't score any touchdowns and could only muster up an additional 12 extra rushing yards. Fields looked noticeably outmatched going up against Mayfield, and it reflected in the final score.
Mayfield and the Browns cruised to a 26-6 victory, dropping Chicago down to a 1-2 record on the season.
Following the embarrassing loss, most fans and analysts were quick to finger at Bears head coach Matt Nagy. His play-calling was bland and vanilla and overall limited Fields' ability. One of Fields' best traits is his speed, and Nagy essentially avoided all designed QB runs.
"Nagy's offense looked like it was designed for some other quarterback—any other quarterback—besides Fields," writes The Ringer's Benjamin Solak.
The Bears have another, far more worrisome problem
Nagy's play-calling was bad against the Bears. There's no arguing that. In fact, Nagy's play-calling has been below average for quite some time. Of all the coaches in the NFL, Nagy's seat might very well be the hottest following that trainwreck of a football game.
However, Nagy isn't Fields' and the Bears' only problem. In fact, it might not even be their biggest problem.
Fields was sacked nine times for a loss of 67 yards against the Browns. Yes, you read that correctly.
Nine times.
Granted, part of the blame can be pointed back toward Nagy for failing to get Fields out of the pocket on a more consistent basis. However, a glance at some of the highlights shows a Bears' offensive line that is completely inept. The Bears' starting left tackle, Jason Peters, is almost 40 years old and is coming off a nightmare season with the Philadelphia Eagles.
The rest of the line isn't much better, either. The Browns' above-average defense had an absolute field day feasting on Chicago's group of misfit pass-blockers.
Nagy was bad, and Fields wasn't much better. However, it's impossible to run any offense when an offensive line gives up nine sacks.
What next for Justin Fields and the Bears?
Fields currently leads the NFL in pressure rate, which is obviously not a good thing. It's unclear who the Bears' starting QB will be moving forward with Andy Dalton's injury status still up in the air. However, what is clear is that Fields playing behind the Bears' O-Line isn't helping him develop.
There's an argument to be had that any experience is a good experience. However, getting pummeled all afternoon for a net gain of one offensive yard is only going to crush Fields' confidence. For him to succeed, he needs a far greater group of pass-blockers in front of him.
It's possible the Bears fire Nagy sometime in the coming weeks. However, it's unlikely they overhaul their entire offensive line anytime soon. Acquiring good linemen via trade is near impossible in today's NFL.
In the meantime, the Bears need to construct a better plan for developing Fields moving forward. Either progress the playbook and rebuild the O-Line the best you can or commit to 2021 being a "learning year" for Fields and rock with Dalton or Nick Foles under center.
All stats courtesy of Pro Football Reference.
RELATED: Cam Newton's Shocking Prediction About Bears QB Justin Fields Is Finally Coming True