Justin Fields' Cocky and Premature Comment About the NFL Being 'Slow' Came Back to Brutally Bite Him Against the Bills
Justin Fields had an impressive preseason debut for the Chicago Bears.
Playing against Tua Tagovailoa and the Miami Dolphins on August 14, Fields wasted little time announcing his presence to the NFL. The Bears' rookie quarterback went 14-for-20 for 142 passing yards and one touchdown. Fields also ran for 33 yards and a rushing TD.
It was a near-perfect outing for Fields. However, his post-game comments ended up being a little less perfect.
Justin Fields called the NFL 'slow' after his first preseason game
Following the Bears' successful showing against the Dolphins, Fields shared some insight into how his first taste of NFL action felt. Needless to say, his comments came off as arrogant:
"It was actually kind of slow to be honest," Fields said. "Me going against [the Chicago defense] every day slows it down for me" (Kevin Fishbain, The Athletic).
Initially, most NFL fans ate up this sense of heightened confidence. The former Ohio State quarterback is already a fan-favorite around the league, as many want to see him named the Bears starting quarterback sooner rather than later. Chicago fans, in particular, have latched onto Fields and his charisma, as they are desperate for someone they can deem "franchise quarterback" quality.
While Fields' fiery comments may have riled up Twitter, it didn't take long for karma to strike.
The Bills defense made sure karma was enacted
Playing against the Bills on August 21, Fields got to experience what it feels like when the NFL isn't necessarily "slow."
Fields' left tackle at the time completely whiffed on a blocking assignment, allowing a Bills defensive lineman to get a free shot at the Bears quarterback. Fields wasn't even looking in that direction and felt the full force of an uncontested blindside tackle. He smacked to the grass, losing his helmet and headband.
The Bills defender was flagged for the brutal sack (it was deemed helmet-to-helmet), but that didn't matter to Fields. He had to feel the entirety of that tackle, something that he won't be forgetting anytime soon.
It may or may not be connected, but Fields' performance against Buffalo wasn't nearly as impressive as his Miami showing. The rookie QB only completed 9 of his 19 passing attempts, finishing the game with a measly 90 yards.
So much for the NFL feeling slow?
Justin Fields is still the franchise quarterback in Chicago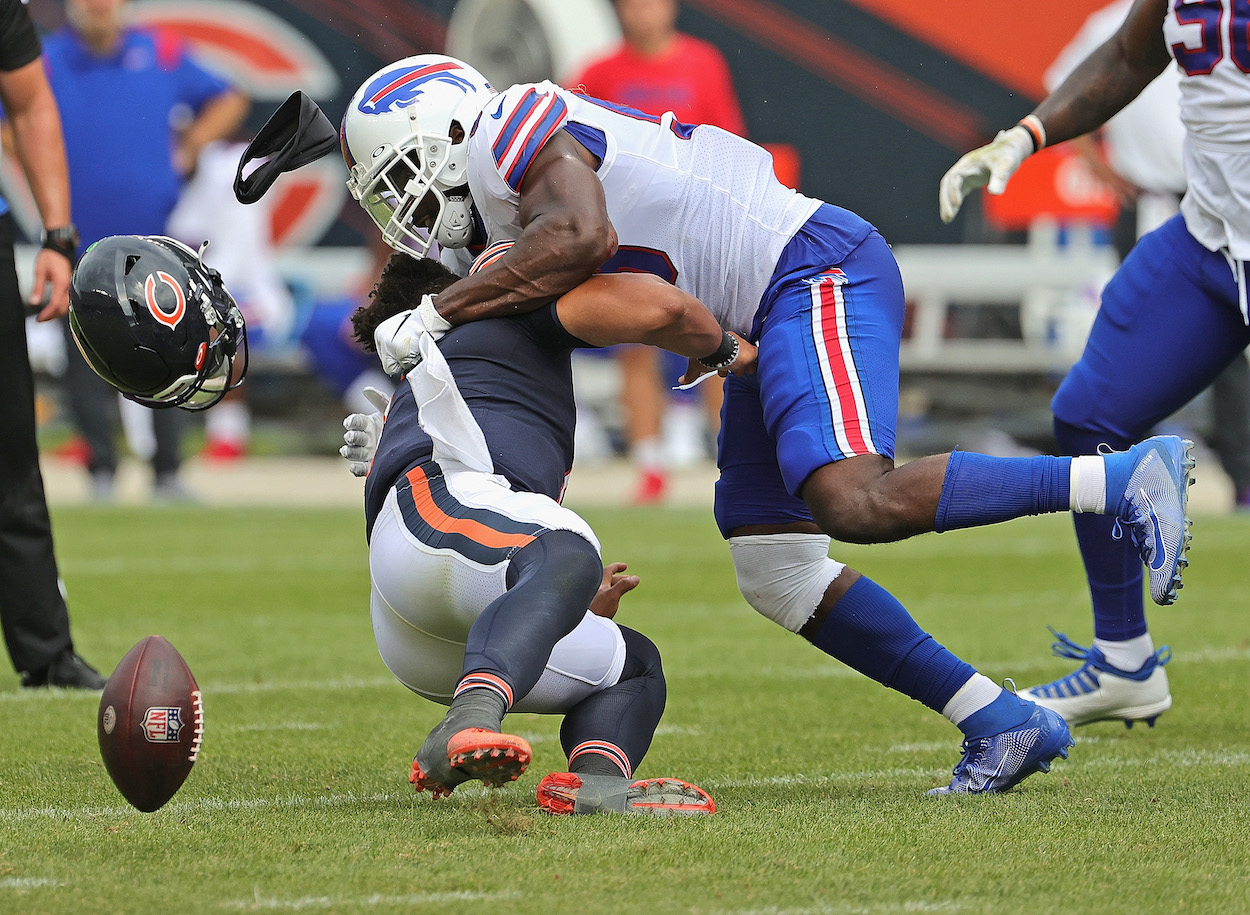 While Bears head coach Matt Nagy appears willing to die on the "Andy Dalton is our starter" hill, the reality of the situation is that Fields will take over as Chicago's quarterback sometime soon. The Bears gave up a future first-round pick to trade up for Fields — they value him pretty intensely.
In the meantime, Fields will still have to work through the process of becoming a pro quarterback. Calling the NFL "slow" or "easy" isn't something solely unique to Fields. Plenty of young players have done it in the past, but it almost always backfires.
Currently approaching the game with a sense of humbleness and a desire to learn and grow should be Fields' focus until he has a resume worth boasting about.
All stats courtesy of ESPN.