Justin Fields Could Shockingly Go To a Super Bowl Contender Thanks To a Potential Blockbuster Draft Night Deal
Justin Fields proved to have an incredible amount of talent for the Ohio State Buckeyes. Now, he is looking to have success at the next level as he prepares for the 2021 NFL draft. Where Fields will go in the draft, though, is unclear. Many people initially thought he would be the second quarterback chosen after Trevor Lawrence, but now some mock drafts have him barely being selected in the top 10. Well, there is a chance that a Super Bowl contender could trade up and select him in the draft. That team is the Indianapolis Colts.
Justin Fields had an incredible career with the Ohio State Buckeyes
RELATED: Tom Brady Nearly Signed With the Patriots' Worst Enemy, but Another Legendary Quarterback Got in His Way
After playing at Georgia for a season, Justin Fields transferred to Ohio State in 2019 and became a star.
During the 2019 season with the Buckeyes, Fields threw for 3,273 yards, 41 touchdowns, and only three interceptions. He also ran for 484 yards and 10 touchdowns. His play helped Ohio State start the season 13-0, too, before they ultimately lost in the College Football Playoff semifinals.
Fields then only played in eight games in 2020 with the Buckeyes due to COVID-19, but he still had a great season. He threw for 2,100 yards, 22 touchdowns, and six interceptions. He also ran for 383 yards and five touchdowns. Fields also ultimately led Ohio State to the national championship game in 2020 after defeating Clemson in the CFP semifinals, but they ended up losing to Alabama in the title game.
Fields has since entered the NFL draft. So, where is he expected to go? ESPN's Mel Kiper and USA Today both have Fields going to the Detroit Lions at No. 7. That was before they traded for Jared Goff, though, so that could potentially shake some things up. NBC Sports, on the other hand, has Fields going to the Carolina Panthers at No. 8.
The Indianapolis Colts need a quarterback
RELATED: Aaron Rodgers Already Has an Indianapolis Colts Legend Trying to Recruit Him to Indy
It appeared that the Colts were set at QB for quite a while as they had Andrew Luck, but Luck shocked everyone when he announced his retirement right before the 2019 season. This led to the Colts going 7-9 in 2019 before signing Philip Rivers for the 2020 season.
Rivers then had a nice season with the Colts in 2020, as he threw for 4,169 yards, 24 touchdowns, and 11 interceptions. He also completed 68% of his passes, his third-highest completion percentage of his career. Rivers ended up leading the Colts to an 11-5 record, and they then barely lost in the playoffs to the Buffalo Bills in the wild-card round.
Rivers has since announced his retirement, though, so the Colts are left without a QB again.
The Indianapolis Colts could trade up to select Justin Fields in the NFL draft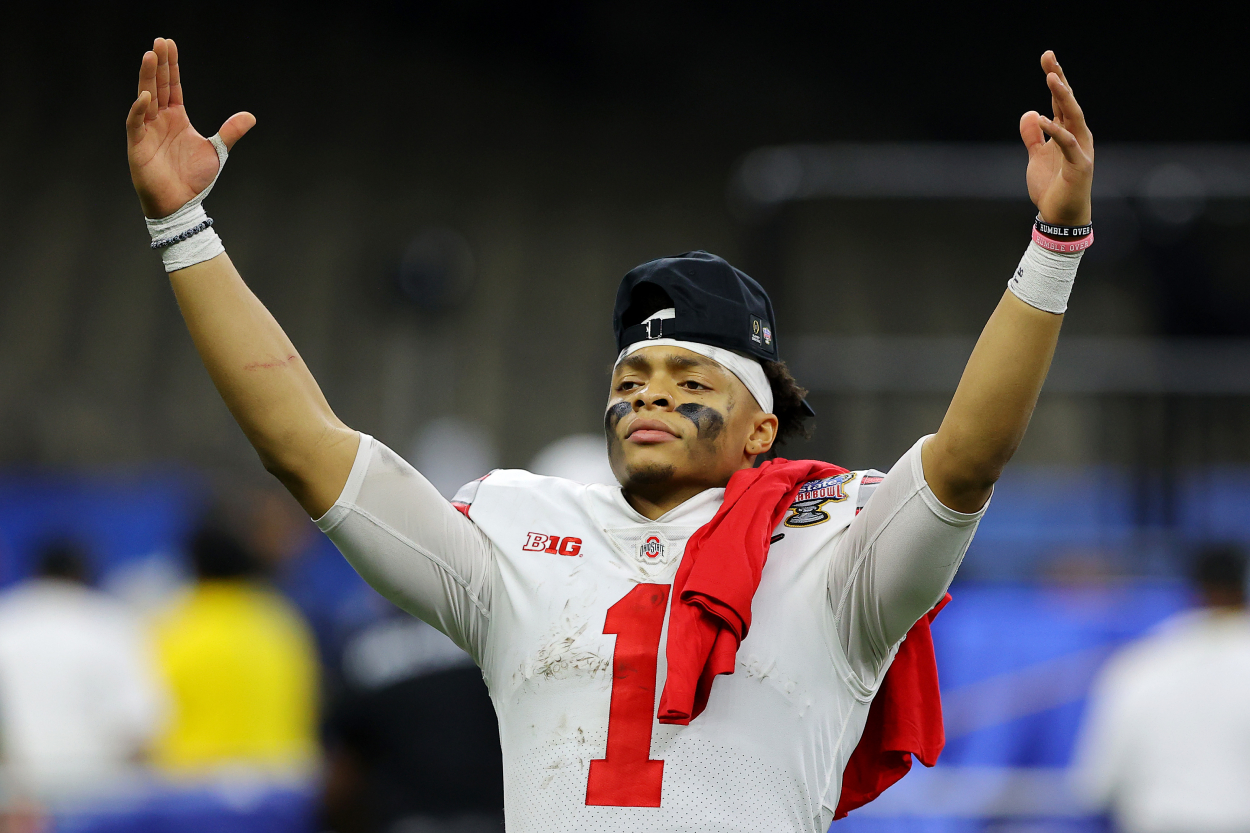 RELATED: Ryan Day and Ohio State's 2021 CFP Hopes Might Have Just Been Secured
The Colts currently have the No. 21 overall pick in the 2021 NFL draft. However, Sports Illustrated's Albert Breer recently said that it wouldn't "shock" him "if the Colts wound up trading up in the draft."
So, if the Colts do trade up, would they try to get Fields? It's possible.
John Michael Vincent of 107.5 The Fan in Indianapolis recently said this on The Ride with JMV.
"The only name that I have heard that they like at the quarterback position in this draft is Justin Fields," he said on the Jan. 27 episode. "That is the only one. And it would seem short of absolutely impossible to do that, and nobody else floats anybody's boat."
Well, that's interesting. It would take a lot for the Colts to trade up, but the Kansas City Chiefs did it with Patrick Mahomes, and they are now in their second consecutive Super Bowl. Fields would be able to have success right away with the Colts. They have a great offensive line, some solid weapons, a great defense, and a great running back for Fields to play with in Jonathan Taylor. Adding a QB like Fields could make the Colts an immediate Super Bowl contender but also set them up to have success for the next decade-plus. Giving up a plethora of assets might be worth it for the Colts in the long run.
The Colts' future at quarterback is unclear. Justin Fields' future NFL team is unclear. Could the two parties team up together? It will be interesting to see what ends up happening.
Stats courtesy of Sports Reference and Pro Football Reference