Justin Fields Is in Danger of Becoming Another Aaron Rodgers Statistic That Makes the Chicago Bears Look Like Chumps
There's just something about playing the Chicago Bears (3-2) for Aaron Rodgers and the Green Bay Packers (4-1).
It obviously has something to do with the matchup being arguably the NFL's most historic and heated. There's also the familiarity factor to consider. Rodgers has been in the league for 17 seasons now, and he's been Green Bay's starting quarterback for all but three of those seasons.
He's been intimately involved in the Bears-Packers matchup for a long time.
Even the casual observer knows that Rodgers is great. He's a three-time MVP quarterback with a Super Bowl ring. His resume is impeccable and his superior skillset has put him in the realm of Tom Brady, Joe Montana, Peyton Manning, and yes, his old teammate Brett Favre. Those are the greatest quarterbacks in NFL history, and Rodgers belongs among them.
It's hard to be surprised by Green Bay's quarterback. He can and has done it all. Still, there's something special about Bears week. Rodgers is normally at his best when he's playing his rival.
As a result, the Bears are often-times at their worst.
Aaron Rodgers' lack of interceptions against the Bears highlights Chicago's ineptitude at quarterback
Rodgers is known for his accuracy as a quarterback, but the stat Kevin Fishbain of The Athletic found ahead of Sunday's Week 6 matchup is truly incredible.
Green Bay's star quarterback has started 25 games against Chicago in his career, and he's only thrown 10 interceptions. Mind you, there's perhaps no organization in the league that knows Rodgers and his tendencies better than the Bears. This is a rivalry for a reason. Both teams treat these games as a mini Super Bowl.
The fact that he's been that accurate against Green Bay's top rival is astonishing. The downside for Chicago is that Rodgers' brilliance only serves to illuminate the Bears' struggles at quarterback over the years.
The Bears have tossed 39 interceptions to the Packers compared to Rodgers' 10.
The more important comparison is the number of quarterbacks to have been picked off by Green Bay, though.
Six quarterbacks threw picks for the Bears over those 25 starts. With quarterback consistently being one of the main factors to success in the NFL, this stat goes a long way in highlighting the difference between the Packers and Bears in the Rodgers era.
Quarterback play has been a major weakness for Chicago over the years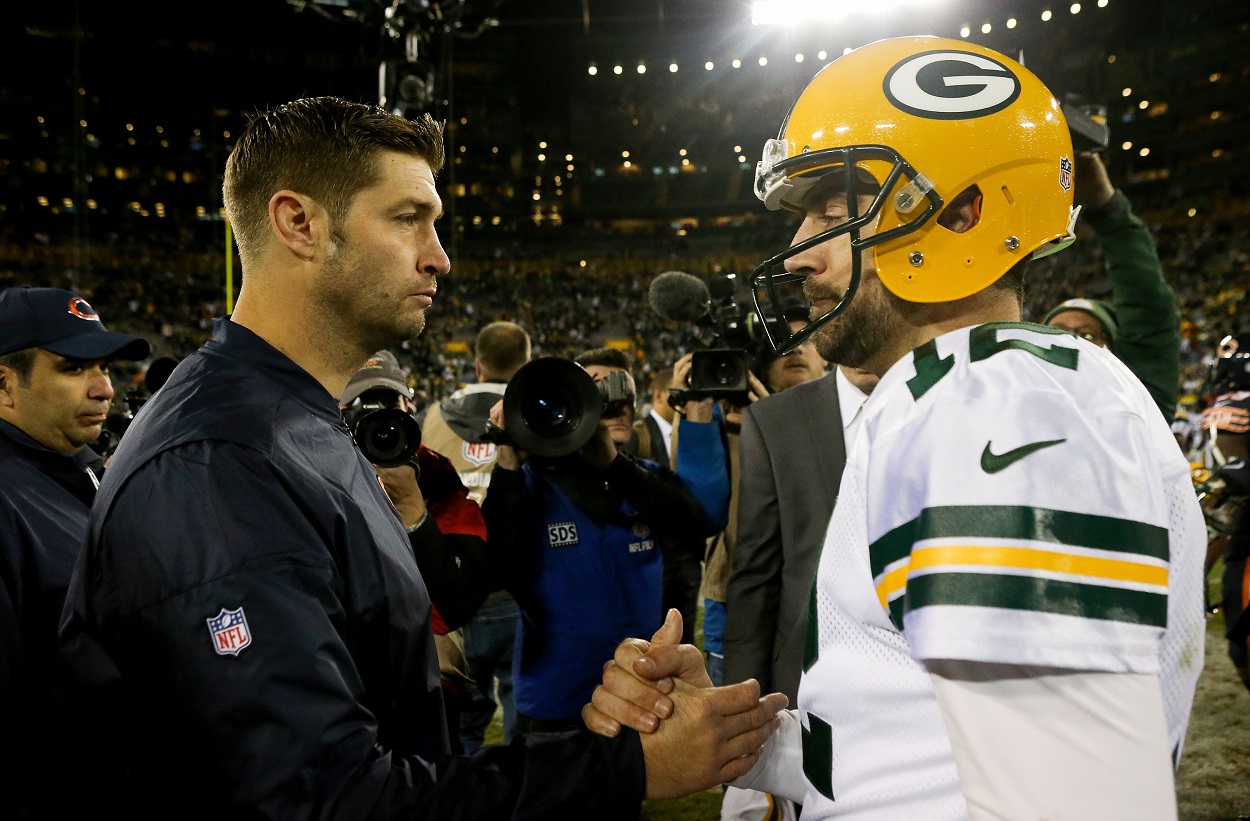 While Green Bay has thrived and even won a Super Bowl during the Rodgers era, Chicago has cycled through disappointing quarterbacks one after the other. Jay Cutler was probably the most successful quarterback of that group, but even he was known by Packers fans as Green Bay's best player at times because of the number of picks he threw away to the Green and Gold.
Mitch Trubisky also stands out as a major sore spot for Chicago. Currently a backup for the Buffalo Bills (4-1), the Bears drafted Trubisky with the second overall pick in the 2017 NFL Draft. He did throw 64 touchdowns for the Bears over four seasons, but that number was largely offset by his inconsistencies. He also threw 37 interceptions as Chicago's quarterback.
Notably, the Bears drafted Trubisky over Patrick Mahomes. Asking a Bears fan to imagine Mahomes in Chicago instead of with the Kansas City Chiefs (2-3) is likely to induce tears.
Justin Fields has the potential to change the story for Chicago. He also has the potential to end up on "the list"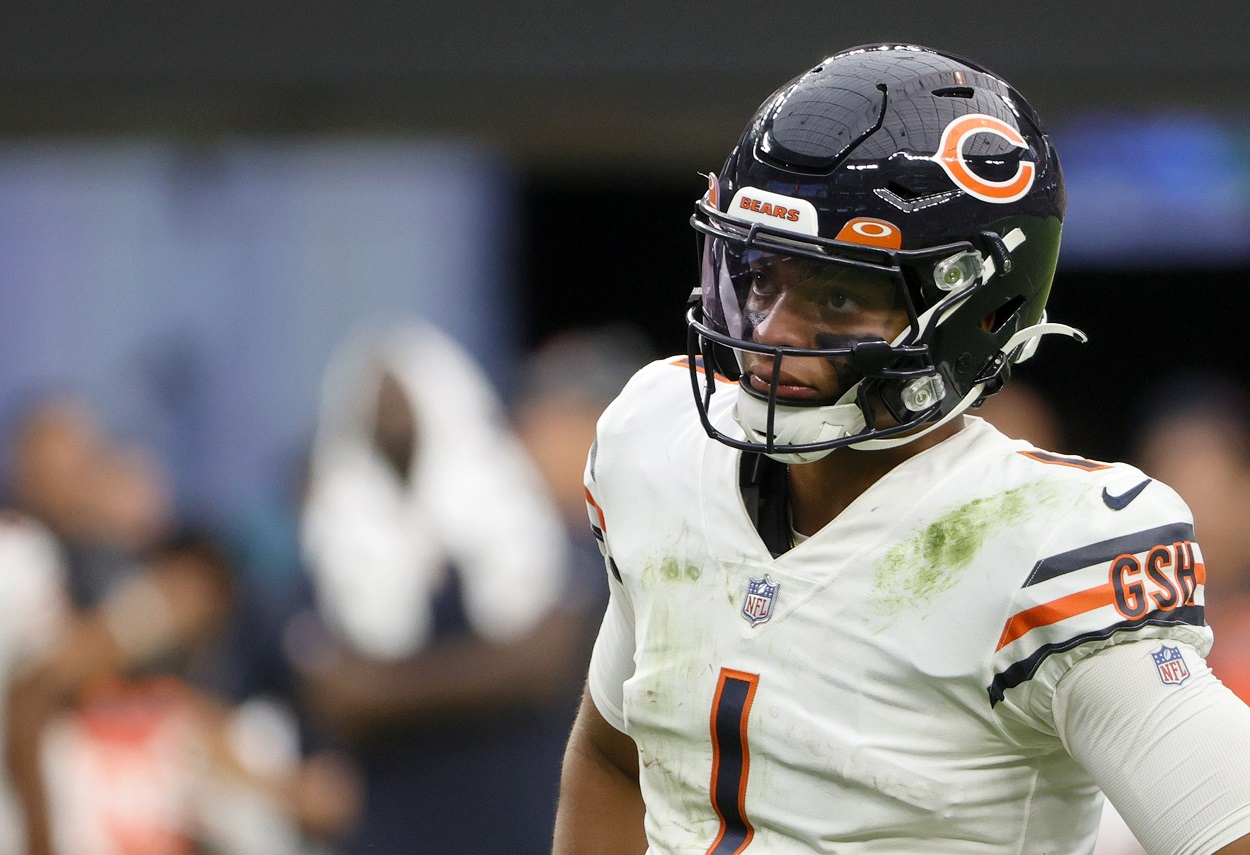 Chicago is hoping for a redo of the Trubisky draft in the form of rookie quarterback Justin Fields out of Ohio State. The Bears took Fields with the 11th overall pick in the 2021 NFL Draft and he's expected to start when the Packers invade Soldier Field this weekend.
Hope springs eternal in both Spring Training and with rookie quarterabacks, and the Bears do have much to be excited about in Fields. He's a big bodied quarterback at 6-foot-3, 228 pounds, but he's also supremely athletic and throws a tight spiral, especailly on his deep ball. Fields has the ability to pick up yards with his feet, but what makes him most dangerous is the fact that he's acurrate when throwing on the run.
The Bears and their rookie quarterback will need to be weary of Green Bay's defense, though.
While not an elite unit, the Packers have a scrappy bunch of defenders who are making plays despite being down two star players in corner Jaire Alexander and linebacker Za'Darius Smith.
Green Bay has done a decent job of getting pressure in recent weeks and the Packers do have an undeniable nose for the football. They're in the top ten of the league in turnovers forced with eight, and the Packers have come away with five interceptions so far this season.
Even without Alexander, Green Bay is going to be a tough matchuip for Fields.
Fellow rookie Eric Stokes, a cornerback, looks like a steal for the Packers as a late first rounder. Safety Adrian Amos also has a knack for playing well against his former team.
Rodgers is once again playing like an MVP candidate, and he rarely throws interceptions.
Fields is still learning and growing as a rookie, so it seems rather likely that the interception differencial between Rodgers and Chicago quarterbacks will grow again this weekend.
Stats courtesy of ESPN.com
RELATED: Rex Ryan Eviscerated the Chicago Bears' Refusal to Let Justin Fields Succeed: 'He Looks Like a Maserati With 4 Flat Tires'