Justin Fields' Draft Stock has Plummeted At the Worst Possible Time
This offseason, almost half of NFL teams may make a drastic change at quarterback. Some teams, such as the Eagles, Colts, Lions, and Rams, already have. With this in mind, you would think teams would drool over a draft prospect like Justin Fields, who had a stellar college career at Georgia and Ohio State. So why on earth do scouts have him slipping down the first round — or in some cases, out of the first round altogether?
Running down Justin Fields' tenure with the Buckeyes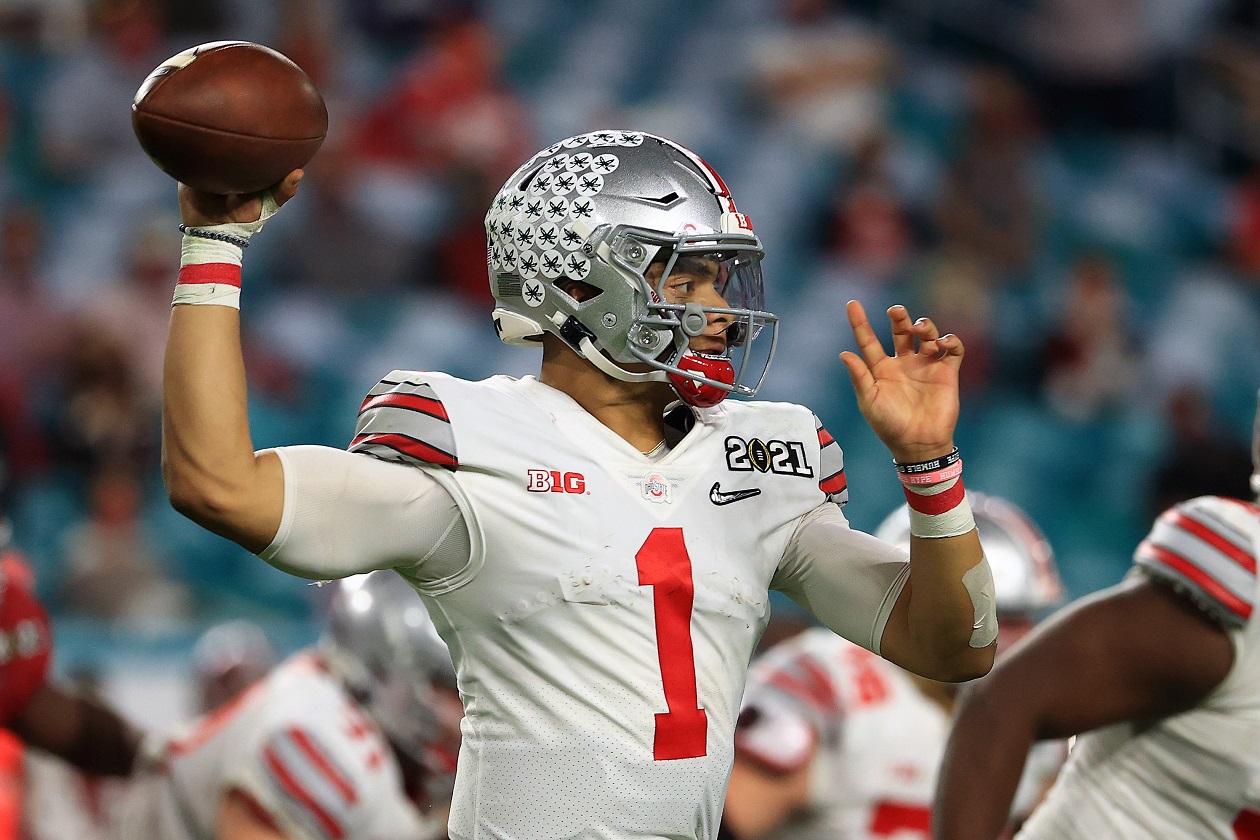 Justin Fields arrived at Ohio State for the 2019 season. He spent his first season at the University of Georgia, where he languished on the bench behind Jake Fromm.
In his first year as a Buckeye, Fields made an instant impact. He threw for 3,273 yards and recorded an astounding touchdown/interception ratio of 41-3, while adding 10 rushing touchdowns. Ohio State advanced to the College Football Playoff, where they lost the Fiesta Bowl to Clemson. Despite the loss, Fields finished third in Heisman Trophy voting, losing out to Joe Burrow.
Fields continued to impress in 2020, leading Ohio State to another Big Ten Title and a second straight Playoff appearance. In the semifinal against Clemson, Fields and the Buckeyes avenged the previous season's loss with a 49-28 win, as Fields threw for 385 yards and six touchdowns. The season ended painfully, however, with a championship-game loss to Alabama.
Lingering concerns over Fields
Despite his stellar track record over two seasons with the Buckeyes, not all are gung-ho about his play. In particular, scouts such as Pro Football Network's Tony Pauline have pointed out a certain tunnel vision in Fields.
"During the Senior Bowl, I mentioned how there was one team who has broken down all of Justin Fields' passes in 2020," wrote Pauline. "They said that just seven times, he looked off the primary target. The other 200+ passes he threw to his primary target."
As Overtime Heroics has pointed out, his effectiveness also tends to decrease whenever his workload goes up. This was especially true for this year's national championship game against Alabama, where the Buckeyes were playing from behind from the second quarter onward. Fields finished that game 17 of 33 with only 194 yards, his second-lowest completion percentage and yardage of the season.
Still, Fields does have his defenders. One anonymous NFL general manager told CBS Sports, "Are people really that down on this kid? I don't know what to make of it. He had a game he would want back. Is that some kind of a sin now? I'm not buying it."
ESPN draft guru Mel Kiper offered a more passionate defense. "I heard the same things about Josh Allen, I heard the same thing about Justin Herbert. It's a scout's job to project. So scouts are critiquing Fields about what they should be doing and they're not doing. If they've got to see it, then they're not a scout that I want."
The other quarterbacks in the 2021 draft class
The many NFL teams looking for quarterbacks aren't exactly wanting for them this year. It's widely expected that the Jacksonville Jaguars will take Clemson's Trevor Lawrence with the first overall pick. In fact, the team's new head coach, Urban Meyer, has practically rolled out the red carpet for him already.
The real question is which quarterback will be the second one off the board on draft day. That could be Fields, BYU's Zach Wilson, North Dakota State's Trey Lance, or Alabama's Mac Jones. It was Jones who comprehensively outplayed Fields to win the national championship game. Despite this, scouts seem to be mixed on whether or not he'll be a first-round pick.
Stats courtesy of Sports-Reference.