Justin Fields Is Following in Patrick Mahomes' Footsteps, but a Star Chiefs Player Says the Decision to Sit Mahomes as a Rookie Was Unnecessary: 'I Don't Think He Needed That Year'
Everyone wants what the Kansas City Chiefs have with Patrick Mahomes. However, Chicago Bears coach Matt Nagy might be following their blueprint a little too much.
Fans everywhere can see the talent oozing out of Justin Fields' pores, as it appears the rookie may be the next great quarterback in the NFL. But Nagy seems hell-bent on doing exactly what Kansas City did with Mahomes, which was sit the star QB for essentially his entire rookie season.
Mahomes' star teammate, tight end Travis Kelce, though, recently said his quarterback didn't need to sit that first year. He was going to be successful no matter what.
Justin Fields will likely sit behind Andy Dalton on the Chicago Bears
The Chicago Bears selected Fields with the No. 11 overall pick in the 2021 NFL Draft, which came in the same offseason they parted ways with Mitchell Trubisky and signed Andy Dalton.
Fields has since dazzled fans with his play almost every time he has taken a snap. He went 14-of-20 through the air for 142 yards and a touchdown in his first preseason game, while also running for 33 yards and a TD on five attempts. He then completed 9-of-19 passes for 80 yards and ran for 46 yards on four carries in the second game before completing seven of his 10 pass attempts in the final contest for 54 yards and a TD.
Dalton, on the other hand, didn't play in the third game but went 2-of-4 in the first one for 18 yards before going 11-of-17 through the air in the next game for 146 yards, one touchdown, and one interception.
All in all, Dalton didn't do much to separate himself from Fields, but Nagy, who was the Kansas City Chiefs' offensive coordinator during Patrick Mahomes' rookie season in 2017, named Dalton the Week 1 starter.
So, Nagy's decision now begs one question to be asked: Is sitting Fields necessary?
Travis Kelce doesn't think Patrick Mahomes needed to sit with the Chiefs
Alex Smith had a lot of success as the Chiefs' starting quarterback in 2017, throwing for 4,042 yards, 26 touchdowns, and five interceptions. KC also went 10-6 and make the playoffs that year.
However, Mahomes became the team's starter in his second year in 2018, and he has since taken the league by storm. The Texas Tech product has won a league MVP award, played in three AFC Championship Games, two Super Bowls, and has, of course, won one championship.
So, did he need to sit behind Smith as a rookie?
"I think I saw it from the get-go, his determination, his ability to see coverages early, feel confident in what he's seeing, be able to throw a good ball, and then obviously his ability to make plays when the play breaks down," Travis Kelce said on the Aug. 26 episode of The Rich Eisen Show. "It's second to no one that I've ever played with or ever seen on the field. So, I'm a little biased when I say I don't think he needed that year, but I do think that it helped him be ready for the next season more than anything, without a doubt."
Kelce added that he thinks it was certainly beneficial for Mahomes to see Smith's professionalism but that the QB, again, didn't absolutely need that year on the bench.
"Patrick Mahomes got something about him that I think he was going to find a way," he said.
The Patrick Mahomes-Chiefs and Justin Fields-Bears situations are completely different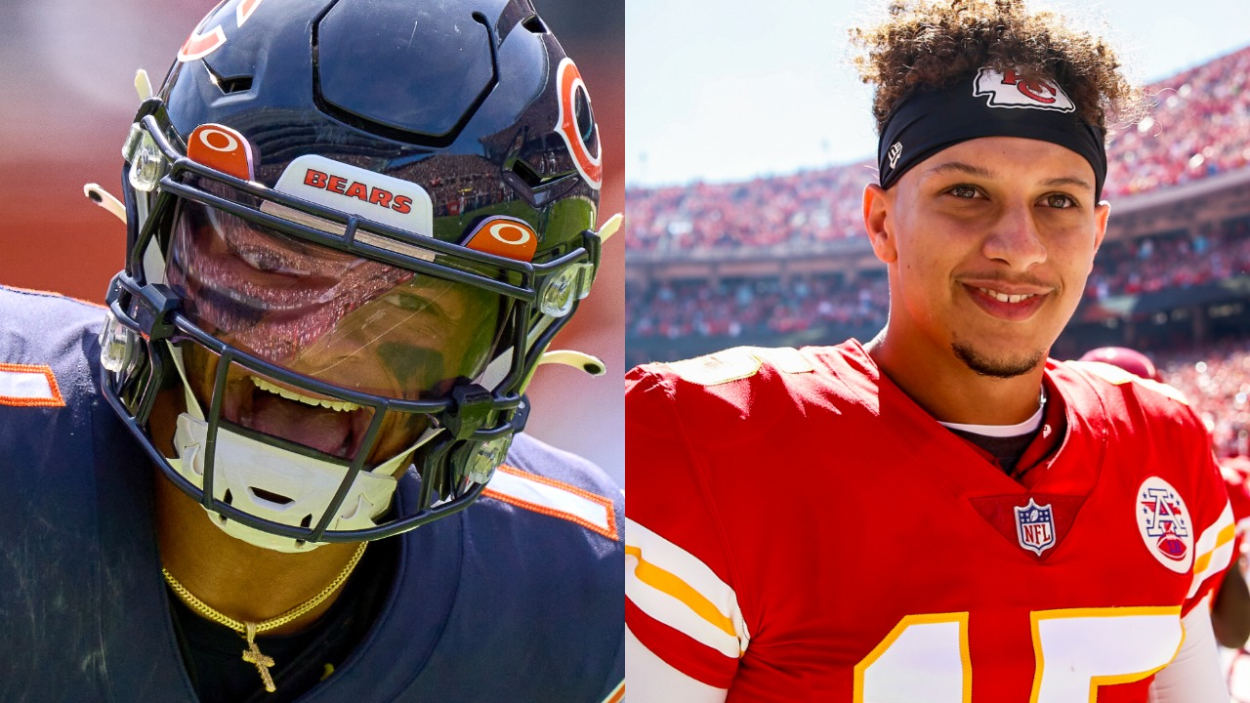 So, what do Travis Kelce's comments mean for Justin Fields? Well, nothing directly, but it does say that the Chiefs' decision to sit Patrick Mahomes has maybe been overhyped. Mahomes is different, and he was going to find a way no matter what.
No, Fields is not Mahomes, but from what he showed at Ohio State and has since done with the Bears, it looks like he's also different. It seems that he's someone who understands what it takes to be successful and will likely be good whether he sits as a rookie or not.
What makes Fields' situation completely distinct from Mahomes', though, is that the Chiefs were probably a better team in 2017 than the Bears will be in 2021. KC had a chance to make some noise with Smith as its quarterback, while Chicago, on the other hand, could very well just finish the season around .500 for a third straight year with Dalton.
For right now, it looks like Dalton is the Bears' starting quarterback. But just because the Chiefs didn't play Mahomes until the final regular-season game in 2017 doesn't mean Nagy should be afraid to throw Fields in there. He's their quarterback of the future and gives the Bears a higher ceiling in 2021 than Dalton.
Stats courtesy of ESPN and Pro Football Reference