Justin Fields Still Might Be the Week 1 Starter in Chicago Despite Overwhelming Evidence to the Contrary
Chicago Bears head coach Matt Nagy hasn't really wavered from his message that Andy Dalton is the team's starting quarterback during the preseason, at least not until recently. Nagy likely believes that first-round draft pick Justin Fields will be better suited if he is groomed for the role rather than immediately thrown into the fire. However, he recently made a statement that seemed to suggest Fields still has a chance to be under center come Week 1.
Matt Nagy leaves the door open for Justin Fields
Matt Nagy all but confirmed Andy Dalton would start the regular season quarterback earlier this week. But is there any reason for skepticism? Mike Florio and Chris Simms of Pro Football Talk sure think so.
Simms and Florio found a clip from Monday's Bears practice in which Nagy hints that the quarterback situation hasn't really been resolved yet. Nagy said the team is happy with Dalton's performance in practice but has also been very pleased with Fields' progression during the preseason.
"We like what he's doing right now with the ones in practice, and I think that's what probably makes us feel good," Nagy said, via Pro Football Talk. "But we also like where Justin [Fields] is at and seeing him grow. And so that's what we've got to kind of talk through these next couple weeks."
Maybe these internal discussions are simply internal discussions. However, it seems curious that Nagy and his staff would have anything to talk through if this were truly an open-and-shut case.
Fields might have the chance to win the starting job with a spectacular effort in the Bears' preseason finale against the Tennessee Titans on Saturday night.
Fields will start the preseason finale
Will it be a grand opening, grand closing situation for Fields?
Aside from a poor first drive, the former Ohio State star put together strong numbers in the Bears' preseason opener, completing 14 of 20 passes for 142 yards and a score. He followed by showing off his escapability in the pocket and overall athleticism in Week 2, rushing four times for 46 yards. The passing numbers (9-of-19) left much to be desired, though.
Fields gets the start in Saturday's game against the Titans, which is his last opportunity to push for the starting quarterback job. On the one hand, the Bears might be sitting Dalton to prevent injury risk. Simultaneously, Nagy may want to get a more extended look at Fields before making a final decision.
It's been years since Chicago's football team had a true franchise quarterback. The organization likely hopes Fields will be that guy in the future, if not now, but he could push the envelope even further with a strong showing on Saturday.
Nagy has been here before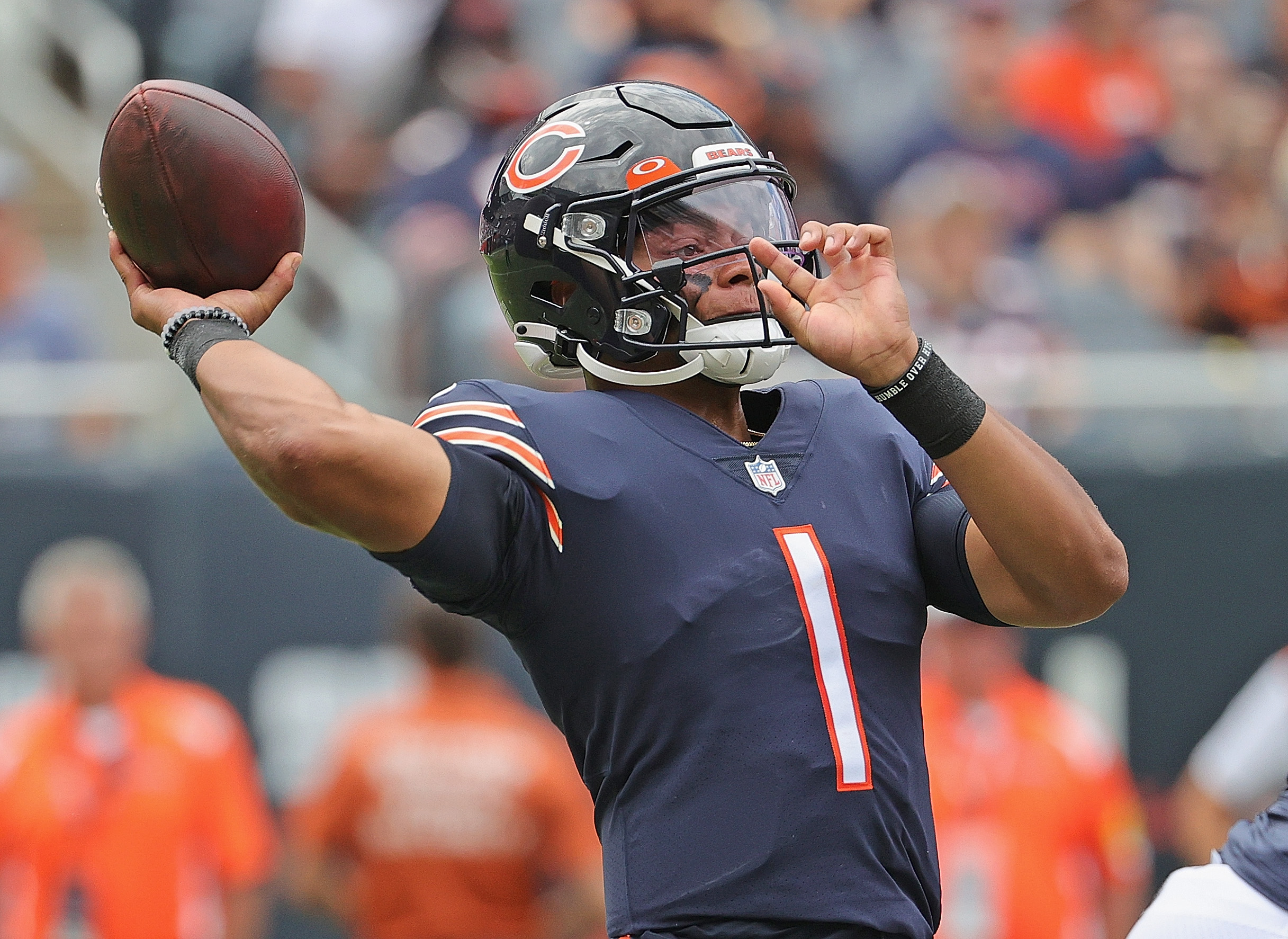 This isn't the first time Matt Nagy has taken the grooming approach. The former Chiefs offensive coordinator did the same thing with Patrick Mahomes early in his career, which seemed to pan out fairly well.
It should be said that this situation is different. Mahomes, at the time, backed up Alex Smith, who made the Pro Bowl and had the best season of his career in 2017.
After a long run with the Cincinnati Bengals, Andy Dalton started games for the Dallas Cowboys last season. But he is well past his prime at this stage of his career. Plus, the general quarterbacking history in Chicago has fans clamoring for Justin Fields to hit the ground running.
Nagy might have his mind made up, intending to follow the Mahomes blueprint. Still, his comments from earlier in the week might give Fields just a sliver of hope.
Stats courtesy of NFL.com.