Justin Fields Taking the Next Step Can Help His Bears Pro Bowl Teammate Earn The New Contract He Deserves
The Chicago Bears quarterback situation has dominated headlines since the front office drafted Justin Fields. There were arguments for both the rookie and Andy Dalton to be the starter. Matt Nagy finally made a decision, and the future in Chicago is now.
Fields offers elite upside at the position, and his presence bodes well for the rest of the offense. No player may benefit more than Allen Robinson II.
Matt Nagy named Justin Fields the Bears' starter
Andy Dalton began the 2021 NFL season as the Bears' starting quarterback. He started the first two games but suffered a knee injury in week 2 against the Cincinnati Bengals.
Justin Fields made his first career start the following week against the Cleveland Browns. It was a forgettable showing for the entire Bears offense. Fields finished the game with a measly 68 passing yards while completing 30% of his passes. It didn't help that the Browns sacked him nine times.
The Ohio State product had a much better day in week 4 against the Detroit Lions, but that's not saying much. He completed 11 of 17 pass attempts for 209 yards and zero touchdowns. He did throw an interception, but Chicago will have to deal with the growing pains.
After two less than stellar starts, questions emerged about what head coach Matt Nagy would do next. He answered those questions by announcing Fields as the starter moving forward.
"This is Justin's time," said Nagy per ESPN. Now, it's time to take the training wheels off and see what the 22-year-old can do with the offense.
Allen Robinson has struggled so far in 2021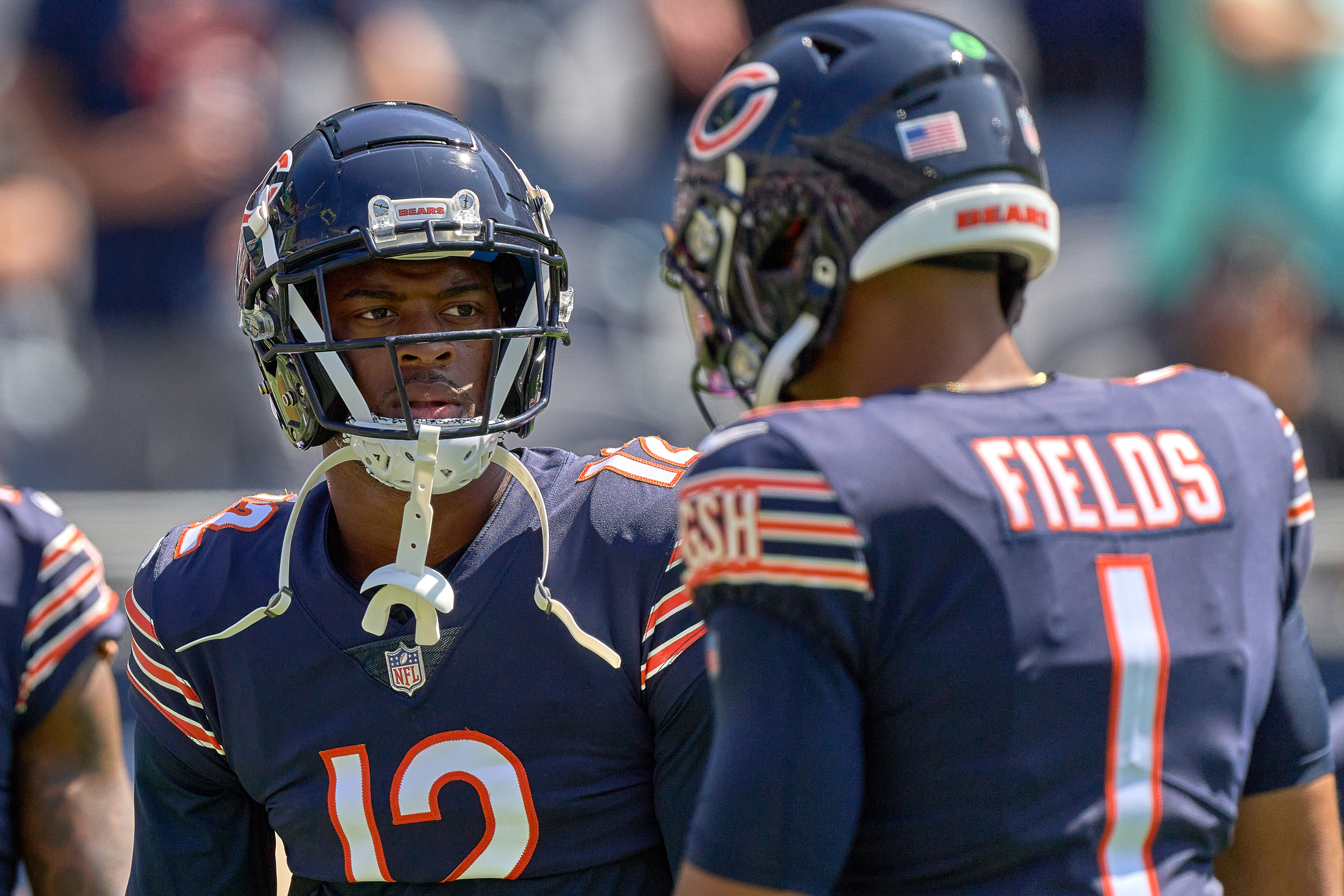 The Bears' unquestioned No. 1 wide receiver is Allen Robinson II. However, he hasn't played up to that tag through the first four weeks of the 2021 season.
Robinson has caught just 13 passes for 149 yards and one touchdown over a four-game stretch. The lack of production is not only concerning for fantasy football owners but also for the Bears' offense.
In order for Chicago's offense to tick, Robinson has to be involved and playing at a high level. The silver lining in it all is that the former Penn State wideout had put up big numbers with lesser talent under center.
Robinson has topped the 1,000-yard mark in three of his seven seasons. His 2017 season with the Jacksonville Jaguars was cut short due to injury.
From a pure talent perspective, Justin Fields is the best quarterback Allen Robinson II has ever played with.
Justin Fields' ability can elevate Robinson's play moving forward
Regardless of how you feel about Andy Dalton, Justin Fields offers a skill set that the Red Rifle simply doesn't possess.
The NFL features several elite dual-threat quarterbacks. Lamar Jackson, Kyler Murray, Josh Allen, and Russell Wilson have made a living using their arms and legs.
In today's game, the ability to fluidly move in and around the pocket and extend plays cannot be undervalued. Fields undoubtedly has the tools to do just that.
The Kennesaw, Georgia native ran an unofficial 4.4 40-yard dash at Ohio State's pro day, according to ESPN. He also has the arm talent to make all of the requisite throws. Once he gets going, Allen Robinson II's production could see an uptick.
Robinson is in a contract year and will become an unrestricted free agent after the 2021 season. The eighth-year wideout could be in line for a big payday if he can turn things around soon.
The calculated market value for Robinson heading into the 2022 season would be $20 million per year. To earn that, he and Justin Fields will need to establish a strong connection.
All statistics courtesy of Pro Football Reference and contract figures courtesy of Spotrac.
RELATED: Justin Fields Already Has a Major Obstacle to Overcome That Goes Beyond Playing for an Awful Head Coach