Justin Gaethje's Division 1 Wrestling Career Completely Changed His MMA Career
Justin Gaethje is one of the best UFC fighters. Recently, Khabib Nurmagomedov defeated him at UFC 254. This fight was a long time coming. But Gaethje's journey started when he was just a kid. Let's look at how wrestling changed Gaethje's career path. 
How wrestling allowed Justin Gaethje to succeed
Like many wrestlers, Gaethje began when he was a kid. When the two-time Arizona state wrestling champ graduated and attended college at the University of Northern Colorado, he kept wrestling. As the Greeley Tribune reported, Gaethje made it to the NCAA Division I level. Although he never won any championships, he did learn a lot about fighting. 
One of the most important things that he learned about was managing his health. High school and college wrestling have weight classes. If a wrestler misses weight, then they can be punished. This is similar to what happens in MMA. As a result, at an early age, Gaethje's learned how to manage his weight. He wrestled in the 149-pound and 157-pound weight classes, and that's not far from where he's at in the UFC. 
Gaethje currently fights in the 155-pound lightweight division. Thanks to his wrestling career, he's been able to make weight every time. Like the Greeley Tribune reported, not only does he train hard, but he also eats good foods. Gaethje said, "Everything I eat is healthy." Of course, since wrestling is such a useful martial art in MMA, Gaethje's experience helps him succeed in the UFC, too. 
Why Gaethje doesn't wrestle very much
However, like the Greeley Tribune wrote, Gaethje said, "My wrestling skills help, but fighting is done on your feet." As a result, he prefers to keep himself and his opponent standing. Of course, he's not afraid to use his wrestling skills when they're necessary, but he prefers to punch and kick his opponents rather than to take them down. 
That said, Gaethje isn't very certain why he's like that, according to Bloody Elbow. After losing to Dustin Poirier, Gaethje said, "I've been wrestling my whole life. I should've and could've took him down a couple of times. For some reason, my mind will not let me do it."
One of the possible reasons Gaethje had for why he doesn't use his wrestling that much anymore has to do with cardio. He said, according to Bloody Elbow, "It gets you tired. If I'm going to get tired, I'd rather it be from fighting and not from wrestling." That said, he explained that he thinks he has the cardio for wrestling. For some reason, he just didn't do it. 
Can Justin Gaethje's wrestling help him beat future opponents?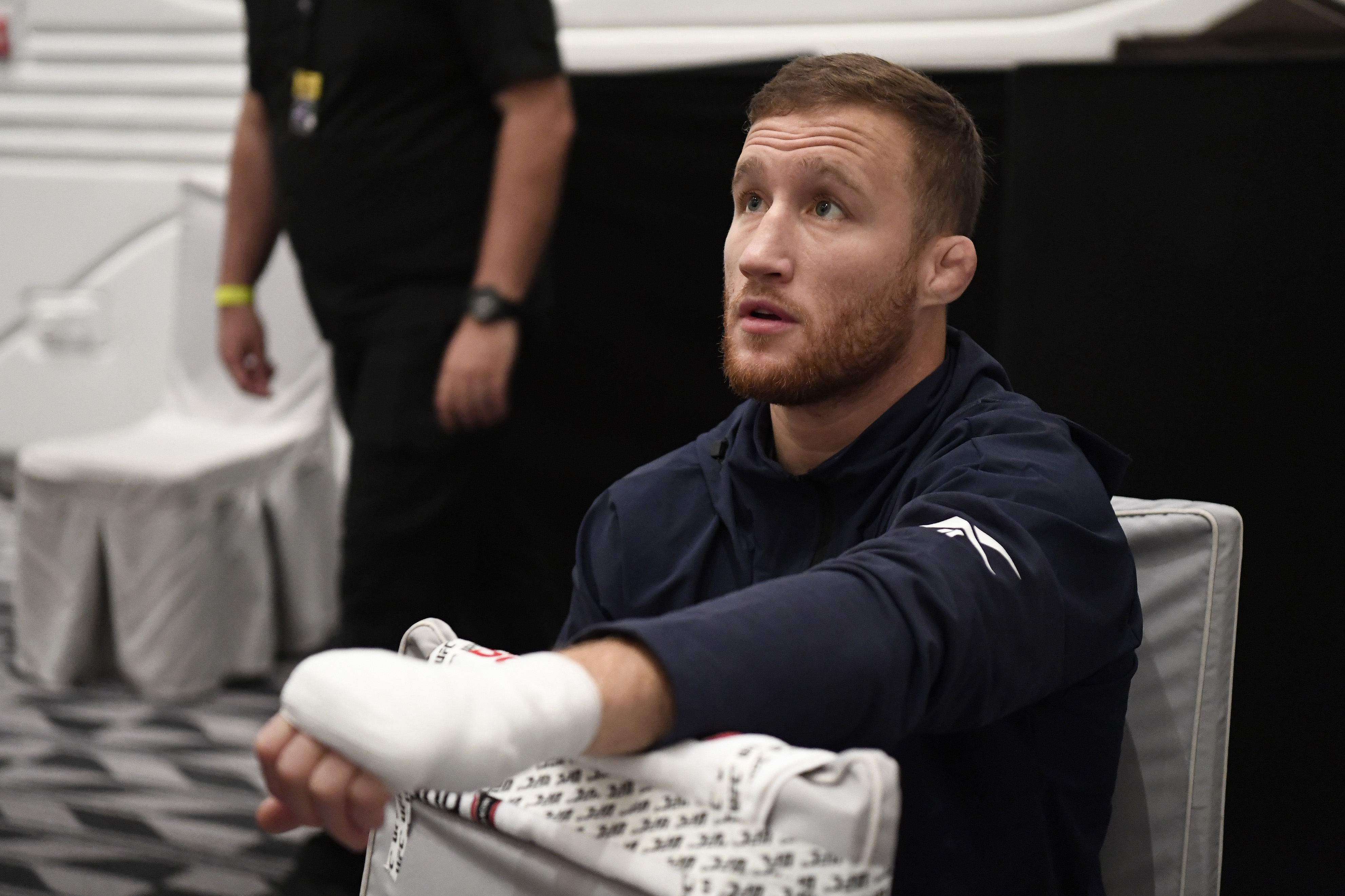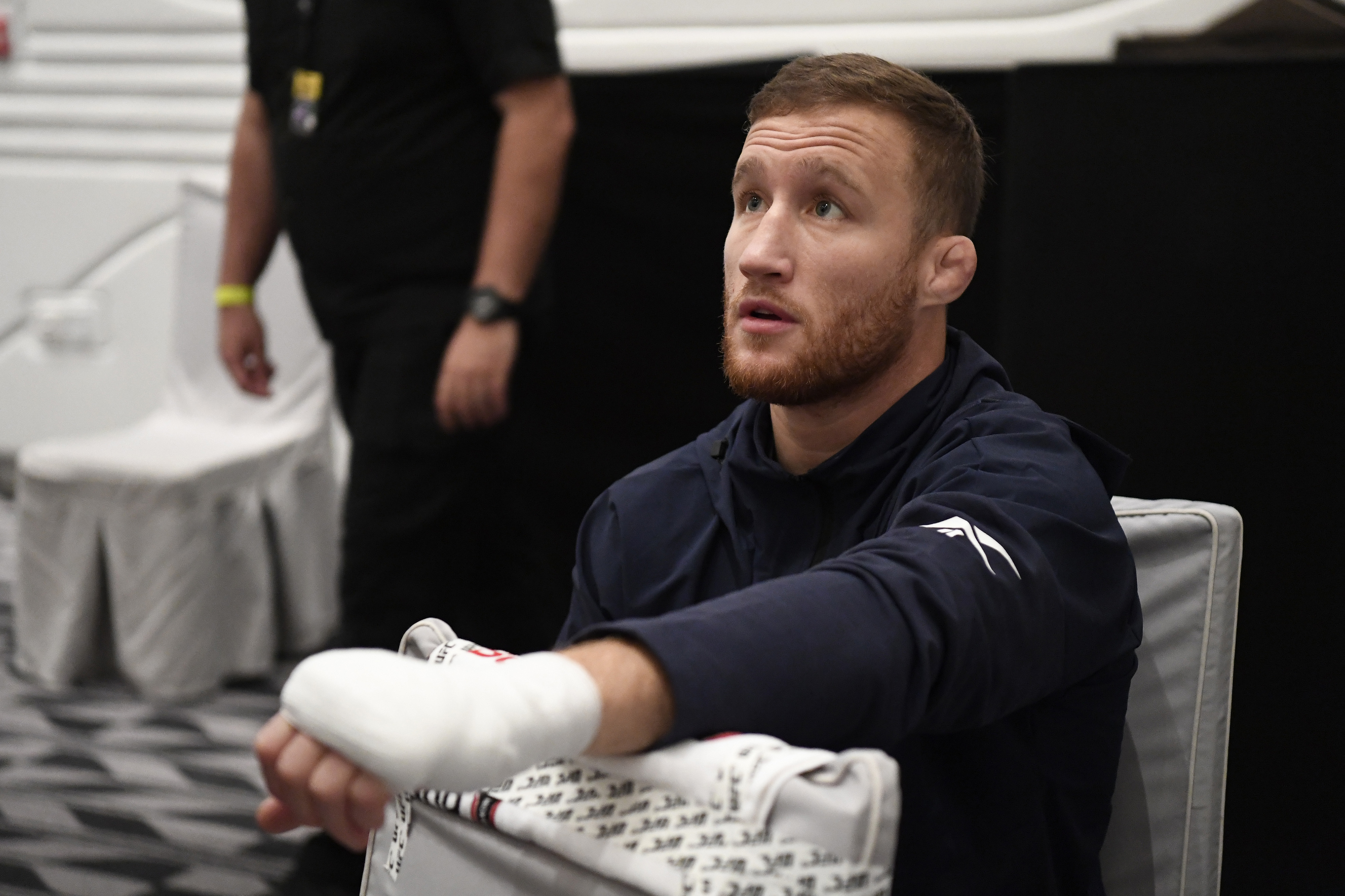 While Gaethje has rarely used his wrestling offensively, his fight against Nurmagomedov required him to use his wrestling defensively. Nurmagomedov is a high-level wrestler, and he didn't hold back in his win against Gaethje.
This is where Gaethje's wrestling skills could help him in the future. If Gaethje can stop takedowns, then he can keep fights standing and that's where he has the most advantages. Gaethje loves to stand and strike with his foes, and if he can do that, then he may very well win.