Justin Herbert Is a 'Bona Fide Star,' but a Chargers Legend Has a Major Concern About LA: 'The Mentality Needs to Change'
The Los Angeles Chargers started the season as one of the NFL's most pleasant surprises. After going 5-11 in 2019 and 7-9 in 2020, LA was rolling through its first five games this year, and Justin Herbert was continuing to prove his standing as one of the league's top young quarterbacks.
However, LA has since struggled to find any consistency, and ahead of an important stretch of its season with major playoff implications, Chargers legend Shawne Merriman recently shared one of his biggest concerns about his former team.
Justin Herbert led the Chargers to a hot start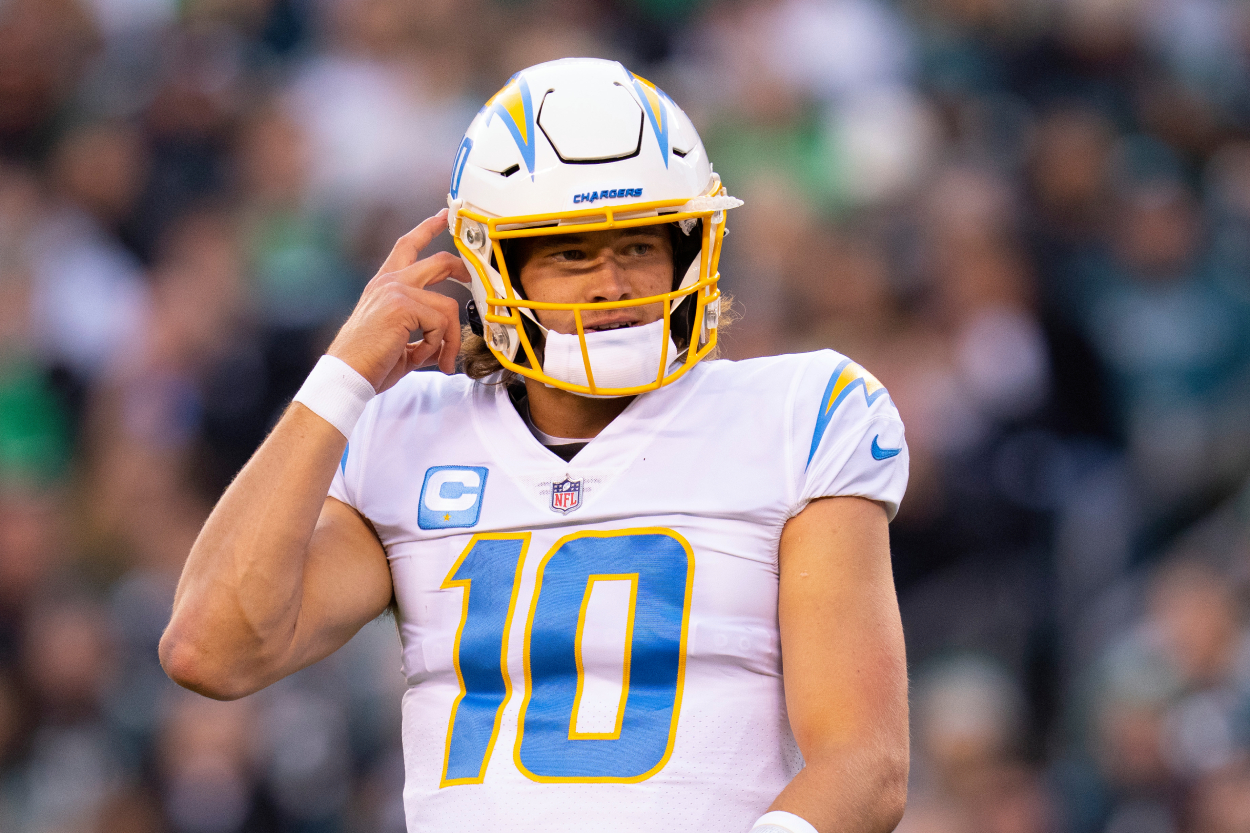 Whether they're winning or losing, Justin Herbert has made one thing clear: He's an absolute star. 
The 2020 AP Offensive Rookie of the Year helped lead the Chargers to a 4-1 start with wins against teams like the Cleveland Browns, where he threw for 398 yards, four touchdowns, and no interceptions.
He has since jumped up to 3,230 yards and 24 touchdowns on the season, which are both top five in the NFL so far.
"He's coming into his own," former three-time Pro Bowler and first-team All-Pro Shawn Merriman said to Sportscasting while discussing his MMA company, Lights Out XF. "I'm not talking about the numbers. I think he's just getting more comfortable being in his role. This guy, he's the CEO of the franchise. He's the CEO of that team. He's becoming more and more comfortable. I think there's probably really only two games where he looked really bad this year. … He's a bona fide star, man. He's everything that you can hope for after having a Philip Rivers leave to hand the torch to."
His play, though, hasn't been enough in the team's last six games, as LA has gone 2-4 since its 4-1 start, sitting at 6-5 through 11 games.
But while Herbert had a rough outing against the Denver Broncos in Week 12, throwing two interceptions, the Chargers don't necessarily need to worry about him. Their biggest concern heading into this final stretch of the season is their play on defense.
The Chargers' defense has struggled so far this year
On paper, this LA defense looks good with guys like Derwin James, Joey Bosa, and Asante Samuel Jr. However, it has been anything but so far, as it's allowing the fourth-most points in the NFL at 26.6 per game and has given up the most rushing yards at 1,598.
"First of all, they have to stop the run," Merriman said. "… I would say this, stopping the run is a mentality. I played with some guys who wasn't big, wasn't strong, wasn't fast, but they were damn good against the run. They just decided and said, 'Hey, I'm not letting this guy block me. And I'm gonna stop the run.' So, I think that the mentality needs to change and shift a little bit, and they need to have a sense of urgency. Because across the board if you look at the talent and look and see who they have, they should be blowing people out of the water."
But since they aren't blowing their opposition out the water, the Chargers now have to worry about winning games if they want to make the playoffs.
"Right now, you gotta start inclining," he said. "The great teams who are going to have a nice playoff run, you have to start inclining. This is not the time to decline. You start to get better during this point in the season, so you get into the playoffs on a high note. … But you have to go out and win now. Their mindset shouldn't even be playoffs right now; it's going out and beating them (the Bengals) on Sunday, having a great game, and then looking to see who's next."
Can Justin Herbert and the Chargers beat the Bengals?
To help their playoff position, the Chargers must first beat the Cincinnati Bengals on Dec. 5 in what will be a battle between two great young quarterbacks in Herbert and Joe Burrow.
Burrow has thrown for 2,835 yards, 22 touchdowns, and 12 interceptions so far this year. And he has benefited from the Bengals selecting his former LSU teammate, Ja'Marr Chase, with the No. 5 overall pick in the 2021 NFL Draft. Chase has 50 catches for 906 yards and eight touchdowns so far in his rookie season.
"He (Burrow) was already playing well, but when they brought in Ja'Marr Chase, their connection, and I know they played in college and so forth, but they have a connection that's scary if you're on the defense side of the ball," Merriman said. 
So, does Merrman think the Chargers can win? Or will the red-hot Bengals improve to 8-4?
"I said earlier that the matchup problem, I thought the Bengals were gonna win, picking against my Chargers, and everybody knows I'm Chargers through and through," he said. "This is not a great matchup for them. Do they have the capabilities to go on out and beating the Bengals? Absolutely. … But when you're not stopping the run, and you haven't figured it out yet. When you're stomping on Pittsburgh, and you let them get back in the game with a couple minutes left. The Cincinnati Bengals are a better team than Pittsburgh."
Justin Herbert and the Chargers will look to get back on track against the Bengals at 1 p.m. on Sunday.
Stats courtesy of Pro Football Reference