Justin Herbert's Early Super Bowl Hopes Just Received a Crushing Blow at the Worst Possible Time
The Los Angeles Chargers understandably began star quarterback Justin Herbert's sophomore season with lofty expectations. Those on the skeptical front may have felt better after the reigning NFL Offensive Rookie of the Year led an impressive comeback victory over the Washington Football Team in Week 1.
No one is saying the team should abandon its hopes of taking down Patrick Mahomes and the Kansas City Chiefs for AFC West supremacy. However, the Chargers just received brutal news that could derail Herbert and the offense at the wrong time.
Justin Herbert will be without right tackle Bryan Bulaga for at least three weeks
A young quarterback has the best chance of succeeding when he has three things, four if you include his health. A capable head coach and solid offensive weapons are often — but not always — the deciding factor between following in Russell Wilson's footsteps and winding up like Sam Darnold; a player considered damaged goods when the New York Jets traded him earlier this year.
You know what quarterbacks also tend to benefit from having? An offensive line that can keep a young player on his feet and free from injury.
At least for now, Herbert will need to go without starting right tackle Bryan Bulaga once again. The Iowa product and veteran offensive lineman will miss at least the team's next three games with a back injury. He played only 56% of the team's snaps in a Week 1 victory over Washington before departing with the injury.
Bulaga is no stranger to injured reserve. He suffered a hip injury in 2012, his third year with the Green Bay Packers, and has had two ACL reconstructions since 2013. The Super Bowl 45 champion missed six games last year and left early in five others.
As of publication, the Chargers had not announced who would start at right tackle against the Dallas Cowboys in Week 2. Storm Norton, a fifth-year offensive lineman from Toledo, could get the call.
Herbert could desperately miss Bulaga when he faces the Kansas City Chiefs in Week 3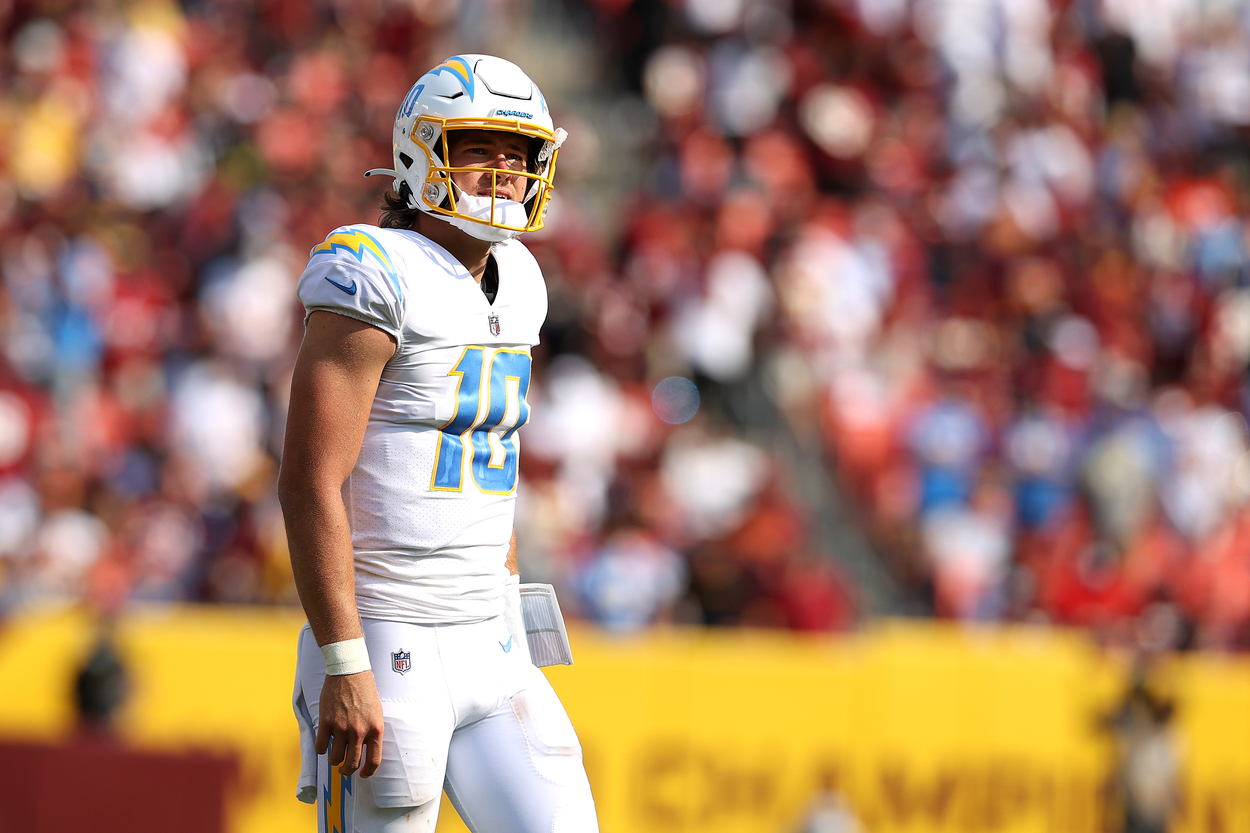 Bulaga's resume might not immediately scream someone who would be a significant offensive loss. He's an injury-prone right tackle who never made a Pro Bowl or appeared on an All-Pro team in his first 11 seasons.
That's only counting stats, though. Even if he's not San Francisco 49ers standout Trent Williams when it comes to name recognition or accomplishments on the back of the trading card, Bulaga is a capable and competent offensive lineman when on the field. Most importantly, he's a veteran blocker for a wunderkind quarterback.
If Bulaga only misses three games, he'll sit out winnable matchups against the Cowboys and Las Vegas Raiders. Luckily for Herbert, Dallas star pass-rusher DeMarcus Lawrence went on injured reserve with a foot injury ahead of the Week 2 showdown. Although the Raiders' defense is inconsistent, veteran defensive end Carl Nassib could pose a problem in Week 4.
In the middle of that stretch, however, is the first of two regular-season showdowns with Mahomes and the Chiefs. The Chargers travel to Arrowhead Stadium in Week 3, searching for a second consecutive road victory against their longtime rivals.
A Week 3 upset would go a long way in cementing the Chargers as legitimate AFC contenders this season. That's the type of game when all hands, and maybe a couple of feet, are on deck. Unfortunately for the Chiefs, they'll be without Bulaga and all of his limbs that afternoon.
Herbert will need to put the Chargers on his back over the next few weeks
There comes a time in a young quarterback's life when he learns to carry a team despite whatever else is happening on or off the field. The likes of Russell Wilson and Joe Flacco overcame everything from mediocre offensive lines to a lack of dangerous weapons to still keep their teams as perennial playoff contenders.
The time has come for Herbert to join the club, and he's well on pace to do so. He showed impressive poise in Week 1 and rallied his team to victory by not forcing deep throws in an effort to score early. After an interception early in the fourth quarter, he connected with Mike Williams for a 3-yard touchdown following the Chargers' ensuing fumble recovery.
Herbert then engineered a game-clinching drive where he methodically and safely moved the ball down the field for nearly seven minutes. Washington never got the ball back, and the Chargers moved to 1-0 in the process.
If Herbert can showcase the same confidence and intelligence over the next few weeks, don't be surprised to see Bulaga regain his starting role on a 4-0 team. It's asking a lot, but this is why the Chargers selected their starting quarterback sixth overall last year.
Like Sportscasting on Facebook. Follow us on Twitter @sportscasting19.
RELATED: Drew Brees Should Have the NFL on Notice After His Bold Proclamations About Justin Herbert