Justin Herbert Foolishly Ripped by Kyle Brandt Amidst Chargers' Massive Roster Overhaul
The AFC West is loaded with talent now. The Denver Broncos acquired Russell Wilson, and the Los Angeles Chargers landed Khalil Mack and JC Jackson. The Kansas City Chiefs replaced Tyrann Mathieu with Justin Reid and still have their main core on the roster.
Of course, the Las Vegas Raiders are fresh off of a playoff trip and are working tirelessly to find some free agents to join new head coach Josh McDaniels.
The AFC West now features Patrick Mahomes, Derek Carr, Justin Herbert, and Wilson, making it arguably the most talented division as far as quarterbacks go. However, Kyle Brandt from Good Morning Football isn't totally on board with Herbert and dished out a foolish take.
Kyle Brandt puts Chargers star Justin Herbert as the fourth best QB in the AFC West
Yes, Kyle Brandt really uttered those words and ranked Herbert as the No. 4 QB in the AFC West. Mahomes and Wilson are top talents, and Carr is a capable starting QB. There is no argument on that end.
But is Herbert the worst of the bunch? There is no way this take by Brandt is the truth.
In just two years in the NFL, Herbert has shattered records, and the Chargers were just one game away from a playoff trip.
It's a nonsense take from Brandt, plain and simple. His reasons for it were even more blasphemous. The Chargers have made the playoffs just twice in the last 10 years. That's one reason.
Herbert is sub-.500 in his career and threw 15 interceptions last year. That was another.
We will get into the second "reason" later, but what does the Chargers' last decade have to do with Herbert? Nothing. Absolutely nothing.
This team is different from ever before, and additions such as Khalil Mack, JC Jackson, and Sebastian Joseph-Day are vital components for a massive turnaround in LA.
There is no way Justin Herbert is the worst QB in the division, especially when we examine the numbers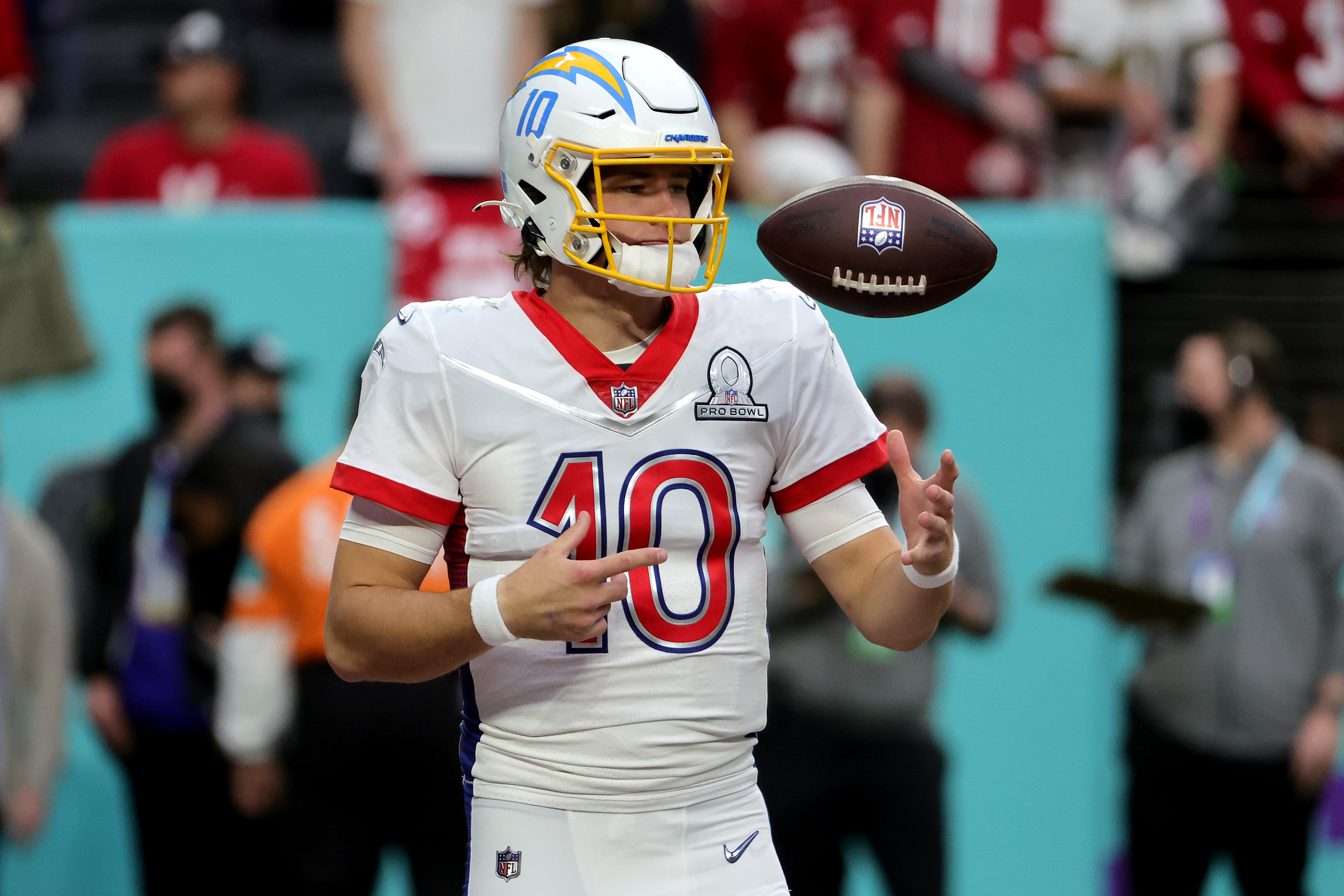 Brandt is so far off on this assessment that it has to be scripted. Right?
His playoff reasoning is outrageous, especially because Herbert took over an injury-plagued roster in his rookie season. Then Anthony Lynn and Shane Steichen left, and Herbert dealt with a new HC and OC in his second year and finished just a few plays away from the playoffs.
Those points also factor into Herbert's overall record as a starter. They finished above .500 this past season in Brandon Staley's first year as head coach. That is a good start.
Now, let's look at the 2021 numbers from all four AFC West QBs.
Derek Carr: 4,804 yards, 23 TD, 14 INT
Justin Herbert: 5,014 yards, 38 TD, 15 INT
Patrick Mahomes: 4,839 yards, 37 TD, 13 INT
Russell Wilson: 3,113 yards, 25 TD, six INT (in just 14 games)
So, to sum it up, Herbert had more touchdown passes than all of them. He threw for more yards and was only one of two QBs to throw for 5,000 yards (Tom Brady was the other).
Oh, and his 15 INT that Brandt scoffed at is just one more than Carr and two more than Mahomes. Seriously, this worst QB in the division talk is highly questionable.
On the other hand, Herbert might be the second-best signal-caller in the division.
Brandt isn't buying Herbert just yet, for some reason. Nonetheless, the star QB is getting love from many others, including one former Chargers player.
Marcellus Wiley is all aboard the Chargers hype train after a massive set of additions
Some people won't ever buy into the Chargers because of the past. That's justifiable, but calling Herbert the worst QB in the division is all sorts of wrong.
However, Marcellus Wiley said the opposite while discussing the new-look Chargers team. After adding JC Jackson Mack, bringing back Mike Williams, and adding a pair of defensive tackles, the Bolts are primarily fixing their biggest issue — the defense.
On offense, they already have Keenan Allen and Austin Ekeler returning, and the extension for Williams was a significant victory. Now Herbert can spend another offseason learning Joe Lombardi's playbook and developing an even better relationship with his offensive weapons.
Oh, and Pro Bowl offensive lineman Corey Linsley and Rashawn Slater are still around, and LA has the No. 17 pick in the 2022 NFL Draft. Perhaps more line help is on the way. Or, who knows, maybe a Garrett Wilson or Chris Olave offensive threat is coming to LA.
Nonetheless, there is an argument to be made that Herbert is the best QB in the division — and one of the best in the entire NFL.
Brandt might not think so right now, but let's bookmark this take and look back at it at the end of the 2022 season.
Stats Courtesy of Pro Football Reference
RELATED: Chargers' $100 Million Spending Spree Trumps Russell Wilson Blockbuster Deal