Justin Herbert Can Settle the Joe Burrow Debate Once and for All as the Chargers Face the Bengals in Week 13
This question has been a hot topic ever since the 2020 NFL Draft. The Cincinnati Bengals took Burrow first overall, and the Los Angeles Chargers nabbed Herbert at sixth, one slot behind Tua Tagovailoa.
As both rising stars are leading their teams to potential playoff berths in 2021, there have been more recent conversations about which quarterback is better. Well, Herbert has a chance to rise above Burrow and settle the debate as the two AFC playoff contenders face off.
Joe Burrow or Justin Herbert is a huge debate, and both quarterbacks are playing at a high level
Burrow was the obvious first choice after leading LSU to a national title in his final year at Baton Rouge. At the time, Herbert was an afterthought.
Scouts and analysts didn't think the Oregon product had what it takes to become a successful NFL quarterback. Tagovailoa was the consensus second-best quarterback in the class.
Now, Tagovailoa is far gone from such conversations. It remains Herbert vs. Burrow for the crown of the 2020 NFL Draft's best signal-caller.
The Bengals sit at 7-4 and the Chargers at 6-5, with both teams clinging on to AFC wild-card spots for the time being. Burrow has compiled 2,835 yards through the air with 22 touchdowns and 12 interceptions. Despite his recent struggles, Herbert has put together 3,230 yards with 24 touchdowns and 10 interceptions.
The question of who would you rather have has circulated more lately, and former NFL QB Dan Orlovsky offered his take.
There is certainly an argument to be made for both players as they head toward the finish line of their sophomore campaigns.
The Chargers' young quarterback can prove why his ceiling is higher than Burrow's
Former NFL head coach Bill Cowher sang Herbert's praises earlier this season, and others have followed suit. There is no denying that Herbert and Burrow both have talent and will become superstars in this league.
But Herbert has proven time and time again why his ceiling is through the roof. In his rookie year — one he wasn't expected to start — he torched rookie records across the board. The Chargers quarterback tossed for 4,336 yards with 31 touchdowns and 10 interceptions with a patchwork offensive line and injuries across the board.
Herbert has been dealing with a new offensive coordinator, a new head coach, and an entirely new scheme in his second year. Still, the Chargers are fighting for the playoffs, and he continues to play at an impressive level.
Now, Burrow has performed well, especially after returning from a season-ending ACL injury. He is in the Comeback Player of the Year conversation, although Dak Prescott seems to be the favorite to snag that one.
Both quarterbacks will be superstars in the NFL in five years, if not sooner. But Herbert's skill level exceeds that of Burrow.
Yes, Herbert has struggled lately. However, a lot of that can be attributed to poor play-calling and, once again, a battered offensive line. Nonetheless, he is still top-five in passing yards and touchdowns, and rookie tackle Rashawn Slater has been a massive part of his success this year.
Herbert continues to read defenses and make eye-popping throws time and time again, all as OC Joe Lombardi calls questionable plays in his first year rocking the headset in LA.
Herbert will get more comfortable running the new offense as time goes on, and the sky is the limit for this young quarterback.
The future of the NFL is in the hands of these two star quarterbacks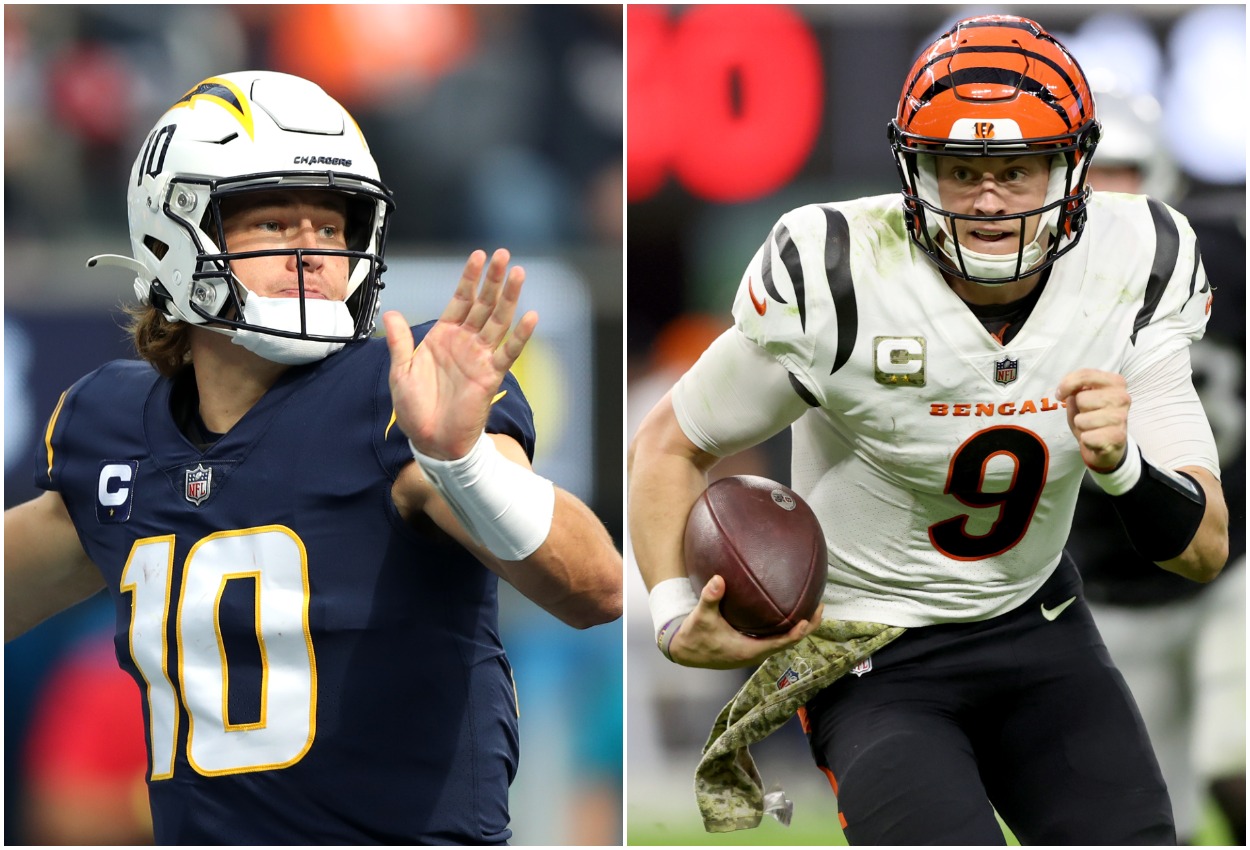 Make no mistake, both of these guys can ball.
Herbert and Burrow should be Pro Bowl candidates year after year for the next half-dozen seasons, at least. These young quarterbacks should be regarded as top-10 options in the NFL until they prove otherwise.
For now, Herbert's skillset reigns supreme, although Burrow is quietly knocking on his door. The Bengals' decision to draft Ja'Marr Chase and reunite the former LSU teammates has turned out to be a smash pick.
The Chargers invested heavily in the offensive line this past offseason, although several injuries have derailed their impressive start to the year.
Joe Burrow or Justin Herbert will be a debate for as long as these two are in the league and performing at a high level. Whichever side you stand on, please sit back and enjoy two young stars battling it out in a game full of playoff implications.
Stats courtesy of Pro Football Reference
RELATED: Bill Belichick Hits Chargers QB Justin Herbert With Massive Praise: 'I Don't Think You're Going to Find Too Many Better Than Him'