Justin Herbert Should Have LA Chargers Fans Excited After His Recent Comments About Tom Brady
The Los Angeles Chargers have to feel good about the state of their franchise. They have multiple stars on both sides of the ball and a new head coach. LA has also found their answer at quarterback in Justin Herbert. 
The rookie quarterback quietly scorched the NFL in 2020. As he prepares for his sophomore season, the Oregon product suggested that he is trying to imitate another legendary quarterback's career.
Justin Herbert had a phenomenal rookie season
RELATED: Justin Herbert Breaking Records Isn't the Most Impressive Thing About His Rookie Year With the Chargers
Justin Herbert wasn't expected to play a lot in 2020. The Chargers named Tyrod Taylor the starter, but a mishap involving a trainer caused him to miss Week 2. The rookie quarterback stepped into the starting lineup and never looked back. The following 15 games were historic for the 22-year-old signal-caller.
Herbert shredded opposing defenses during his rookie season, throwing for 4,336 yards, the sixth-most among all quarterbacks in 2020. The Oregon alum also added 31 touchdown passes and five rushing touchdowns, and his 69.5 QBR was in the top half of the league.
The quarterback broke the rookie passing touchdown record and almost broke Andrew Luck's rookie passing record. His standout season won him the Offensive Rookie of the Year Award. Herbert led the Chargers to a 6-9 record as the starter.
After his great inaugural season, expectations will be much higher for the young signal-caller. Justin Herbert is choosing the right guy to mold his career after.
Justin Herbert: 'anybody should aspire to be like' Tom Brady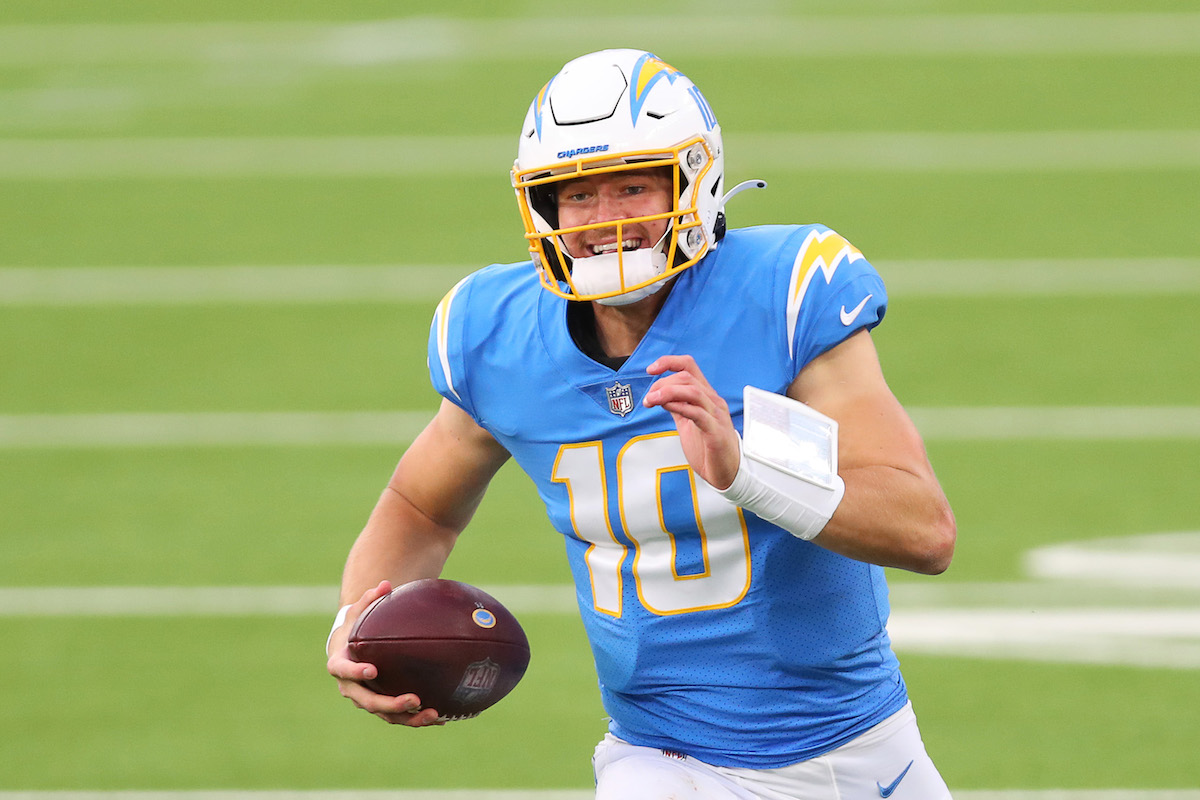 RELATED: The NFL Is Bailing Out Tom Brady for His Words During Super Bowl 55
Justin Herbert was an infant when Tom Brady began his NFL career. While the two signal-callers are now peers, the Chargers quarterback still wants to replicate TB12's professional success.
"I think anyone should aspire to be like Tom Brady, to have as much success as he's had for as long as he's been able to do it. To win, that's the ultimate goal of the quarterback position is to put your team in a position to win. He's been able to do that. He's a competitor, and he finds a way to win, and I think that's the best part about it," said Herbert per Pro Football Talk.
The young quarterback has the right mindset trying to replicate Tom Brady's career, it's easier said than done. Brady is the only player to have seven Super Bowl rings. and despite his early sucess, Herbert hasn't even made it to the postseason yet.
Although Justin Herbert has yet to reach the postseason, the Chargers have a realistic chance to do so in 2021. They have the pieces in place to become a dark horse playoff team if everyone stays healthy.
The LA Chargers 2021 outlook
RELATED: Chargers QB Justin Herbert Admits He Eats 2 Specific Subway Sandwiches After Practice Every Day
The LA Chargers have everything set for them to make a playoff run next season. They hired Brandon Staley as their head coach, who should help a Chargers defense that needs improvement against the run. Staley helped the Los Angeles Rams become the top-ranked team defensively in 2020. With Joey Bosa and Derwin James, the 38-year-old coach will have his cornerstone pieces in place.
Offensively, Herbert's deep ball was exceptional last season. That was one of his best throws, but he knows he needs to expand his game.
"I think I can keep learning about the game. If I know more about defenses, coverages, pressures, all of that, I think that better helps our team, and I think if I can master the playbook and know exactly what we're doing, why we're doing it, so that when I get up to the line of scrimmage, and I see a certain front, see a certain pressure, I'm able to get us into a great play," Herbert said.
Justin Herbert wants to have a legendary NFL career just like Tom Brady. While he has a long way to go, his impressive rookie campaign, combined with his comments about aspiring to be like TB12, both bode well for his NFL chances. Even if he cannot surpass the GOAT, it certainly looks like the Chargers have found their own franchise quarterback.