Justin Herbert Reminds Former NFL Coach of Hall of Fame Quarterback John Elway: 'He's Got That Bazooka for an Arm'
Justin Herbert has been everything the Los Angeles Chargers bargained for and then some. Though somewhat flying under the radar, the second-year quarterback continues to impress in year two. Former NFL coach and current ESPN analyst Rex Ryan believes Herbert has all the tools to succeed. He recently drew a comparison between the Chargers star and John Elway.
Justin Herbert is one the NFL's best young signal-callers
After productive junior and senior seasons at Oregon, Justin Herbert entered the 2020 NFL Draft as one of the more polarizing quarterback prospects. Analysts mentioned him in debates with Joe Burrow and Tua Tagovailoa leading up to the big day. However, the other two went ahead of Herbert in the draft.
The Chargers landed the former Ducks standout at No. 6 overall, and he has a chance to become the best quarterback in the class.
Herbert dazzled as a rookie, throwing for 4,336 yards, 31 touchdowns, and just 10 interceptions. His stellar play earned him AP Offensive Rookie of the Year honors.
LA's signal-caller continues to make eye-popping plays in his sophomore campaign. Although he's tossed more interceptions in 2021 already than he did in 2020, he's on pace for more touchdowns.
The Chargers are 7-5 and right in the thick of the AFC playoff hunt. Herbert's unique arm talent can take this team where Philip Rivers couldn't.
The franchise brought in a new coaching staff in 2021, so Herbert needed to adapt and learn the system. That's not easy for a young quarterback to do, but the Eugene, Oregon native is different.
The more he learns, the better he gets, and people are noticing.
Rex Ryan compares the Chargers QB to John Elway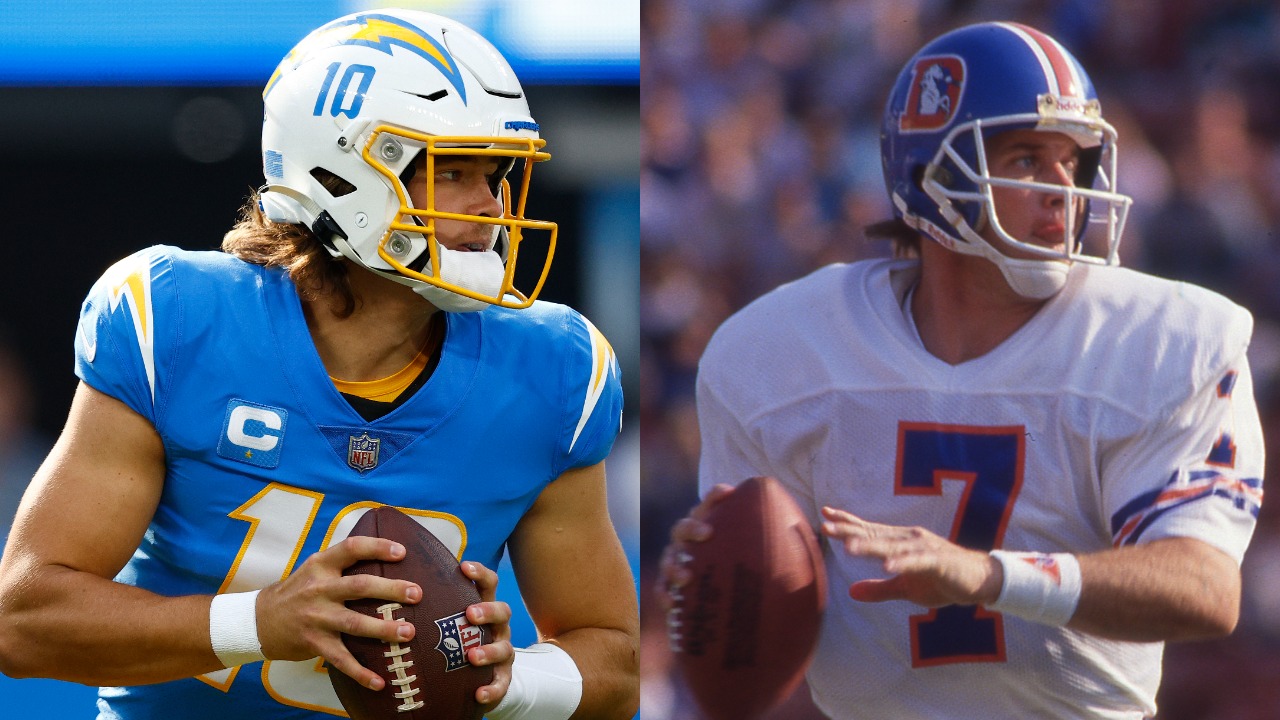 Justin Herbert is only 23 years old, but his game is beyond his years.
After another impressive performance against the Cincinnati Bengals in Week 13, former NFL coach Rex Ryan gushed over the Chargers star on ESPN's Get Up. The coach-turned-analyst sees similarities between Herbert and Denver Broncos Hall of Famer John Elway.
"When I think about it, it's his athleticism," said Ryan. "He's got that bazooka for an arm."
Elway is one of the most decorated quarterbacks in NFL history. He led Denver to back-to-back Super Bowls (1997 and 1998). He also made the Pro Bowl nine times and won MVP honors in 1987. A natural winner, Elway posted a career 148-82-1 record as a starter.
Elway's early years may have been more impressive than the years he won rings. He was a gunslinger with world-class arm talent. He was also mobile, which worked to his advantage (and the Broncos').
Rex Ryan's comparison certainly has legs. From a talent perspective, everything people say about Elway also applies to Herbert. He can make all the throws, and he's shown a knack for improvisation and making plays with his legs. His athleticism gets him out of trouble, allowing him to hook up with Keenan Allen and Mike Williams.
John Elway is a well-deserved Hall of Famer. He was the first-ever quarterback to start in five Super Bowls. As a leader, not many at the position have been better.
Justin Herbert has a ways to go, but he's heading in the right direction. The Chargers' signal-caller possesses all of the necessary tools to be an elite NFL quarterback for a very long time.
LA's newest star caught the eyes of Elway's former rival
John Elway has a history with another Chargers quarterback, Dan Fouts. The Chargers nearly traded Fouts for the draft rights to John Elway in 1983. After he signed an extension to stay in San Diego, the Baltimore Colts sent Elway to Denver instead.
As soon as the LA Chargers drafted Justin Herbert, the Dan Fouts comparisons started to roll in, which made sense. Both quarterbacks played college ball at the University of Oregon.
Fouts is the greatest quarterback in Chargers franchise history. He led the NFL in passing four seasons in a row. The 6-time Pro Bowler is beloved by the fans.
As good as Fouts was during his career, he believes the franchise is in great hands with Herbert.
"I wouldn't trade Justin Herbert to any team in the league right now for any other quarterback," the Hall of Famer told the Los Angeles Times. "I'm talking about the whole package.
Rex Ryan and Dan Fouts are respected football names in their own rights. Others around the league echo their opinion of the Chargers' star.
Fouts may not compare Herbert to Elway, given their history. However, the similarities appear apparent the more Herbert plays.
Justin Herbert has an elite skill set like John Elway. Now the LA Chargers need to put him in a position to win.
All stats courtesy of Pro Football Reference