Justin Herbert's Personality Issues Will Make Him the Next NFL Draft Bust
Justin Herbert has the opportunity to become the next quarterback who proved teams and skeptical analysts wrong. Herbert also has the chance to show those teams and naysayers were right. A four-year starter at Oregon, Herbert is expected to be one of the top three quarterbacks selected in the NFL draft later this month.
Numerous teams, including the Los Angeles Chargers and Miami Dolphins, have been linked to Justin Herbert in the pre-draft process. Although Herbert has earned rave reviews for his arm and body, he's also drawn criticism and concerns for his personality and accuracy.
Those faults and weaknesses will be what makes Herbert the NFL's next draft bust rather than its next perennial All-Pro.
Justin Herbert had an impressive career at Oregon
When Justin Herbert was healthy, he was an extremely productive quarterback for the Oregon Ducks. Herbert went 29-14 in four seasons and completed 64% of his passes for 10,541 yards, 95 touchdowns and 22 interceptions.
After returning for his senior season, Herbert set career-highs in passing yards and passing yards for a Ducks team that ended the year ranked No. 5 in the country. Despite playing for three coaches in four seasons, he also led the Ducks to victories in the 2018 Redbox Bowl and the 2020 Rose Bowl.
Herbert was also named the 30th recipient of the William V. Campbell Trophy, an award referred to as the "Academic Heisman."
Herbert is an extremely concerning quarterback prospect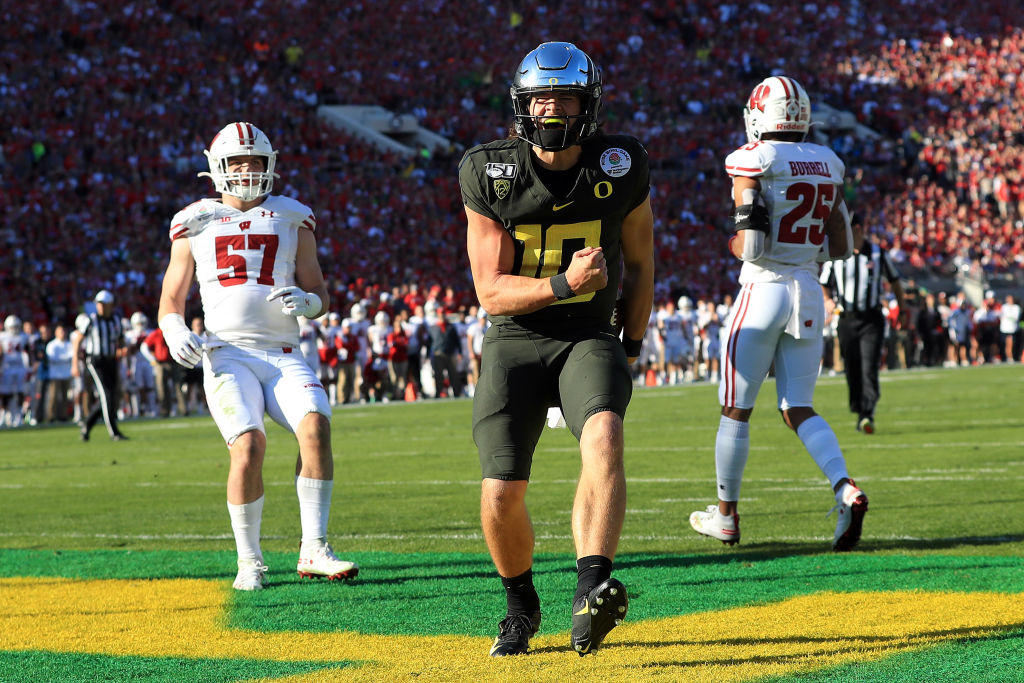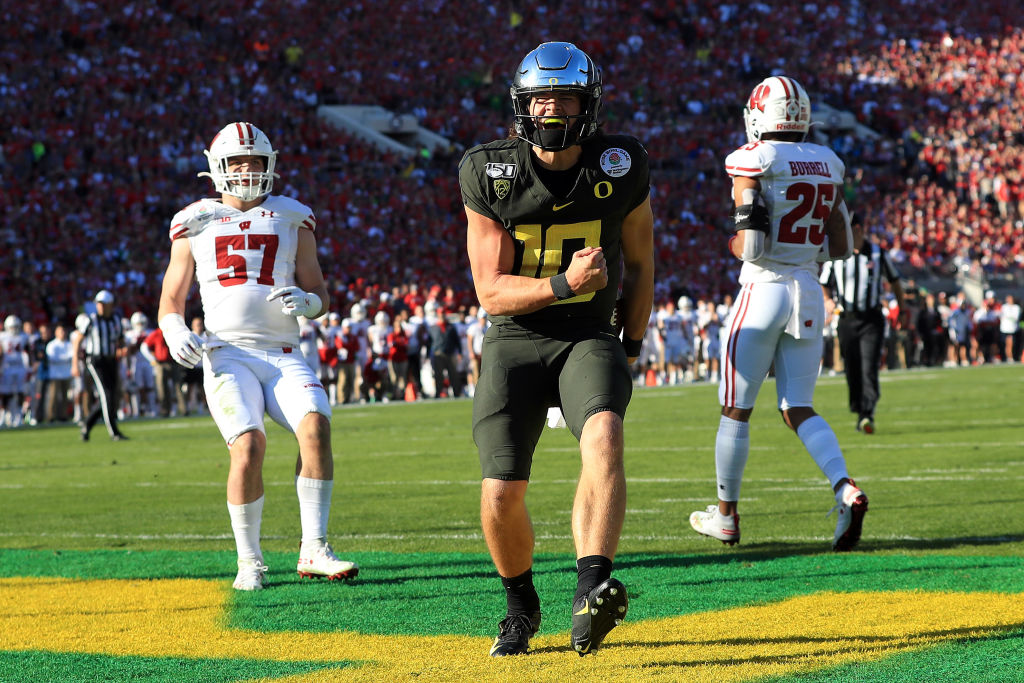 The trend of successful college quarterbacks not playing well in the NFL is a tradition as old as the sport itself. Part of that should be placed on the NFL's fascination with propelling raw prospects who aren't quite ready yet into the first-round conversation. In an ideal world, Justin Herbert would be an intriguing Day 2 prospect who would benefit from a year or two under a veteran quarterback and a strong support staff.
Herbert is instead projected to go in the Top 10 despite concerns about his accuracy, attitude, and his fit in a pro-style offense. Herbert played in a simple Oregon offense, the type of scheme that has limited college quarterbacks when they transition to the NFL.
Scouts reportedly love Herbert's 6-foot-6 frame and his arm strength, but the measurements and talk about the "prototypical quarterback" only go so far. ESPN's Bill Polian suggested Louisville's Lamar Jackson consider playing wide receiver at the NFL because of his frame and skill set. Jackson was named NFL MVP last year and is one of the sport's most exciting young quarterbacks.
NFL Media's Lance Zierlein wrote that Herbert's pro comparison is Eagles quarterback Carson Wentz. Zierlein is a fan of Herbert's "high ceiling" and athleticism, though is concerned with his ball placement.
Justin Herbert doesn't have the personality to star at quarterback
Justin Herbert has repeatedly addressed his introverted personality throughout the last few years. Former Oregon coach Willie Taggart didn't immediately name Herbert the Ducks' starter in 2017 because Herbert hadn't yet shown he could "rally everybody on this team." Months later, Taggart said Herbert had matured and transitioned into becoming the leader Oregon needed.
A former teammate called Herbert "the shiest dude I've ever met," according to SB Nation. Herbert told reporters at the NFL combine he'd become "more vocal and more outgoing" during his time at Oregon.
Recent NFL history has shown the most successful quarterbacks have a certain personality. Former ESPN analyst Trent Dilfer said UCLA's Josh Rosen's intelligence and affluent background was "almost a curse for him." Josh Rosen has struggled in his two seasons with the Arizona Cardinals and Miami Dolphins.
Quarterbacks like Connor Cook and Ryan Mallett fell because of character concerns and didn't last long in the NFL. Cook recently played in the XFL.
Florida State's Jameis Winston was the No. 1 overall pick in 2015 despite several off-field incidents. Winston dealt with other off-field issues in the NFL and didn't earn a second contract with the Tampa Bay Buccaneers.
Justin Herbert's personality won't necessarily dictate his play. Not every quarterback needs to be as outgoing as Lamar Jackson or Patrick Mahomes, nor do they need to have the business-with-a-smile traits that have made Drew Brees and Tom Brady so successful.
Justin Herbert needs to show he can be one of the guys and leave those attitude concerns in the past. If he can't do that, his NFL career won't last long.