Justin Jefferson's Dominance Can't Save Kirk Cousins From a Difficult Truth Regarding His NFL Legacy
Article Highlights:
Minnesota Vikings star receiver Justin Jefferson unintentionally proved Kirk Cousins' legacy as an underachieving NFL quarterback
Cousins is 2-26-1 when trailing entering the fourth quarter after a shocking Week 13 loss to the Detroit Lions
For his sake, Justin Jefferson should hope the Vikings make a quarterback change next year
Only weeks into the 2020 season, football fans quickly realized Minnesota Vikings receiver Justin Jefferson had the "it" factor. Those fans, especially in the Twin Cities, may have also understood that the LSU product's time would be wasted with Kirk Cousins at quarterback.
Such a comment might not make sense considering Cousins, as the Vikings' quarterback, has played a significant role in Jefferson becoming the NFL's next star receiver. However, the young wideout also unintentionally cemented his teammate's reputation as an underachiever.
Kirk Cousins and the Vikings wasted another of Justin Jefferson's stellar performances
Clearly, whatever the Detroit Lions did in hopes of stopping Jefferson didn't work this season. Less than two months after he torched Detroit's defense for seven catches and 124 yards, the second-year wideout set career highs in receptions (11) and receiving yards (182) in Week 13. 
Unfortunately for Jefferson, he didn't truly have a chance to celebrate his stellar day or the 3-yard touchdown he caught with 1:53 left. Despite entering the game as seven-point favorites against the 0-10-1 Lions, Minnesota allowed oft-criticized quarterback Jared Goff to throw a game-winning touchdown pass with no time left.
According to the Vikings' official website, Jefferson — who topped 1,200 receiving yards on the season in the loss — didn't want to hear about his final numbers.
"As long as we don't get the W, it doesn't matter what type of game I have. Doesn't matter if I have a career game, record-setting game; it doesn't matter. If we don't come out with the W, it's pointless."

Justin Jefferson
Cousins, who went 30-of-40 for 340 yards, two touchdowns, and no interceptions, didn't allow the game-winning touchdown. The Michigan State product also helped the Vikings complete six of their 13 third-down tries. So, how can anyone pin the loss on him? That's not the conversation that needs to be had right now.
Cousins needs to accept his NFL legacy will be that of an underachieving quarterback
Cousins is already in his fourth season with the Vikings, and he's now played in 29 games during which his team trailed entering the fourth quarter. Minnesota has won two of those games; it has almost as many ties as it does victories.
Here's what makes things so interesting: Cousins isn't that bad a quarterback. He's completed 68.9% of his passes for 15,519 yards, 116 touchdowns, and 32 interceptions. If we include the two playoff games he started in January 2020, the 33-year-old is 31-28-1 as the Vikings' starting quarterback.
Cousins' most significant failure, and what stands to be the biggest stain on his legacy, is that he's an underachiever. The Vikings have paid him over $115 million since 2018, and he will earn another $35 million in 2022.
Cousins isn't a free-agency bust, per se, not with how effective he's been at limiting turnovers and creating scoring opportunities. But when a competent and experienced quarterback has had Jefferson, Adam Thielen, and Stefon Diggs at their disposal, one playoff berth in four years is unacceptable.
Much like how we know Jefferson is an All-Pro talent, we know that Cousins has underachieved. As the starting quarterback, it's his job to elevate his team, especially against weaker competition. Yet each of the Vikings' matchups with the Lions this year came down to the final minute. Remember, Detroit has a -113 point differential this season, and that's counting the Vikings games.
Although the Vikings have a leaky defense, Cousins' responsibility is to keep his team in the game by any means necessary. Considering all seven of Minnesota's losses have been by eight points or less, one can only imagine what a more competent quarterback could do.
For his sake, Jefferson should hope the Vikings change course sooner rather than later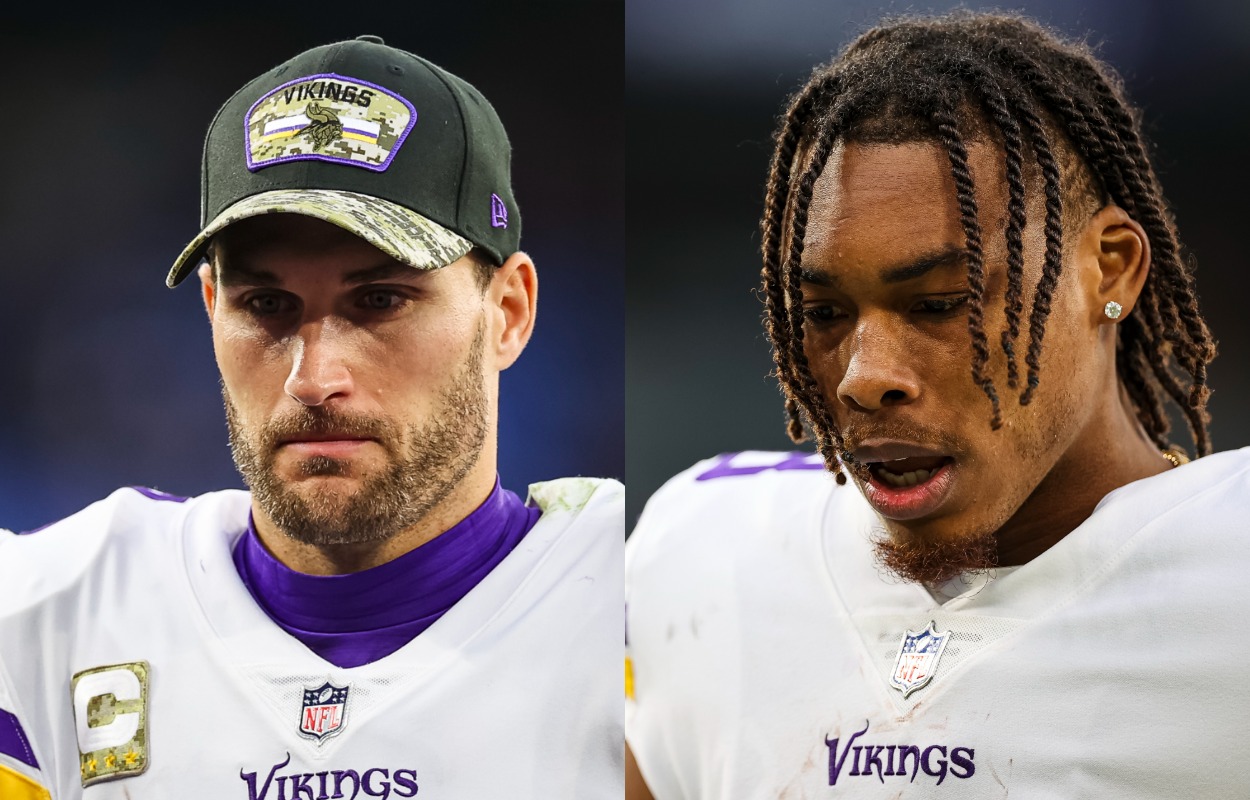 Jefferson and Thielen have combined for 142 catches, 1,895 yards, and 17 touchdowns this year on a team seemingly destined to miss the postseason for the fourth time in six years. In fact, Jefferson is apace to end the 2021 season with 111 catches, 1,714 yards, and 10 touchdowns.
Why should Jefferson have to suffer and miss the postseason because his highly-paid quarterback can't lead late comebacks? For his sake, the LSU product should hope the Vikings start preparing for some form of quarterback change, especially if the team has an opportunity to add another established name.
Unfortunately for Jefferson, the status quo will likely remain in 2022. Cousins' entire $35 million base salary is already guaranteed, and the Vikings almost certainly won't risk incurring any cap penalties by trading or cutting him.
If there ever existed a time for Cousins to silence us, a home showdown against Ben Roethlisberger and the Pittsburgh Steelers in Week 14 is a good place to start. Otherwise, Jefferson can officially start preparing for whatever his offseason plans are.
Like Sportscasting on Facebook. Follow us on Twitter @sportscasting19.