Justin Jefferson Took a Subtle Shot at Kirk Cousins When Discussing New Vikings HC Kevin O'Connell
The Minnesota Vikings briefly flirted with hiring esteemed University of Michigan head coach Jim Harbaugh. However, they ultimately pivoted in a different direction, dipping into the Sean McVay coaching tree (a strategy that has proven lucrative for the Cincinnati Bengals).
The Vikings are expected to name current Los Angeles Rams offensive coordinator Kevin O'Connell their new head coach after the conclusion of the Super Bowl. It's a move emphasizing the offensive side of the ball in Minnesota. Players like Justin Jefferson, Kirk Cousins, and Dalvin Cook should all expect increased roles moving forward.
Justin Jefferson took a subtle shot at Kirk Cousins when talking about Kevin O'Connell
Speaking with NFL Network at this year's Pro Bowl, Jefferson gave his thoughts on the impending hire. He seemed excited about the possibility of working with a more offensive-minded head coach. It's a direct contrast to Mike Zimmer, who made his name in the NFL as a strong defensive mind.
"I've been watching the Rams offense for a minute now," Jefferson told NFL Network via Chris Tomasson of the St. Paul Pioneer Press. "They get their playmakers the ball. They have some tremendous plays; Cooper Kupp wide open all the time. So I'm excited for it. This is my first head coach that's going to be on the offensive side instead of the defensive side, so I'm happy."
At first glance, nothing appears out of the ordinary with this statement. However, after a second look, Jefferson's "they get their playmakers the ball" feels like a subtle shot at Cousins.
Jefferson has publicly expressed frustration with Cousins on more than one occasion since entering the NFL in 2020. It wouldn't be surprising to hear he feels Cousins isn't doing a good enough job getting him the football.
Can the Vikings get even more production out of Justin Jefferson moving forward?
Jefferson racked up 108 catches for 1,616 yards and 10 touchdowns in 2021. Those are impressive numbers. However, Jefferson clearly feels he can bring even more to the table with a better-constructed scheme and better quarterback play.
In LA, Cooper Kupp finished with a league-leading 145 catches and 1,947 yards. One can only assume Jefferson believes he can give the Vikings that type of production moving forward as long as Cousins gets him the football.
One glaring difference between Kupp and Jefferson this past season was catch rate. Kupp hauled in 75.9% of his targets while Jefferson only 64.7%. This is likely due to Kupp having better quarterback play in LA.
The Vikings are likely committed to Kirk Cousins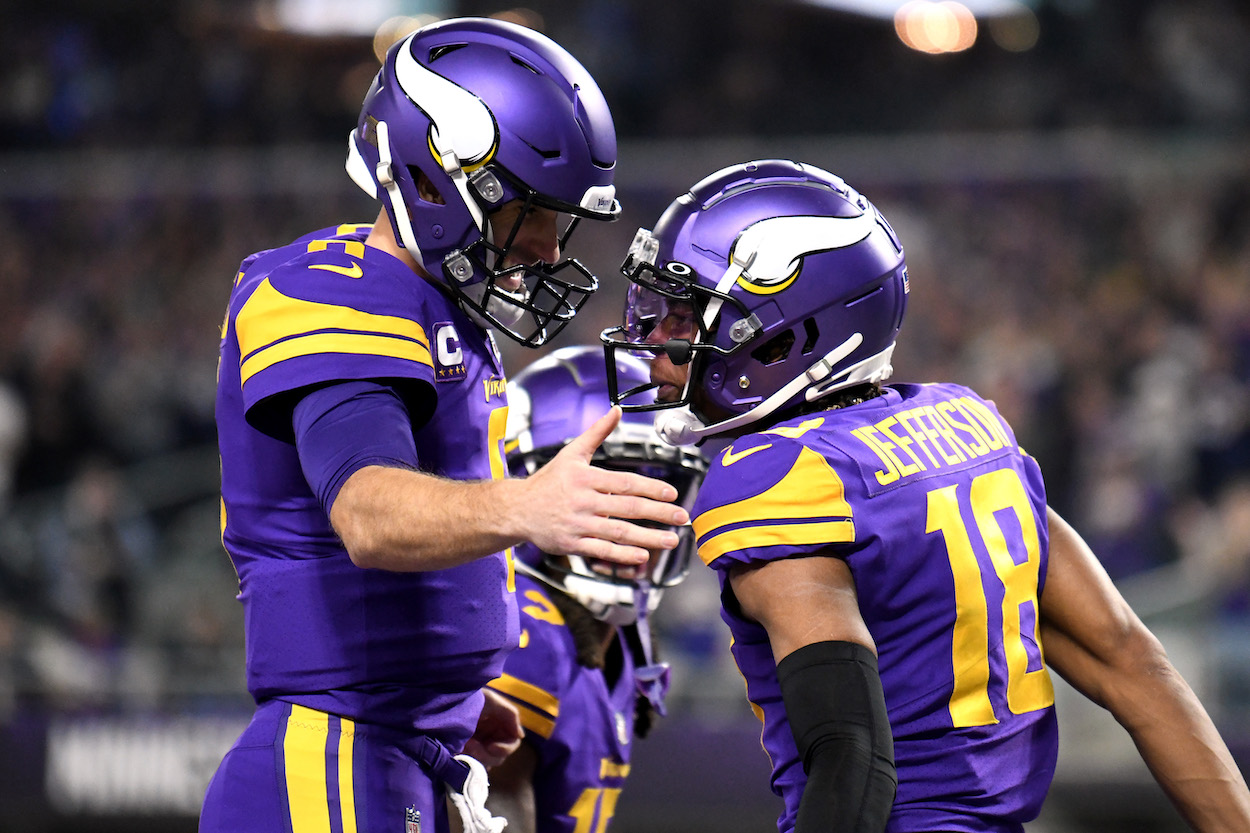 To back up Jefferson's quiet frustration with Cousins, there was significant conversation after the regular season ended that Minnesota was looking to move off its controversial quarterback figure.
However, common sense suggests Cousins isn't going anywhere following the O'Connell hire. O'Connell was Cousins' old quarterbacks coach in Washington. They have a strong relationship.
This means Jefferson will have to find a way to put his frustrations with Cousins aside as he continues to chase Kupp for the label of best WR in the NFL.
All stats courtesy of Pro Football Reference.
RELATED: The Browns Need to Think Twice About Baker Mayfield Following Odell Beckham Jr.'s Super Bowl Appearance