Justin Thomas' Caddie Just Made Over $270,000 to Become the Highest-Paid Caddie in 2021
Justin Thomas is on top of the PGA world right now after winning the Players Championship. The 27-year-old has had quite a successful career in professional golf so far, and he's made sure to spread the love. Thomas' faithful caddie has also profited from the golfer's success while playing a vital component in it as well.
Let's look at Thomas' PGA Championship win, his relationship with his caddie Jimmy Johnson, and Johnson's earnings in 2021. 
Justin Thomas' win at the Players Championship was epic
RELATED: Justin Thomas' Golf Closet Is Laughably Full of Polo Shirts
According to Golf Week, Thomas had a rough 2021 prior to the PGA Championship. In January, he was caught on hot mic saying a "homophobic slur." Thomas apologized immediately, but that wasn't enough to stop one of his sponsors, Ralph Lauren, from dropping him. He also saw his beloved grandfather pass away. 
Thomas was able to put all of that behind him to play some inspired golf at the Players Championship. He won the tournament with his caddie, Jimmy Johnson, manning his bag. Thomas had a particularly strong outing in the third round. He'd comment later that it was his ability to rebound well from bad shots that helped key the great showing: 
I wish all rounds were that easy. I hit the ball beautifully, I drove it well, I hit a couple squirrelly shots there at the end of the front nine, but the good part is that I knew why they were happening. I knew what the swing flaw was, so I felt like I kind of bounced back from that pretty well.

Justin Thomas on his performance at the 2021 Players Championship
Golf is a lonely sport where the players rely mainly on their own instincts. But professional golfers do have a caddie to advise them. So how long has Johnson helped Thomas?
The relationship between Thomas and his caddie is strong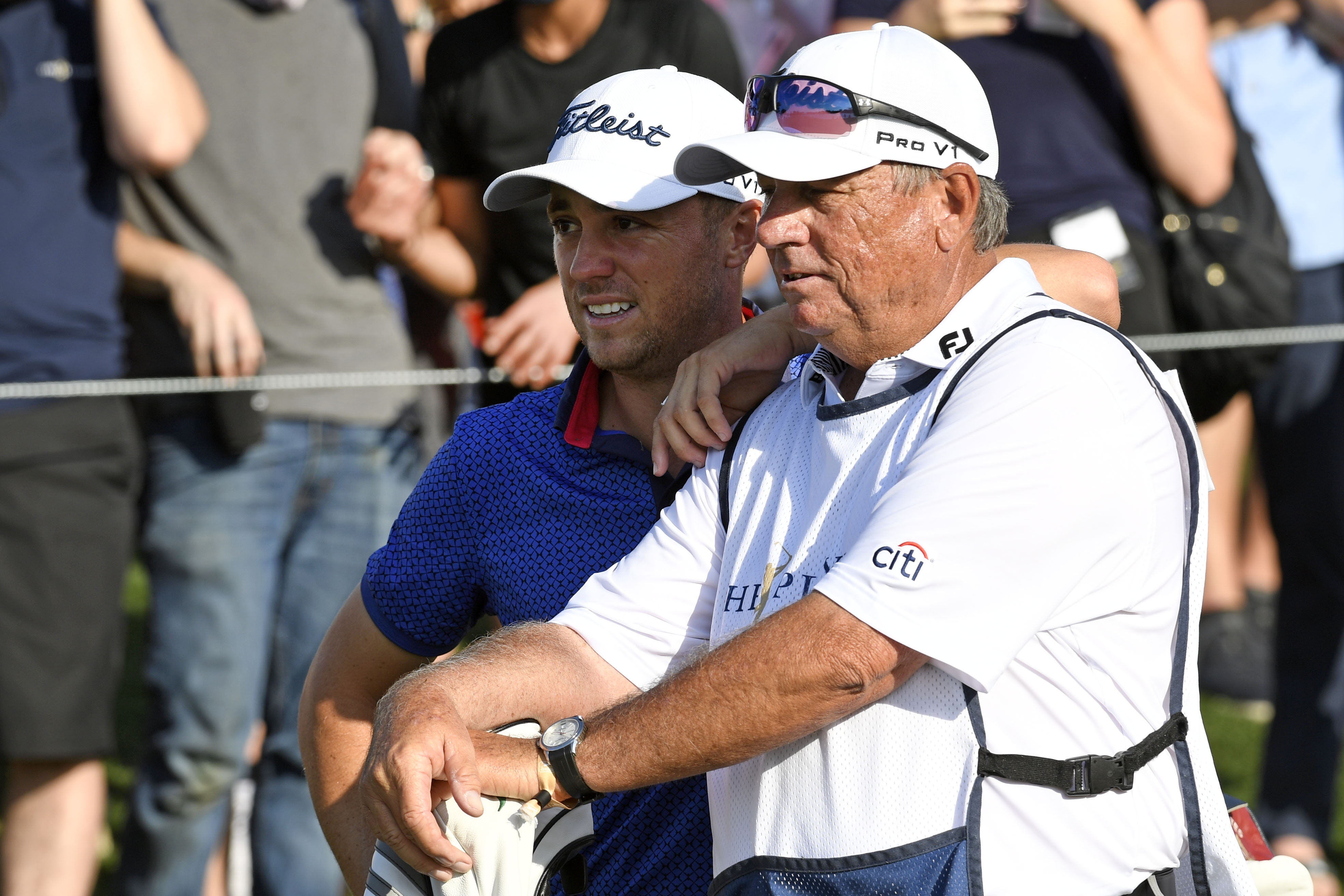 RELATED: Justin Thomas' 3-Hour Talk With Jack Nicklaus Transformed His Career
Golf Monthly reported that Johnson has been Thomas' caddie since 2015. He previously carried Nick Price, Steve Stricker, and Charles Howe's bags before making the switch. Considered one of the elder statesmen among caddies, Johnson began his career in 1995. Now considered an older caddie,
Johnson explained, "It's fun working for these young golfers because they have this carefree attitude that is infectious. It's keeping me young and on my toes." Prior to Thomas' PGA Championship win, Johnson helped guide him to 13 PGA Tour victories. They clearly make a strong pair. 
Justin Thomas made Jimmy Johnson the highest-paid caddie in 2021
Johnson plays an important role in Thomas' success, so he's compensated well. According to Insider, former caddie Michael Collins said the winning caddie from the Players Championship can expect to make $270,000. Caddies are paid based on how well the golfer performs. Collins explains that caddies receive a paycheck each week no matter their golfer's performance. He told Insider:
If the player misses the cut, the caddie still has to get a paycheck because the caddie pays for all of his own expenses — airfare, hotel, car, food, all of it … If the guy makes the cut, the standard is 10-7-5 — 10% for a win, 7% for a top 10, 5% for everything else.

Former caddie Michael Collins
With the top finisher at TPC Sawgrass earning $2.7 million, you can do the math from there. Thomas' payout was likely a healthy one. That's par for the course for Thomas and Johnson; the golfer has grossed nearly $43 million in career earnings. With a net worth of $30 million, Thomas' partnership with Johnson has been lucrative.