Justin Thomas's Golf Closet Is Laughably Full of Polo Shirts
What person doesn't appreciate a man who dresses well? Justin Thomas, a 13-time PGA Tour event winner, fits the bill. The 27-year-old golfer bought a home in South Florida four years ago. The master bedroom has two walk-in closets, which are so full of polo shirts that it's nearly laughable. Thomas's net worth is somewhere around $30 million, so he can afford all of the shirts he wants.
Recently, Thomas shared his flair for fashion and how he organizes his closet space. Because he wears polo shirts and slacks on the golf course, he prefers alternative clothing when not playing golf, such as jeans and a nice t-shirt. Let's take a look at the clothes that make the man.
What Justin Thomas wears on the fairway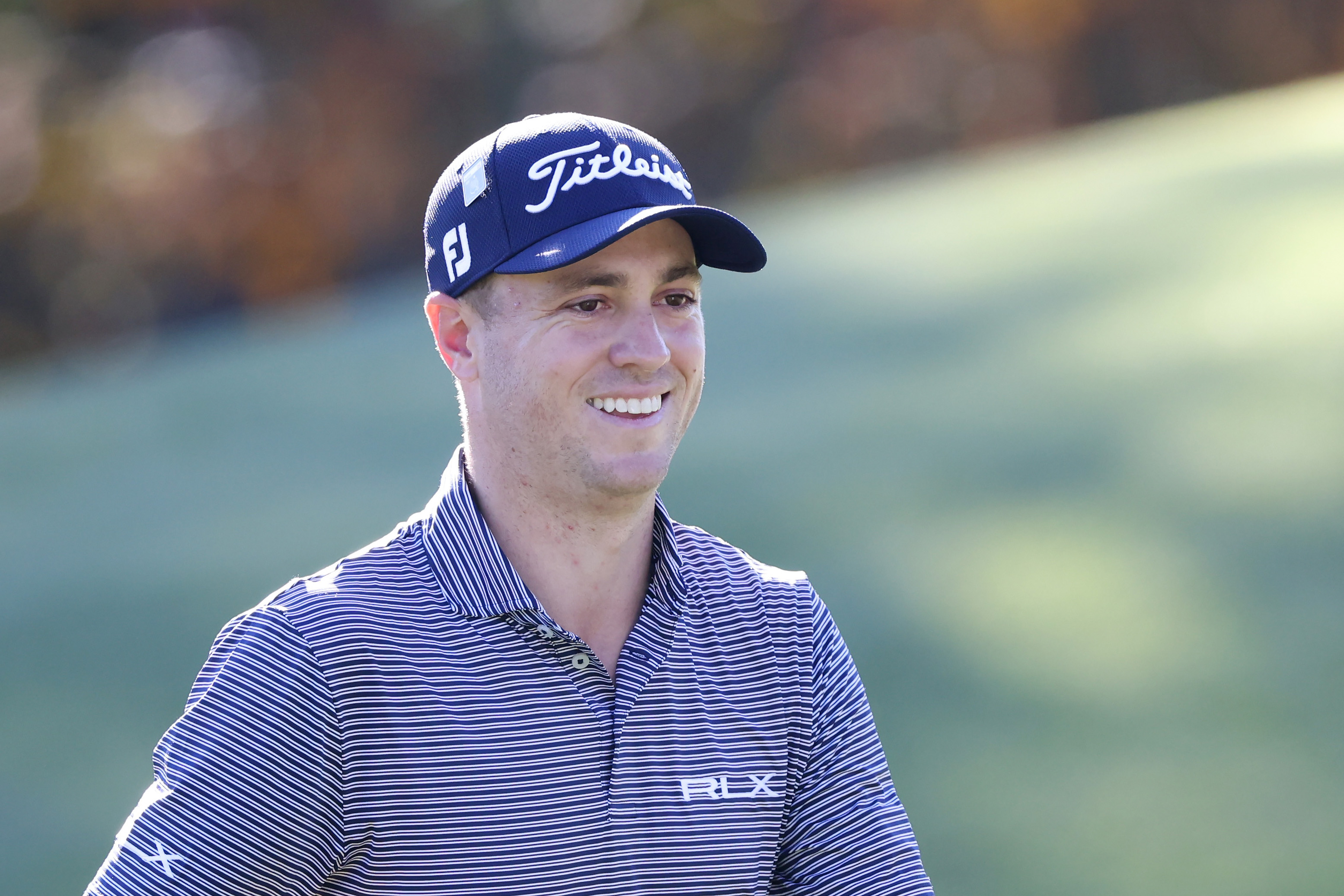 RELATED: How Justin Thomas Restrained His Golf Obsession to Ensure He Didn't Burn Out
One of Thomas's closets is dedicated to his golf attire. He has an inordinate amount of polo shirts, pants, golf shoes, and hats. Some of these clothes may have been only worn once and will not be worn again. They are keepsakes from wonderful days out on the golf course.
When he won the PGA Championship in 2017, Thomas wore navy pants, a navy belt, white and navy saddle shoes, and a navy hat. A pink Ralph Lauren polo, "to spice it up a bit," completed the outfit, he said during the GQ interview. The polo hangs in his closet, a memento of that glorious day.
Another shirt that he keeps for the memories is a periwinkle polo, which he wore on Sunday of the FedEx Cup tournament, which he won also in 2017. Otherwise dressed in white, he looked great next to the trophy, he shared.
Thomas admits that he often gets help putting his outfits together. With the Ralph Lauren Corporation as a sponsor, designers are at his disposal and often make recommendations. He cares about what he wears, especially on the golf course, he said. "You can't look good while winning unless you look good first," he told GQ.
T-shirts, jeans, and suits
RELATED: Justin Thomas's 3-Hour Talk With Jack Nicklaus Transformed His Career
Half of Thomas's second walk-in closet has clothes for occasion soff the golf course. He's given the other half to his girlfriend of nearly four years, Jillian Wisniewski. "I don't have quite as much room as I would like, but hey, you've got to make sacrifices, sometimes," he said in the interview. Here he keeps his t-shirts, jeans, suits, coats, more hats, sneakers, and dress shoes.
Because Thomas wears polo shirts so much on the course, he likes to switch to t-shirts when he's not playing. But truth be told, what he really enjoys is wearing a suit or sports jacket.
He has fond memories of wearing a navy-blue jacket as a guest on The Tonight Show with Jimmy Fallon. On it was pinned a St. Jude Children's Research Hospital pin and that evening he raised $1 million for the hospital. In a golf challenge, sponsored by FedEx, Thomas beat Fallon. He "may have cheated a little bit," he said, but he felt it was OK considering the cause.
Thomas also has a large jersey collection including some from his favorite players and teams in various sports. One jersey he is particularly fond of is his Cubs jersey, which he received after throwing the first pitch before a Chicago game.
Justin Thomas loves shoes and watches
Thomas admits to having a thing for sneakers. "Shoes are just something I love. I don't buy cars. I don't buy boats. This is what I like to chase, and I might spend some money on."
A pair of favorites came from Justin Timberlake. The two formed a friendship, and Thomas attended a Timberlake concert in Miami. Backstage they started talking about shoes. Timberlake asked his distributor to send Thomas a pair of Timberlake's Man of the Woods Tour shoes. "I was kind of like a little kid at Christmas, sticking my head out the door every day," Thomas said of waiting for the arrival of the shoes, "seeing if the box was coming in the mail or not."
Another pair of favorites were designed by his good friend and fellow golfer, Michelle Wie. Sponsored by Nike, Wie designed the shoes upon Thomas being named PGA of America's Player of the Year. They are very special shoes, he said.
Thomas also has a great appreciation for watches. His favorite was a gift to himself upon being named World No. 1. It is a rose-gold Rolex Root Beer GMT-Master II. He has the date of his achievement engraved on the back.
Thomas is a man of many achievements on the golf course and great fashion sense. Make sure you check out what he is wearing the next time you catch him on the golf course.