Justin Tucker Sends Promising Message to Baltimore Fans About His Future: 'I Haven't Even Hit My Prime Yet'
Justin Tucker is the most accurate kicker in NFL history.
That's not an exaggeration. The former undrafted free agent and longtime Baltimore Ravens placekicker has a kicking percentage of 90.65%, just a hair higher than Harrison Butker's (90.29%) on the all-time NFL rankings.
While he may have the accuracy of an Olympic sharpshooter, Tucker still has some work to do if he wants to catch up to Adam Vinatieri (who most consider the greatest kicker in NFL history) in the all-time points category. However, it appears Tucker may be willing to stretch his career out long enough to reach that threshold.
Justin Tucker teased kicking for another 20 years
Entering his 10th season in the NFL and set to turn 32-years-old later this fall, Tucker has reached that stage in his career where the occasional retirement question is going to pop up. During a joint practice with the Carolina Panthers, a fan asked him when he expects to enter the Hall of Fame, and Tucker responded with, "Hopefully, in 20 years."
A slight tease at the idea of continuing to kick into his late 40s.
Tucker followed up this fan response by going into more detail via the Ravens' official team site. Speaking with reporter Ryan Mink, Tucker reiterated the fact that he's yet even to consider retirement:
"I haven't even hit my prime yet. We're just getting started," Tucker said in a joking voice.

"In all seriousness, it is a day-to-day thing. It's not even day-to-day; it's one kick to the next – just make the next kick. … I don't really allow myself time to think about, 'How long do I want to keep playing or what accolades may I be able to achieve?' All that stuff will kind of take care of itself. I'm just enjoying the ride."

Ryan Mink, baltimoreravens.com
Justin Tucker playing for another two decades isn't unrealistic
Quarterbacks around the NFL — most notably Tom Brady — have started latching onto the idea of playing deep into their 40s. Brady just won a Super Bowl at the age of 43 and has no immediate plans of hanging up the cleats, and Derek Carr mentioned the idea of extending his career earlier this offseason.
Why shouldn't Tucker be able to do the same?
Vinatieri didn't retire from the NFL until he was 47 and had his best season from an accuracy standpoint at 42 with the Indianapolis Colts. Seeing as Tucker is currently the most accurate kicker ever to play the game, the general assumption is that he'll have no issue stretching his career out for another 10, 15, or even 20 years.
The Ravens are looking for revenge in 2021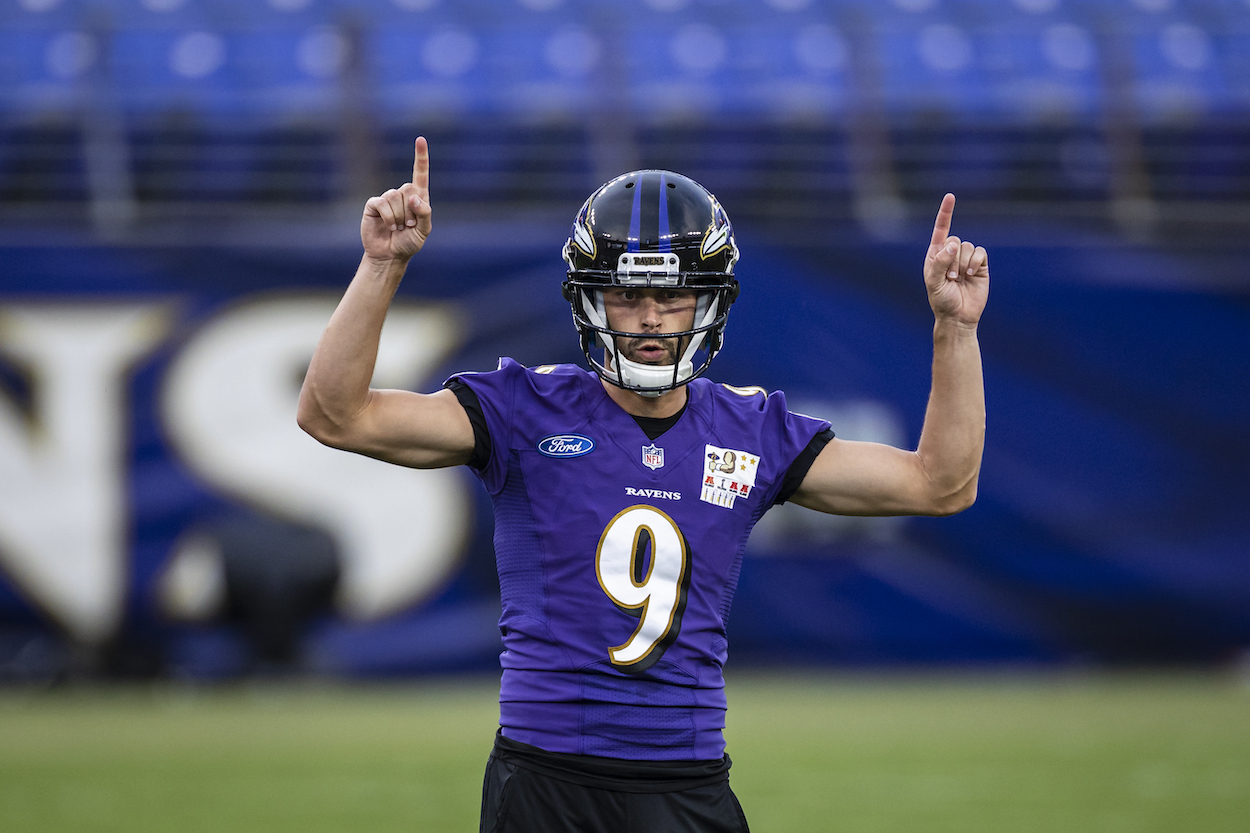 Despite Tucker having an all-around successful 2020 season, it was marred by a messy performance in the Divisional Round against the Buffalo Bills.
Tucker shockingly missed two field-goal attempts in the first half, and the Ravens went on to lose 17-3.
While Tucker may have his eyes set on kicking for another two decades, locking in for the looming 2021 campaign needs to be a priority. The Ravens are in win-now mode at the moment, and they need their Pro Bowl-caliber kicker to have a better playoff performance this go around (should they reach the postseason in 2021).
All stats courtesy of Pro Football Reference.