Juwan Howard's Hypocrisy is to Blame for Viral Punch Against Wisconsin
March Madness hasn't arrived yet. But, college basketball has still taken the sports world by storm. Upsets are already brewing left and right, and Cinderella's are formed as we speak. However, Michigan head coach Juwan Howard stole all of the headlines on NBA All-Star Weekend by throwing a punch after losing to Wisconsin in a tense Big Ten showdown.
Howard has been known for his rather unique antics since he became the head coach for the Wolverines, and once again, his frustration got the better of him in an ugly loss to Wisconsin. The move resulted in a five-game suspension, but Howard has nobody to blame but himself. After all, his hypocrisy got him to that point.
Juwan Howard suspended five games after throwing a punch in loss to Wisconsin
Tensions boiled over once again between these two rivals. As Greg Gard and Howard approached each other in the handshake line, things became fiery.
The Michigan head coach wasn't too happy and ended up tossing his hand toward Wisconsin assistant Joe Krabbenhoft.
In turn, Howard received a five-game suspension and other fines were also handed down.
Howard was upset that Gard called a pair of timeouts with under a minute left and the game comfortably in the Badgers' favor. The first timeout occurred with Wisconsin up 76-57, and the other stoppage came with just 15 seconds left and a 15-point Wisconsin lead.
Apparently, that rubbed Howard the wrong way. However, Howard himself did this same thing earlier in the season against Indiana — and might have forced Wisconsin to call a timeout in that situation by applying the full-court press.
The Michigan head coach did this to himself by putting on a full-court press
At the end of January, the Wolverines had a comfortable 16-point lead on Indiana — on the road, nonetheless. But Howard called a timeout for some reason.
This is the same thing Gard did on Sunday. But, there is a big difference and it doesn't make Howard look very good at all.
Howard sent the full-court press on with the game clearly out of reach. But, when Gard called a timeout to combat the press, Howard appeared to get upset.
Gard spoke about it after the game and seemed just as confused as everybody else.
The Badgers head coach offered more explanation for his timeout call — and it makes perfect sense. Reset the clock, allow the players to get set and get the ball across the midcourt line, and go from there.
However, for some reason, Howard wasn't too happy. Maybe it is because Michigan is 14-11 on the year and has gone from a Top 25 team to an afterthought and a bystander in the NCAA Tournament.
To sum all of it up, Howard put on a full-court press, Gard called a timeout and got the ball over the halfway mark, and Howard was angry at that. Why call a press? Why not just let the clock tick down with the game out of reach?
Nonetheless, his emotion got the better of him, and there could be more consequences coming Howard's way.
Will Juwan Howard be back as Michigan head coach next season?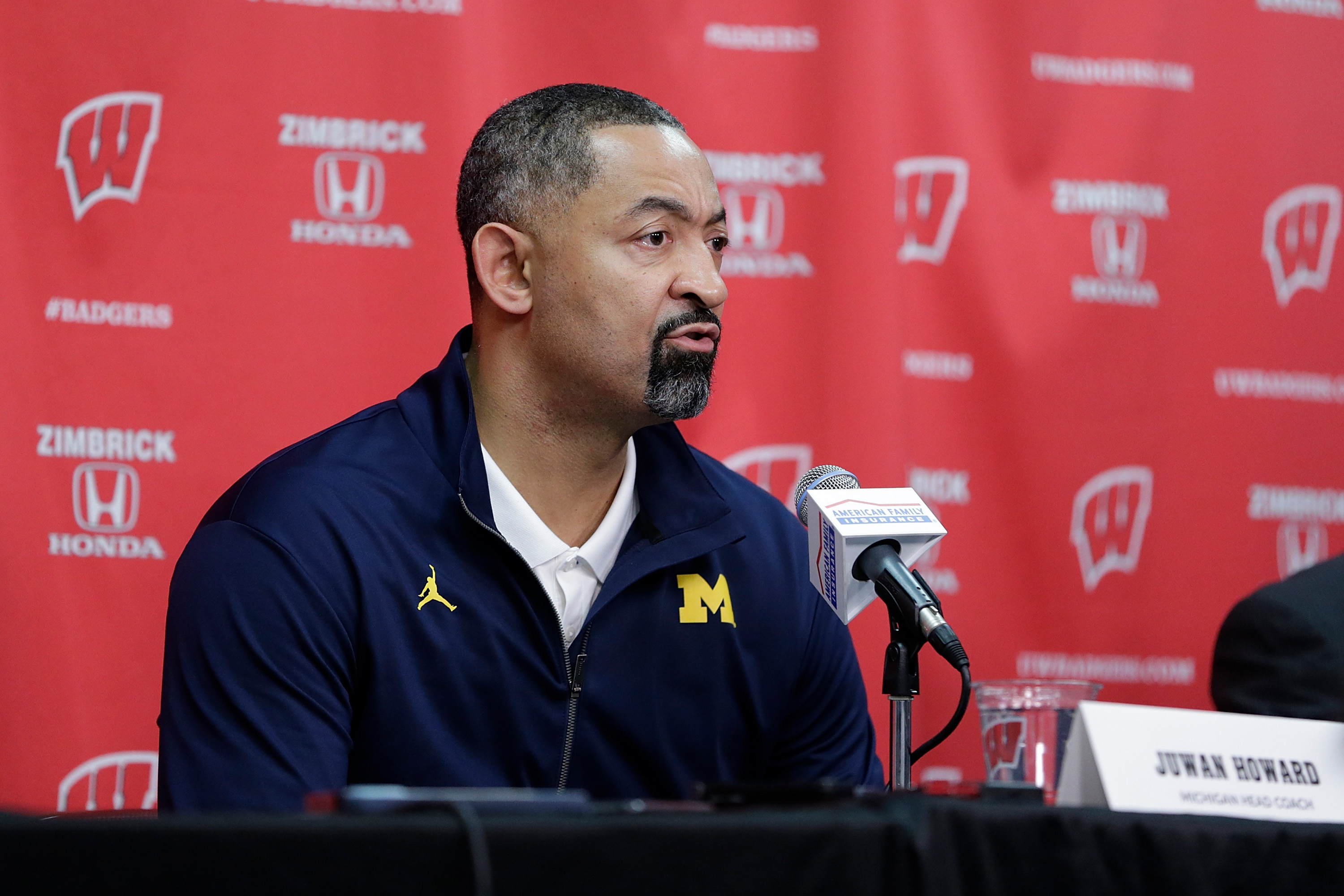 This isn't the first time Howard has lost his cool. Could this be the boiling point and the end of his run with the Wolverines?
College basketball legend Dick Vitale is on the camp that doesn't believe Howard should be fired.
Vitale certainly brings up some valid arguments here, and it looked like Gard instigated a bit in the handshake line. But, Howard is no stranger to incidents like this.
If Michigan ends up firing up, the swing after the Wisconsin loss won't be the only reason why, but it will be the worst — even worse than him getting into it with former Maryland head coach Mark Turgeon last season.
This is a terrible look for Michigan and the players they are trying to recruit on one side of the fence. Do you want to play for a coach that gets in the headlines for those types of reasons?
On the other hand, this could be more incentive for players to join Howard. The passion he coaches with is second to none, and having a guy like that on the sidelines — even with the antics — is something young players thrive for.
Howard has enjoyed success at Michigan also, which helps his case out a bit. All in all, Michigan has a tough decision to make after Howard's incident and suspension.
RELATED: 2022 NBA Mock Draft: Jabari Smith, Chet Holmgren, Rest of 1st Round