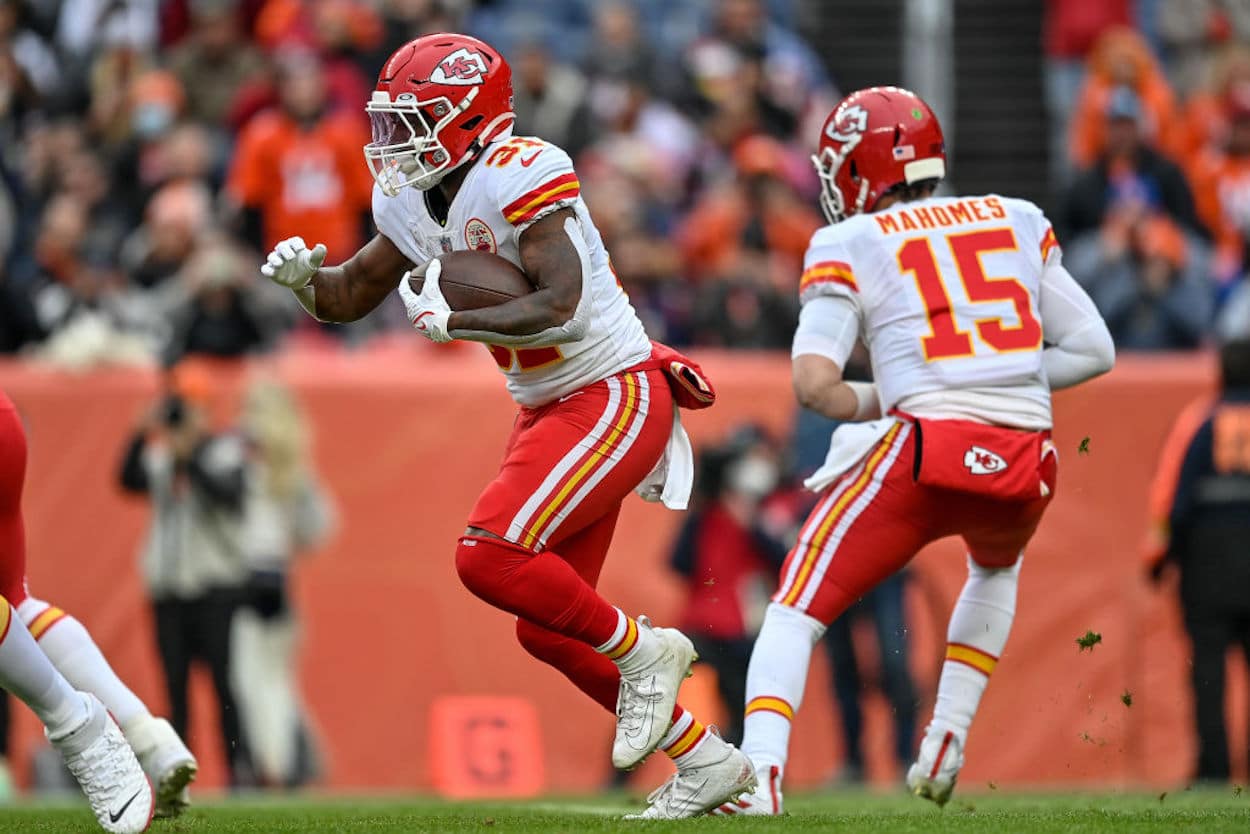 Kansas City Chiefs: Patrick Mahomes Reportedly Helped Darrel Williams Land a New Job With the Cardinals
Darrel Williams is no longer a Kansas City Chief, but Patrick Mahomes managed to do one final favor for the running back.
When Patrick Mahomes and the Kansas City Chiefs take the field this fall, the offense will look quite a bit different. Tyreek Hill has gone to Miami, and, in his place, Brett Veach has brought in Skyy Moore, Marques Valdez-Scantling, and JuJu Smith-Schuster.
In the running back room, there will also be a few changes. Ronald Jones II has come to Kansas City, and Darrel Williams has reportedly opted for greener pastures.
While that move might not make too many headlines on its own — Williams was solid in 2021, but 558 rushing yards probably won't break the bank — it did come about in somewhat unusual circumstances. In this case, Mahomes gave his former teammate an endorsement, helping him leave KC.
Darrel Williams is joining the Arizona Cardinals with an assist from Patrick Mahomes
As sports fans, most transactions seem to simply happen. While we might hear some rumors or see a tweet or two suggesting that a deal could happen, there's usually radio silence and then an official announcement. In the case of Darrel Williams, though, we got somewhat of a peak behind the curtain.
When the 2021 NFL season concluded, the running back became a free agent. Once on the open market, he apparently engaged in talks with the Arizona Cardinals. That's where Patrick Mahomes stepped in to lend a hand.
"I'm also told Patrick Mahomes vouched for Williams, informing Arizona that he was a back he both liked/trusted," Jordan Schultz explained in the tweet where he reported the signing. "DW had a great season w/over 1,000 scrimmage yards, 8 TDs/zero fumbles (191 touches)."
While it's not clear how that recommendation came about, the logic behind it does seem pretty clear. Kliff Kingsbury coaches the Cardinals, and he was Mahomes' head coach at Texas A&M. The two have a pretty good relationship, with the quarterback even endorsing Kingsbury for an NFL job in 2018.
In this case, that connection seems to have helped Williams land a new NFL job.
Williams' move is a rare sports deal that could provide positives for everyone
When most deals go down, one team usually comes away from the situation feeling like they suffered a loss. In this situation, though, things seem a bit more positive.
On Williams' front, he'll feel like he's got a good chance to prove himself in Arizona. The Cardinals lost Chase Edmonds during the offseason, making James Conner their top running back. While the former Steeler had a solid season in 2021, Williams probably feels like he can at least play his way into a timeshare. If nothing else, he should see some action on third downs and in pass-protection packages.
From a Chiefs fan's perspective, Williams shouldn't feel like a major loss. As noted above, his 558 rushing yards did pace Kansas City during the 2021 campaign, but that was more a product of circumstance than anything else. His departure will presumably give Clyde Edwards-Helaire the keys to the backfield — he's reaching put up or shut up territory at this point — and allow Ronald Jones to step in as the second option. Dereck Gore, who showed flashes of potential down the stretch, will presumably fill out the depth chart.
Williams, for better or worse, probably hits that sweet spot of being good enough to have some credit with the fan base while being replaceable enough to be allowed to move on without much emotion. He did his part in KC, accumulating just under 1,700 yards across four seasons. Now, he's moving on to try to find a bigger role elsewhere. It's unlikely anyone in Arrowhead will be rooting for him to fail.
In some ways, Patrick Mahomes' choice to vouch for the running back sums up the overall reaction: Williams deserves a chance somewhere, but no one is going to shed too many tears to learn it won't be with the Chiefs.
Like Sportscasting on Facebook. Follow us on Twitter @sportscasting19 and subscribe to our YouTube channel.
RELATED: Kansas City Chiefs: Andy Reid Is Calling an Offseason Audible to Help Patrick Mahomes' Offense Avoid an Early Setback