Kansas City's Harrison Butker Is Ready to Demolish the NFL's Field Goal Record
Harrison Butker isn't lacking for confidence entering his fourth NFL season.
Fresh off winning his first Super Bowl, Harrison Butker is talking the talk. With a ring on one finger, Butker can move on to some of his other goals.
On that list, according to the Chiefs' standout kicker, is setting the NFL's field goal record. There's one reason in particular why Butker thinks the record could be his as soon as this fall.
Harrison Butker is one of the NFL's best young kickers
RELATED: Chiefs May Have a Le'Veon Bell Situation on Their Hands With Chris Jones
A seventh-round pick of the Carolina Panthers in 2017, Harrison Butker has found a home in Kansas City.
The 6-foot-4 kicker converted 89.7% of his field goals in his first three seasons and 95.2% of his extra points. Butker is 4-of-5 in the playoffs and a near-perfect 26-of-27 on extra points.
Butker's early success allowed him to cash in big-time. He signed a five-year extension worth $20.3 million in June 2019.
Butker believes he can break the NFL's field goal record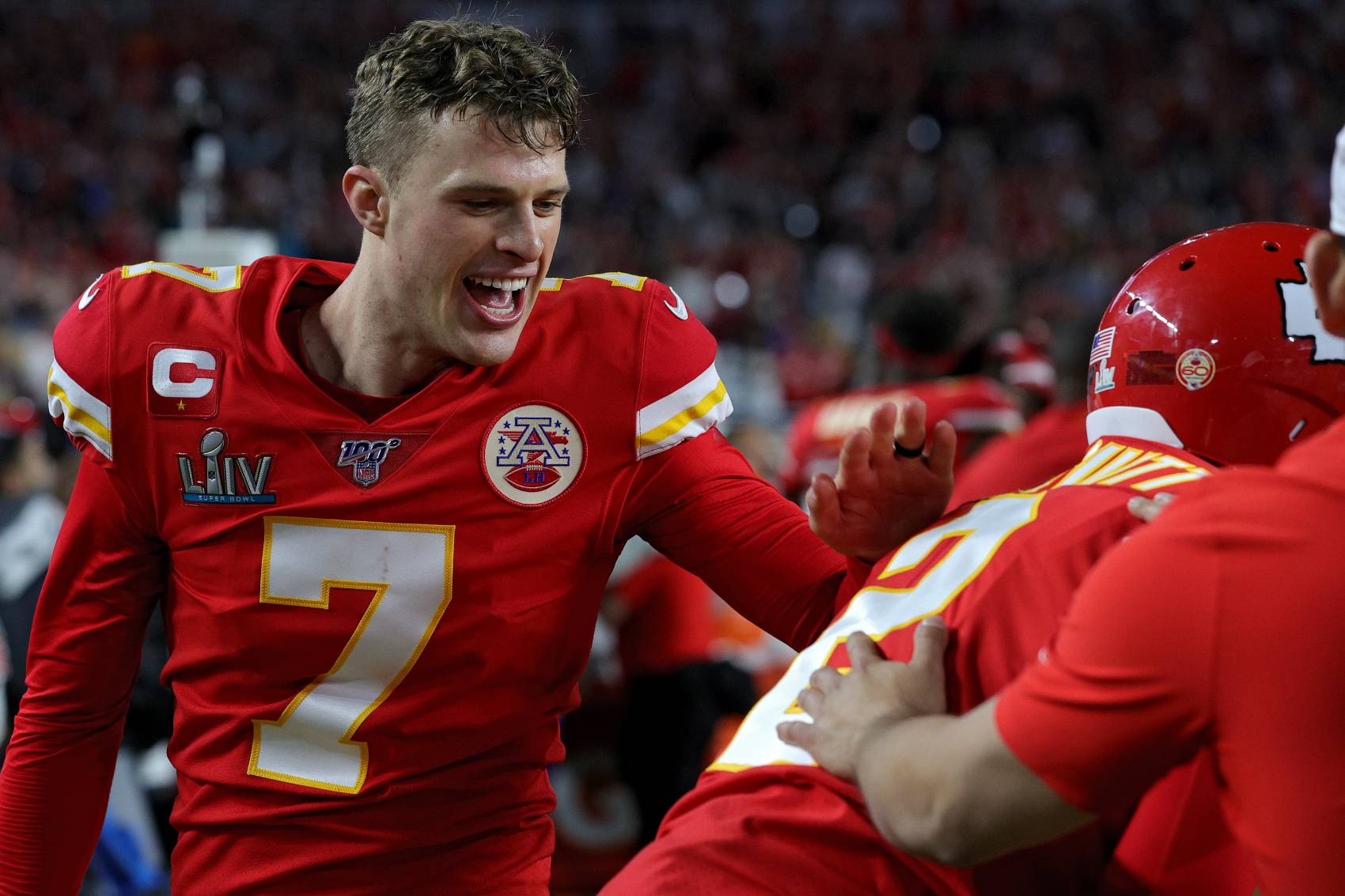 RELATED: Former Chiefs RB Larry Johnson Shedding Poor Image With 'New Heart'
Detroit Lions kicker Matt Prater hit a field goal from an NFL-record 64 yards in 2013. No other kicker has tied or surpassed Prater since then.
Harrison Butker posted a video of him hitting a 77-yard kick in April. Could he eventually break Prater's record?
In a recent interview with ESPN, Butker explained why he is so confident he could surpass Prater. Butker believes " a ton of kickers" have the leg to break Prater's record, but coaches don't want to take that risk.
If Chiefs coach Andy Reid asked Butker to hit from that distance, Butker said he's not worried about drilling a long kick.
"I feel super comfortable kicking from distance. Obviously, we're not going to be kicking field goals from [77 yards] most likely in a game, but it's going to help me a lot when it's a 55-yarder, wind's in your face in January and February. That's what I'm training for, to be able to make those kicks."
Butker's career-long, a 56-yarder, came last December in a 26-3 rout over Chicago.
Harrison Butker should put his money where his leg is
RELATED: Will the Kansas City Chiefs Sideline Chris Jones in Favor of Patrick Mahomes in Contract Negotiations?
Harrison Butker has every reason to be confident in himself. He's already a proven young kicker and a key piece of the Chiefs going forward.
If Butker believes he can break Prater's record, he should make sure Andy Reid and the Chiefs know how and why Butker is ready.
The best time for Butker to do so would be in the final seconds before halftime of a given game. Carolina Panthers kicker Joey Slye tried a free-kick just before halftime last October.
The 2020 NFL season is already guaranteed to be a strange one because of the coronavirus pandemic. What do the Chiefs have to lose if they send Butker out to attempt a 65-yard kick, or even a 70-yarder in the right situation?
Andy Reid may want to avoid going the Lane Kiffin route, though, and sending Butker out for a 76-yarder.