Kareem Abdul-Jabbar Blasts Black NBA Stars for Not Promoting COVID Vaccination: 'By Not Encouraging Their People to Get the Vaccine, They're Contributing to These Deaths'
The NBA recently drew a line in the sand , denying a vaccination exception to Golden State Warriors wing Andrew Wiggins. The player had applied for an exemption from the NBA to play home games at Chase Center. But the San Francisco Department of Health mandated that players and other essential team personnel be vaccinated or not participate. There are also reports at least one star player faces a similar issue in New York. Retired superstar Kareem Abdul-Jabbar called out the Black NBA community for neglecting its responsibility regarding COVID vaccination.
In March 2021, Wiggins said he wasn't vaccinated and would not take the injections unless forced. Local regulations in New York also mandate vaccinations for the New York Knicks and Brooklyn Nets. The Knicks reported their entire roster in compliance, but the Nets have a couple of holdouts.
Kyrie Irving is reportedly among the vaccine-reluctant for Brooklyn
ABC7 in New York reported that Nets general manager Sean Marks said his team has unvaccinated players. He did say he's confident the roster will be compliant by the season opener on Oct. 19.
During a video conference in August, representatives of the National Basketball Players Association said a league-wide vaccine mandate was a "non-starter," according to a report for Rolling Stone from NBA author Matt Sullivan. One notable union official is reportedly among the unvaccinated.
Nets star Kyrie Irving is a vice president on the union's executive committee. He has liked social media posts claiming there is a conspiracy to connect Blacks to a "master computer." Irving hasn't spoken on the record about his vaccine status. A relative said the NBA could find a way to work around the reluctance of some players.
"There are so many other players outside of him who are opting out, I would like to think they would make a way," said Irving's aunt, Tyki Irving. "It could be like every third game. So it still gives you a full season of being interactive and being on the court, but with the limitations that they're, of course, oppressing upon you. There can be some sort of formula where the NBA and the players can come to some sort of agreement."
For Kareem Abdul-Jabbar, an outspoken proponent of vaccination, the issue is a much more fundamental one.
Kareem Abdul-Jabbar says NBA players are irresponsible by remaining quiet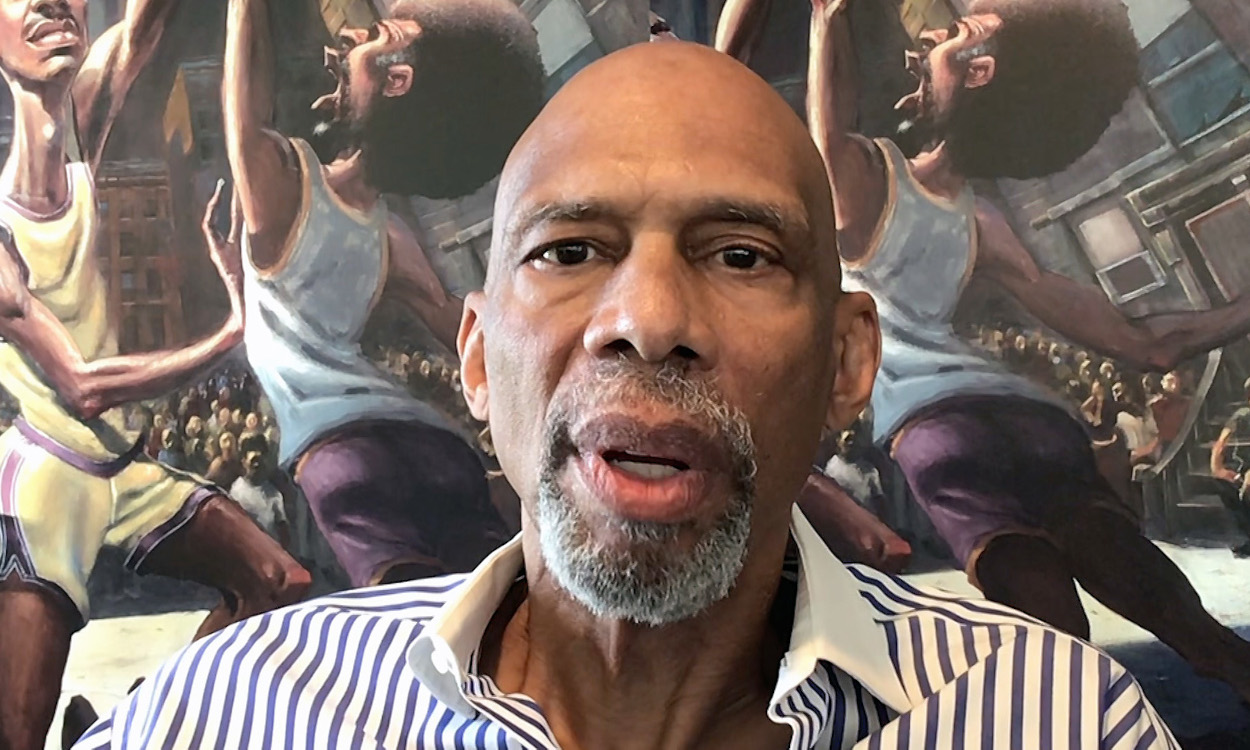 Few celebrities have been outspoken about the need for COVID vaccination than the NBA's all-time leading scorer, Kareem Abdul-Jabbar. He received his first dose of the Moderna vaccination on camera with former California Gov. Arnold Schwarzenegger. He appeared on the NBA's behalf in a pro-vaccine public-service spot the league released.
The Centers for Disease Control and Prevention reports vaccination rates among Black Americans are the slowest of any demographic. Abdul-Jabbar believes a push from the NBA's elite could change that:
"They are failing to live up to the responsibilities that come with celebrity. Athletes are under no obligation to be spokespersons for the government, but this is a matter of public health. By not encouraging their people to get the vaccine, they're contributing to these deaths.

"I'm also concerned about how this perpetuates the stereotype of dumb jocks who are unable to look at verified scientific evidence and reach a rational conclusion."

Kareem Abdul-Jabbar
Meanwhile, the NBA is stepping back from some of its 2020–21 measures to monitor players. Some worry that combination could be a lethal cocktail.
Kareem Abdul-Jabbar supports a vaccine mandate; the NBA is reluctant
Kareem Abdul-Jabbar's stance on the topic of vaccination in the NBA is clear: No shot, no job.
"There is no room for players who are willing to risk the health and lives of their teammates, the staff, and the fans simply because they are unable to grasp the seriousness of the situation or do the necessary research," Abdul-Jabbar said.
The NBA has flipped its position on masks for courtside players and staff and will require them. But one vaccinated player told Sullivan there is division among the players. Teammates are returning to training camp on Sept. 28 with actions that don't mimic their positions on vaccination.
"(Players) are scared to get vaxxed, but you see them go out in the summertime to all the clubs and all the bars, and there's virus everywhere," the player said.
Despite hopes the pandemic would be at a different stage by now, the NBA is still wrestling with it. The coronavirus impacted last season with a shortened schedule and several player absences. It appears the landscape is unchanged for 2021–22.
Like Sportscasting on Facebook. Follow us on Twitter @sportscasting19.
RELATED: Kareem Abdul-Jabbar Was Anti-Milestone and Relieved When He Passed Wilt Chamberlain on the All-Time Scoring List