Kareem Abdul-Jabbar Gives a Blunt Scouting Report of the Bucks' Title Chances: 'KD Would Kill Those Guys'
Giannis Antetokounmpo and the Milwaukee Bucks found themselves at the center of every joke on Twitter recently when they blew a 17-point lead to the Brooklyn Nets in Game 5 of the Eastern Conference semifinals. So, can they bounce back and not only win this series but possibly win an NBA championship? A former Bucks superstar recently answered whether he thinks this team can win a title or not: Kareem Abdul-Jabbar.
Kareem Abdul-Jabbar won a championship with the Bucks
Sure, everyone knows Abdul-Jabbar for winning five championships with the Los Angeles Lakers and becoming one of the greatest players of all time while playing for them. However, before becoming a star in LA, Abdul-Jabbar was a dominant force for the Bucks.
The Bucks drafted Abdul-Jabbar with the No. 1 overall pick in the 1969 NBA draft, and he was unstoppable from the get-go, earning an All-Star selection in each of his six seasons with the team. By the time his second year rolled around, Abdul-Jabbar was leading the league in scoring at a 31.7 per game clip before averaging 34.8 points per game in his third season in 1971-72.
Abdul-Jabbar ultimately won three of his six NBA MVP awards in Milwaukee and averaged 30.4 points, 15.3 rebounds, and 4.3 assists during his time there. He also led the team to an NBA championship with Oscar Robertson in 1970-71. The Bucks haven't won a championship since and haven't been back to the NBA Finals since Abdul-Jabbar took them there but lost in 1973-74.
Abdul-Jabbar ended up earning 19 All-Star selections and six total NBA championships in his career. He averaged 24.6 points and 11.2 rebounds between his time with the Bucks and Lakers and recorded 38,387 total points, the most in NBA history.
Kareem Abdul-Jabbar doesn't think the Bucks can win a title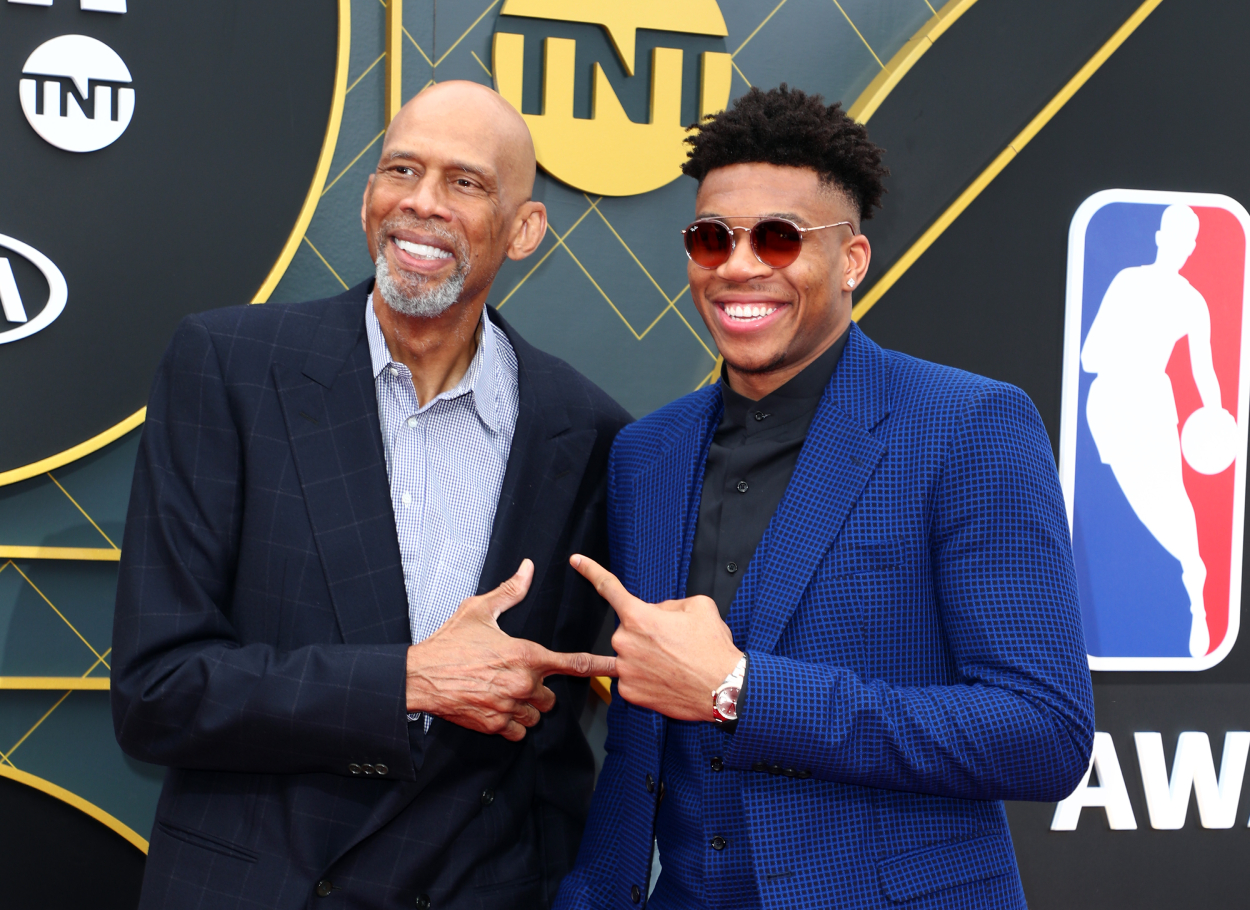 Abdul-Jabbar recently appeared on ESPN's The Jump, and he discussed this Bucks team, who is hoping to finally reach the finals again.
"Giannis and those guys are, I've been there to see them play, they're an incredible team, but I don't know what it is," he said on the June 16 episode. "Sometimes, it's just, you can't get the right team to go as far as you want it to go. But it's still a great team and it wins the support of all the fans. They're just going to have to figure out a better approach."
So, does Abdul-Jabbar think this Bucks team can win a title?
"No, I don't," he said. "KD would kill those guys, man. No, I'm serious because he'd score, and then he'd [pass], he finds the open guy. He could do that by himself. They gotta do a better job; the whole team has to play differently so that KD, one guy, can't just dominate like that."
If Abdul-Jabbar is looking into the future, he may be right because Kevin Durant already dominated the Bucks in Game 5, so there's a good chance he can do it again in Game 6 and/or Game 7.
Can the Bucks overcome Kevin Durant and the Nets?
The Bucks have an excellent opportunity to take advantage of a banged-up Nets team and reach the Eastern Conference finals. But it's unclear whether they can actually accomplish the feat or not.
Giannis Antetokounmpo and the Bucks had a 17-point lead in Game 5 of the conference semifinals, but Durant went off for 49 points, 17 rebounds, and 10 assists to help the Nets come back and win 114-108. The Nets now have a 3-2 lead in the series.
The biggest takeaway from Game 5 was that it took a historical performance from Durant for the Nets to win. Kyrie Irving didn't play, and James Harden, who was coming off an injury, wasn't himself, as he scored just five points and shot 1-of-10 from the field. It looks like that could be the case again in Game 6, as Irving will, again, not play with an ankle sprain, and Harden is available, per ESPN.
So, can the Bucks win a title? That remains to be seen, but they can win this series if they keep Durant from putting up out-of-this-world numbers, and not choke away a big lead once they have it.
That might sound simple enough, but the Bucks are the Bucks, and Durant is a bad dude, so we'll see what transpires.
Stats courtesy of Basketball Reference