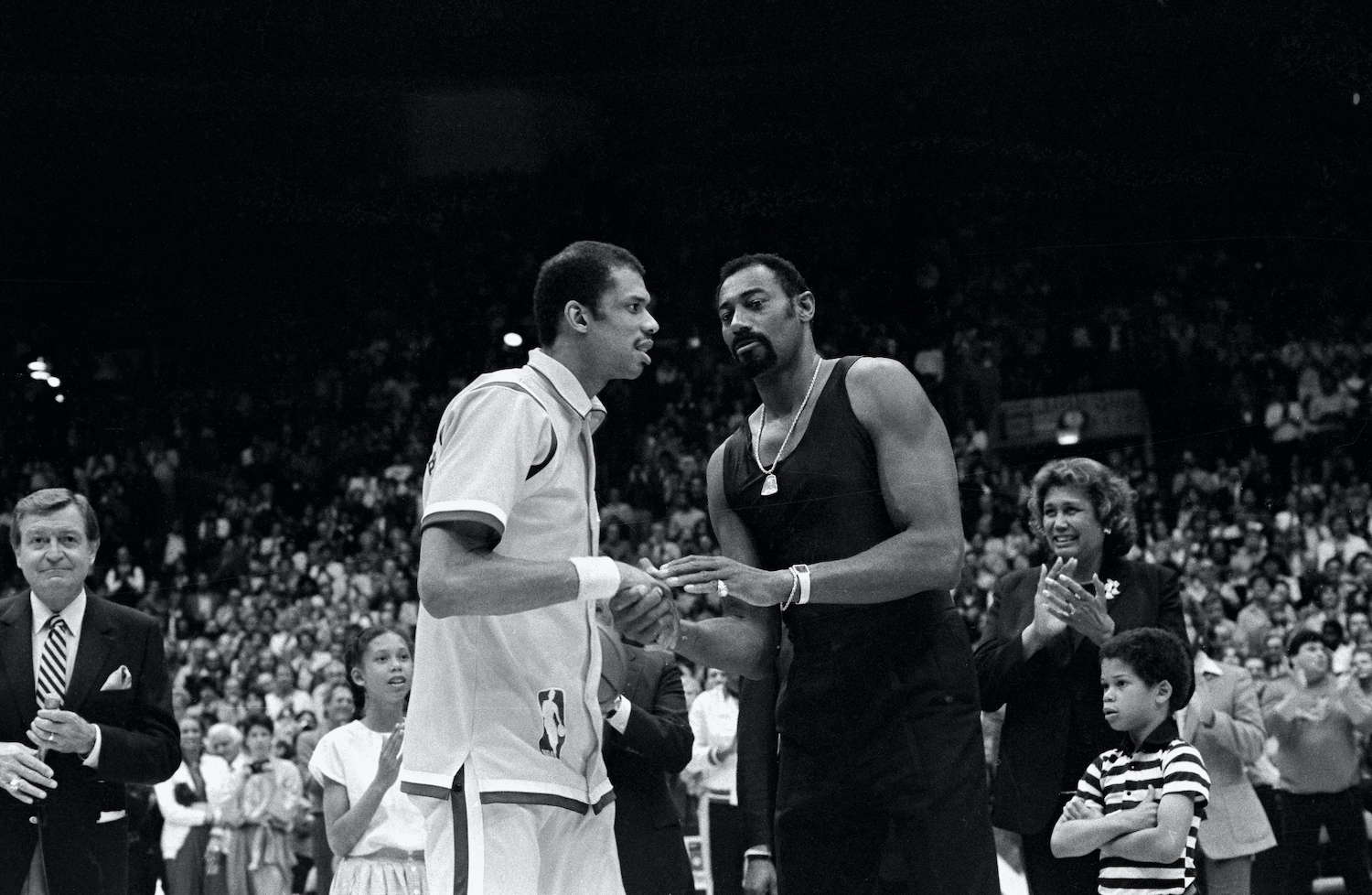 Kareem Abdul-Jabbar Once Received the Grossest Gift From Wilt Chamberlain: Some Smelly, Sweaty Suits
Before the two men developed a rivalry, Kareem Abdul-Jabbar received a gross gift from Wilt Chamberlain.
During their time on the hardwood, Kareem Abdul-Jabbar and Wilt Chamberlain established themselves as two of the greatest big men ever to dunk a basketball. While the centers eventually developed somewhat of a rivalry, their relationship wasn't always antagonistic. Take, for example, a well-intentioned, albeit disgusting, gift.
As a young center, Abdul-Jabbar idolized Wilt the Stilt and crossed paths with him on occasion. In addition to taking Kareem out for dinner, the veteran also gave future star some suits. The gift, however, came with a catch.
Wilt Chamberlain was a larger-than-life figure, both on and off the court
It goes without saying that Wilt Chamberlain was a massive celebrity. His stardom, however, wasn't just limited to dunking a basketball.
With that being said, though, Wilt is rightfully considered a basketball legend. He dominated the competition at every level, from high school through the pros, and used his 7-foot-1 to do just about anything he wanted on the court. The center averaged 30.1 points and 22.9 rebounds per outing, famously scored 100 points in a single game, and won two NBA titles.
Those on-court exploits were only one part of Chamberlain's persona, though. The big man proved to be a phenomenal overall athlete, capable of running, snagging football passes, and playing volleyball without missing a beat. There were also mentions of some superhuman feats, like fighting off a mountain lion with his bare hands, but it's unclear if those are merely tall tales.
Wilt also had somewhat of a persona away from sports. The big man earned plenty of money and was known for living the high life, complete with a Bel-Air mansion and plenty of luxury cars. He also infamously claimed to have slept with roughly 20,000 women, although there's no way to verify that number.
Giving a young Kareem Abdul-Jabbar a well-intentioned, if gross, gift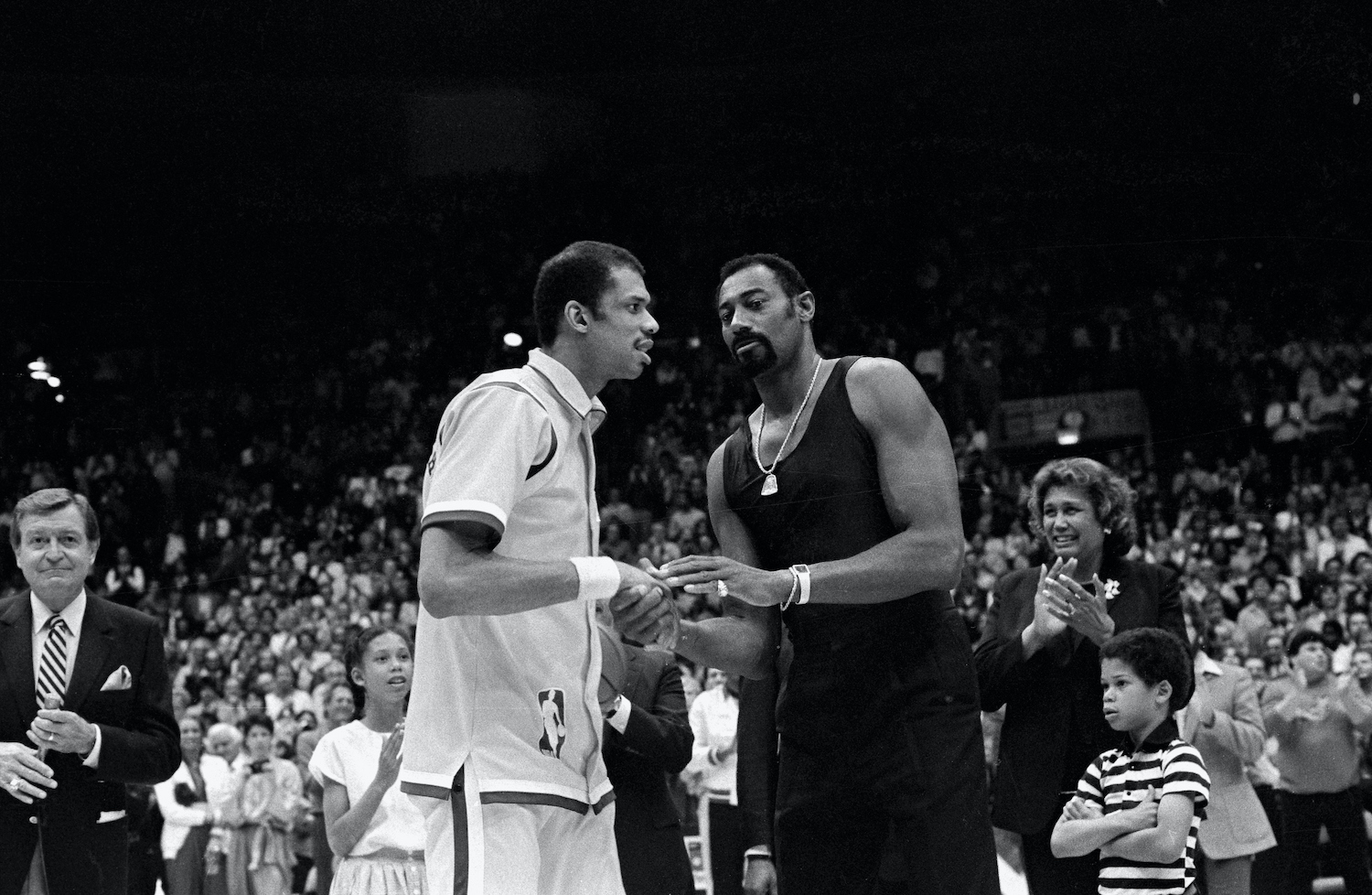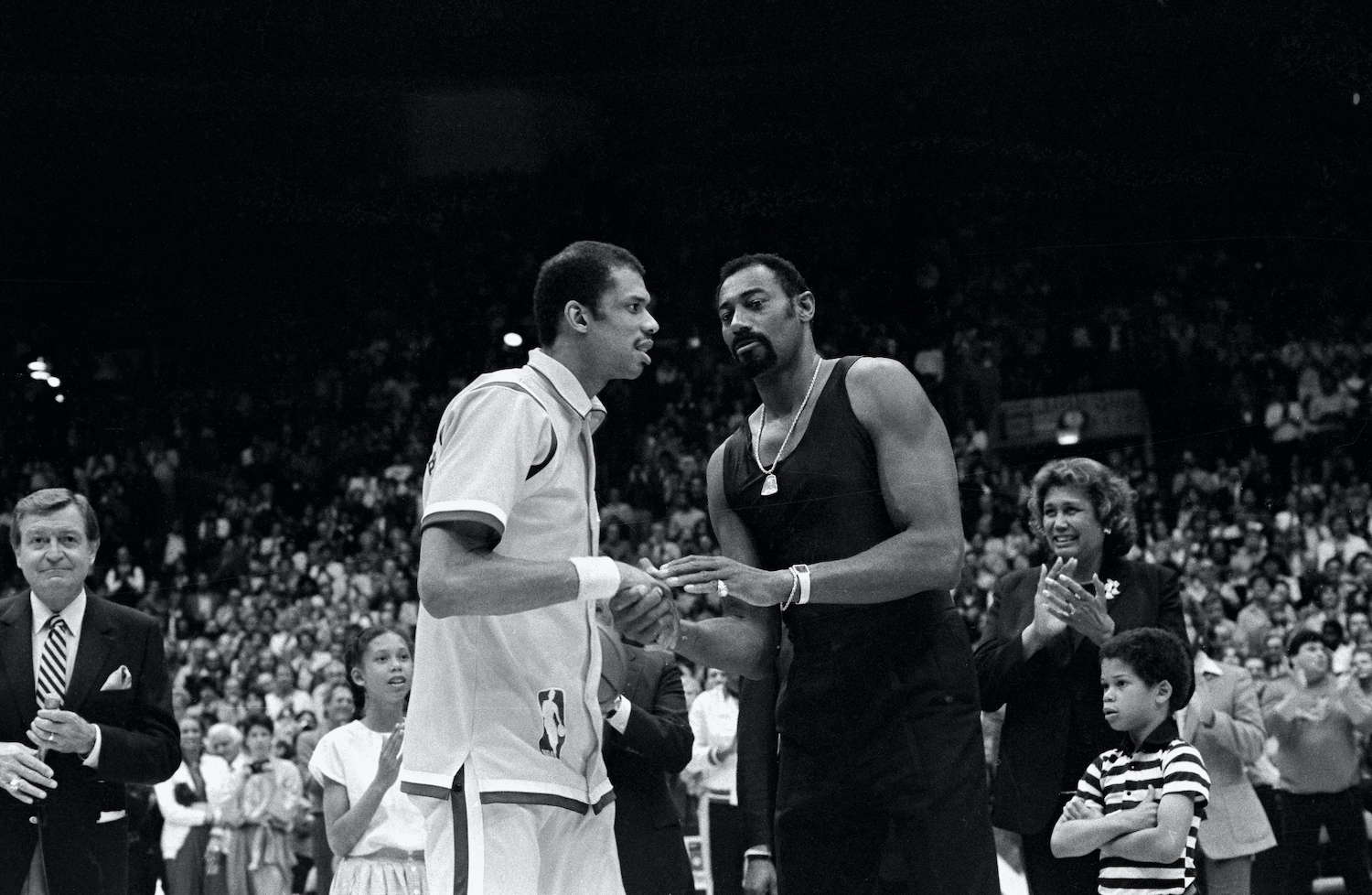 While Chamberlain could come across as arrogant, the big man also had a softer side. Take, for example, his interactions with a young Kareem Abdul-Jabbar.
As explained in a 1980 Sports Illustrated story, Kareem first crossed paths with Wilt as a high school senior. The two spent an evening together, which, as you might imagine, left quite a lasting impression on the teenager.
He had the Bentley and the racehorses and every beautiful woman in Manhattan, and he takes me to his pad, and there is the finest woman I have ever seen in my life. I'm 17, and my eyes are big as apples, and my jaw is hanging open….

Kareem Abdul-Jabbar, as quoted in Sports Illustrated
In the HBO documentary Kareem: Minority of One, Abdul-Jabbar made reference to a gift he received from Chamberlain. This experience, however, stands out for a less pleasant reason.
"Wilt had some beautiful suits. I took them home. I tried them on — the suits didn't fit, but they were beautiful, and they were from Wilt. So I wanted to keep them," Abdul-Jabbar explained, according to the Los Angeles Times. "But he had partied in them and sweated through them, and they didn't smell too good. My mom said, 'We can't keep these,' and we had to throw them out."
While the timeframe around that gift isn't clear, it's safe to assume it took place at roughly the same time as the initial dinner. If Kareem wasn't buying his own suits, he clearly hadn't established himself as a star yet; his mother's inclusion also suggests that the big man hadn't left for college, either.
Kareem Abdul-Jabbar eventually earned more than enough money to buy his own suits
Even if Wilt's suits were old and smelly, Adul-Jabbar didn't seem too keen on throwing them away. In the end, though, everything worked out, at least from a financial perspective.
While most of Kareem's salary records are lost to time — Basketball-Reference, for example, only provides four seasons' worth of data, totaling to a little more than $8.5 million — it's reasonable to conclude that the center earned plenty of money over the years. Given his longevity and overall, Abdul-Jabbar could have commanded top dollar for most of his NBA career.
These days, Celebrity Net Worth estimates the Lakers legend's fortune at approximately $20 million. That's more than enough to buy his own suits or, if nothing else, foot the dry cleaning bill.