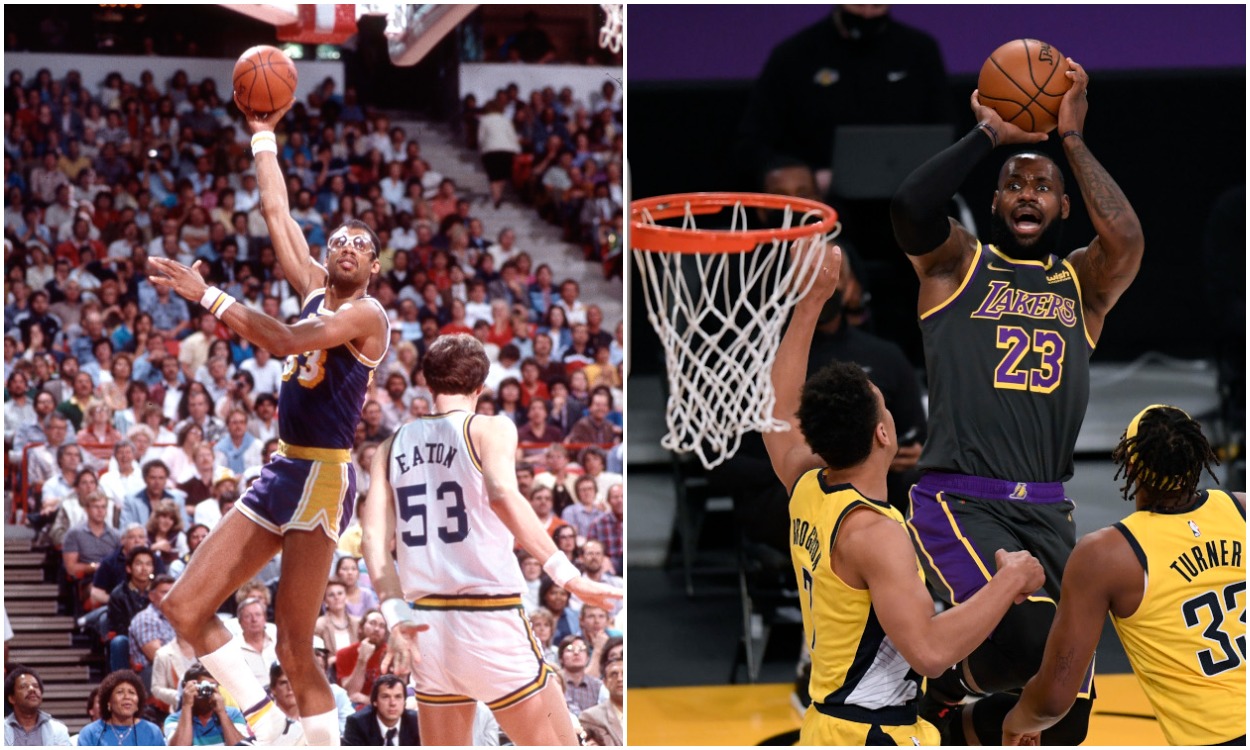 Kareem Abdul-Jabbar Is Rooting for LeBron James: 'We All Win When a Record Is Broken'
Kareem Abdul-Jabbar is rooting for LeBron James to break his all-time NBA scoring record. The Hall of Famer believes everyone benefits when records fall.
Entering the 2021–22 NBA season, LeBron James needs 3,021 points to break Kareem Abdul-Jabbar's all-time scoring record. James is third on the list, and if he's healthy, he should pass No. 2 Karl Malone (he's 1,562 points shy) sometime late this season. With two injury-free campaigns even approaching his average of 25 points per game in 2020–21, LeBron would surpass Kareem sometime in 2022–23.
He's got a lot of fans in his corner rooting for him to break the mark, but one of James' biggest supporters might come as a surprise.
The evolution of the NBA career scoring record
Joe Fulks, the Philadelphia Warriors' Hall of Famer from the pioneer days of the NBA and its predecessor, the Basketball Association of America, set the bar for the career scoring mark at 7,021 points after the 1951–52 season. Fulks was still active when George Mikan passed him the following year.
Mikan retired after the 1953-54 season with 9,766 and topped the 10,000-point mark during a brief cameo in 1955–56. The record of 10,156 fell in the 1957–58 season to Syracuse Nationals legend Dolph Schayes. St. Louis Hawks star Bob Pettit was next, passing Schayes in 1963–64 and retiring as the first 20,000-point man in NBA history the following season with 20,880 points.
Wilt Chamberlain was only in his seventh NBA season when he rocketed past Pettit in 1965–66. Wilt finished his NBA career with 31,419 points in 1973, and that stood as the record for more than a decade.
Kareem Abdul-Jabbar passed Chamberlain in April 1984 and had 38,387 points when he retired in 1989. Some saw Malone as a threat to pass Abdul-Jabbar, but a severe knee injury in his final NBA season in 2003–04 derailed him with less than 1,500 points to go. Now LeBron James is poised to assault the summit that has stood undaunted for more than 30 years.
Kareem Abdul-Jabbar wants LeBron James to take the record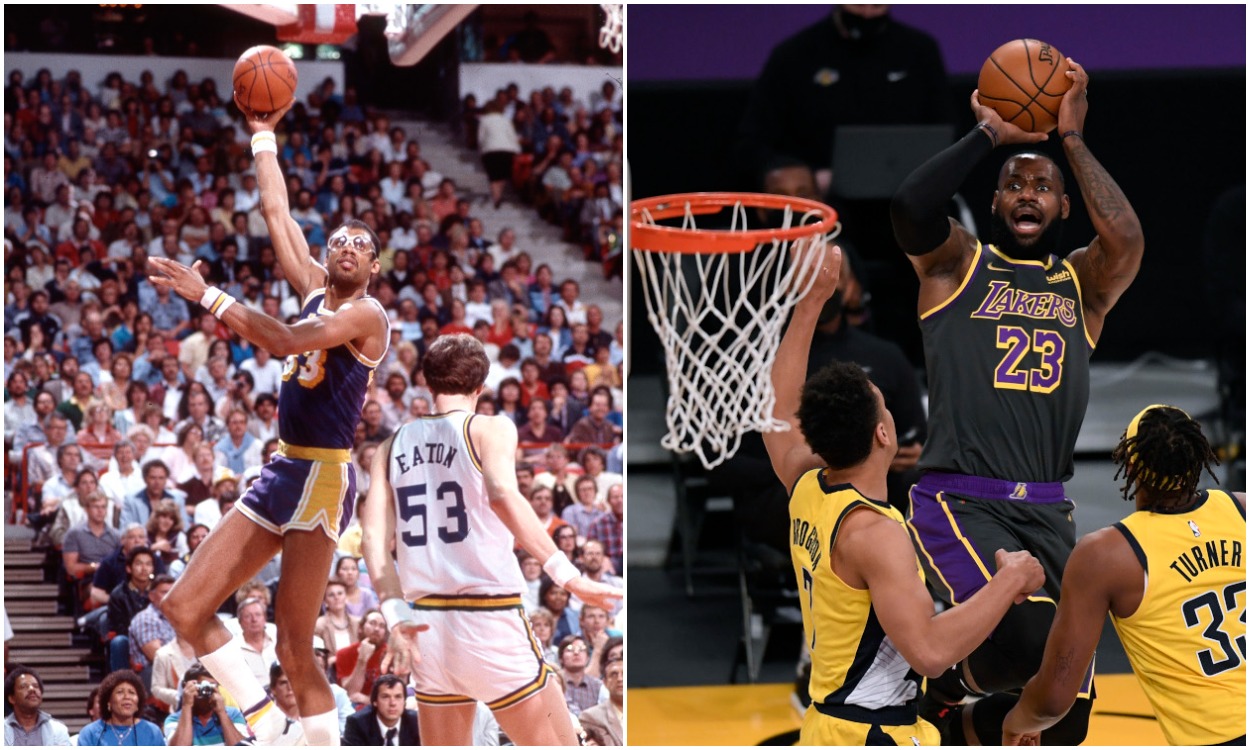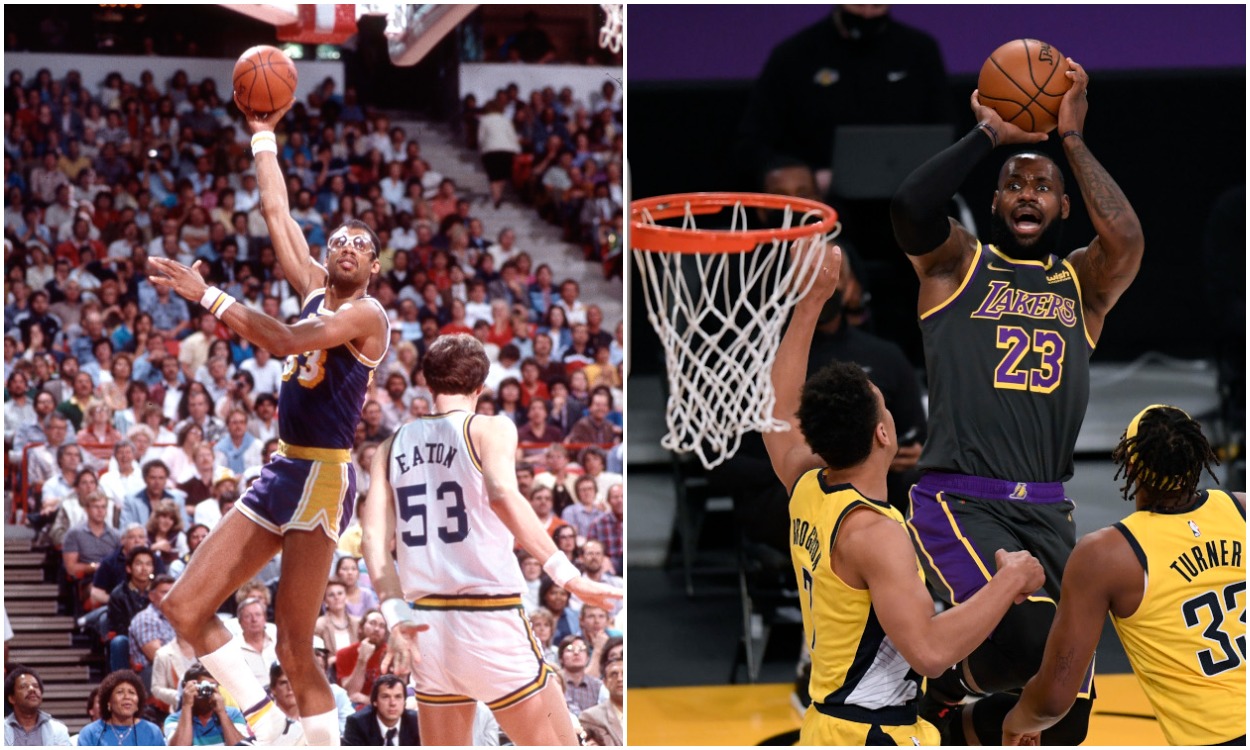 During a one-on-one interview with Substack writer Marc Stein, Kareem Abdul-Jabbar said he's entirely behind LeBron James. He likened it to the piercing of the once-unbreakable four-minute mile barrier:
"I'm excited to see it happen. I don't see records as personal accomplishments but more as human achievements. If one person can do something that's never been done, that means we all have a shot at doing it. It's a source of hope and inspiration.
"Roger Bannister broke the four-minute mile back in 1954. Since then, not only have 1,400 runners beaten that time, but the new record is 17 seconds less. We all win when a record is broken, and if LeBron breaks mine, I will be right there to cheer him on."
It's a small fraternity of players who have held the record. Should James get there, he'd be just the seventh to own it.
Kareem Abdul-Jabbar's list of records already fills a book
Besides being the all-time leading scorer in NBA history, Kareem Abdul-Jabbar sits atop several lists in the league's record books. It makes sense that he's made more field goals and taken more shots than anyone else (15,837 and 28,307, respectively). No one logged more than Abdul-Jabbar's 57,446 minutes played (or was whistled for more fouls, 4,657).
Dipping into the advanced records, he is the career leader in Win Shares with 273.4 (James is third behind Chamberlain with 242.0).
Despite the first four seasons not counting, Abdul-Jabbar is third all-time in blocked shots with 3,189, and his eighth-place mark in Value Over Replacement Player (85.72) is similarly deceptive. That stat doesn't extend further back than the 1973–74 season. It's not hard to imagine Abdul-Jabbar making up significant ground on all-time leader James' total of 137.28, considering three of those four seasons include his highest Win Shares totals.
Perhaps the safest record in Kareem Abdul-Jabbar's possession is his six Most Valuable Player awards, which he won in a 10-season span. LeBron James is the active leader with four. But he's entering his age-37 season, and no one older than 35 (Malone in 1998–99) has won the trophy.
Statistics courtesy of Basketball Reference.