Kareem Abdul-Jabbar Sends NBA Fans Into a Frenzy With Cryptic Meme Comparing LeBron James and Kevin Durant
Kareem Abdul-Jabbar is 74 years old. But the basketball legend/author/actor/television writer/historian has kept up with the times. He recently launched a Substack where he plans to share thoughts on everything from sports to social justice and everything in between. But when he jumped into the meme game to cape for the Los Angeles Lakers, he turned heads.
Kareem played his final 14 seasons with the Lakers, winning five championships and the last three of his record six NBA MVP awards. He's a part of the franchise's fabric and will always have a rooting interest. He might have missed his calling in psychological warfare if the meme is any indication.
Kareem Abdul-Jabbar is stepping up his meme game
Memes are a part of the Internet as much as the ubiquitous "http" in a web address. While Kareem Abdul-Jabbar is late to the game, he's making up for the lost time.
His first meme referenced the hot NBA topic of the day debating LeBron James and Kevin Durant. But he followed it up with an Anthony Davis-themed effort, and later a shocking image discussing the Lakers' defensive potential.
He's even branding his work. The Kareem Meme train is leaving the station, and you can get on board for something original. Suffice it to say; his work isn't the tired old Sean Bean "You don't just …" theme.
Abdul-Jabbar's sense of humor is often underrated. He joined the writing staff for Hulu's reboot of the Veronica Mars series and happily poked fun at himself in an essay for The Hollywood Reporter in 2019.
"(S)ome people took it as a sign that the zombie apocalypse was imminent. The first sign was Ed Sheeran appearing in Game of Thrones. What was next? Meat Loaf show running Black-ish? Mike Tyson as dialogue coach for the Downton Abbey movie? Others expressed excitement that I would bring a diverse perspective to the show. I did campaign hard for more characters over 7 feet tall, but their systemic prejudice kept most actors between 5-foot-1 (Kristen Bell) and 6-feet (Ken Marino)."
There are those old enough to remember Kareem held up well in Airplane as co-pilot Roger Murdock. He can do funny.
LeBron James, Kevin Durant, the Lakers, and the survival of the fittest
With his debut meme, Kareem Abdul-Jabbar decided to take on a hot topic: LeBron James vs. Kevin Durant.
It was clear the NBA's all-time leading scorer is Team LeBron on the topic. While there were some questions about the post on Instagram, followers on Twitter responded well.
There is an absurdity to it that makes it fun. One of the greatest basketball players in the history of the planet is posting Lakers memes. A thoughtful student of history, a champion for disadvantaged peoples who uses his position to inform, enlighten, and promote equality adding out-of-context words to photographs.
The anticipation to see what's next is already building.
Kareem Abdul-Jabbar's versatility is compelling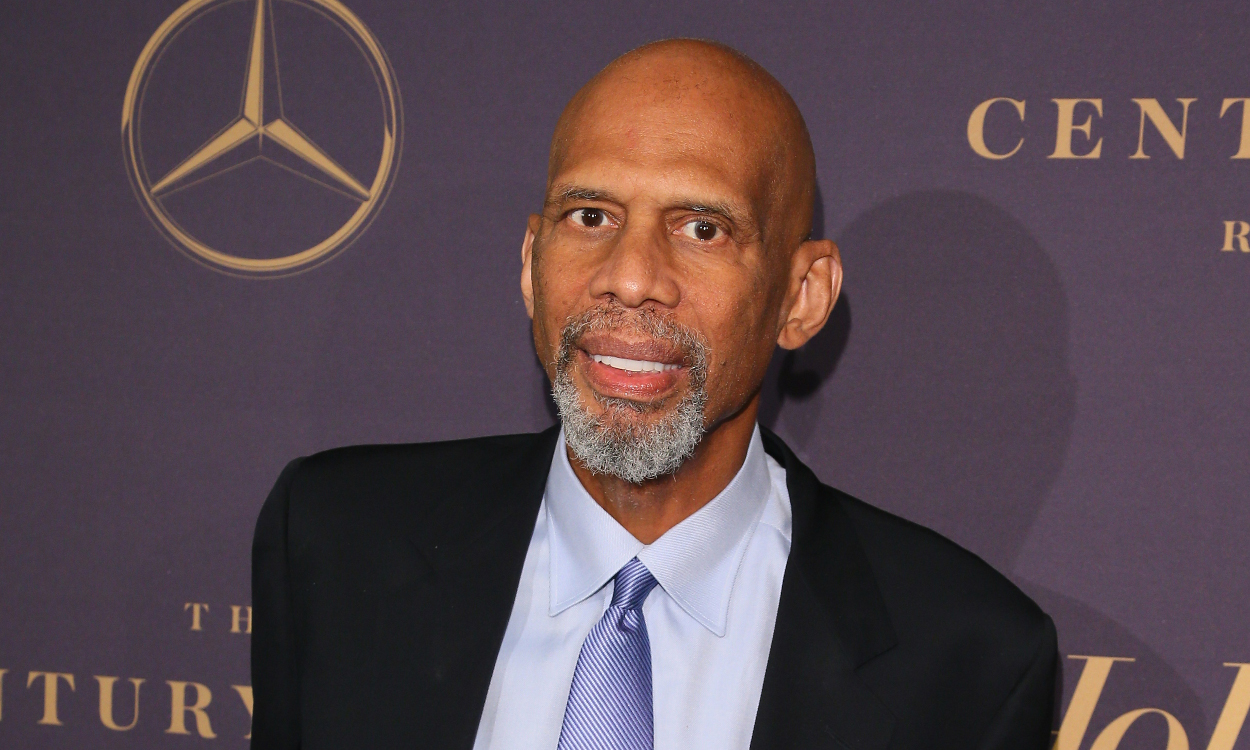 In just a week, Kareem Abdul-Jabbar has leaned into a plethora of topics on his Substack channel. He's opined about cancel culture, pondered feel-good TV shows, the dangers of Nikki Minaj's anti-vaccine messages, invoked Dr. Seuss as a political theme, and recommended some weekend entertainment.
Oh, and then there are the new memes.
More than 30 years removed from the NBA, Kareem Abdul-Jabbar remains a compelling figure. He can speak confidently on a range of topics most can't approach.
But if the early returns are any indication, we might have to start referring to the Hall of Famer as Kameme Abdul-Jabbar.
Like Sportscasting on Facebook. Follow us on Twitter @sportscasting19.
RELATED: Kareem Abdul-Jabbar Stuck to His Promise of Never Turning Into Sugar Ray Leonard