Kareem Abdul-Jabbar Sticks It to Players Giving Kyrie Irving and Other Non-Vaxxed Players a Free Pass
All-time scoring leader Kareem Abdul-Jabbar continues to bang the drum against the role of NBA players in resistance within the Black community to the COVID-19 vaccine. He's already issued harsh criticisms of Brooklyn Nets star Kyrie Irving and other players either unvaccinated or resistant. But Kareem also took issue with the passive stance of superstars such as LeBron James. In his most recent column, Abdul-Jabbar is doubling down on his position.
Irving is currently not with the Nets because he violates the city's vaccination mandate for public gymnasiums. Barclays Center in Brooklyn and Manhattan's Madison Square Garden fall into that classification. Rather than have Irving as a part-time player, the Nets asked him to remain away until his status changes or the city lifts the mandate.
Kareem Abdul-Jabbar blasts Kyrie Irving again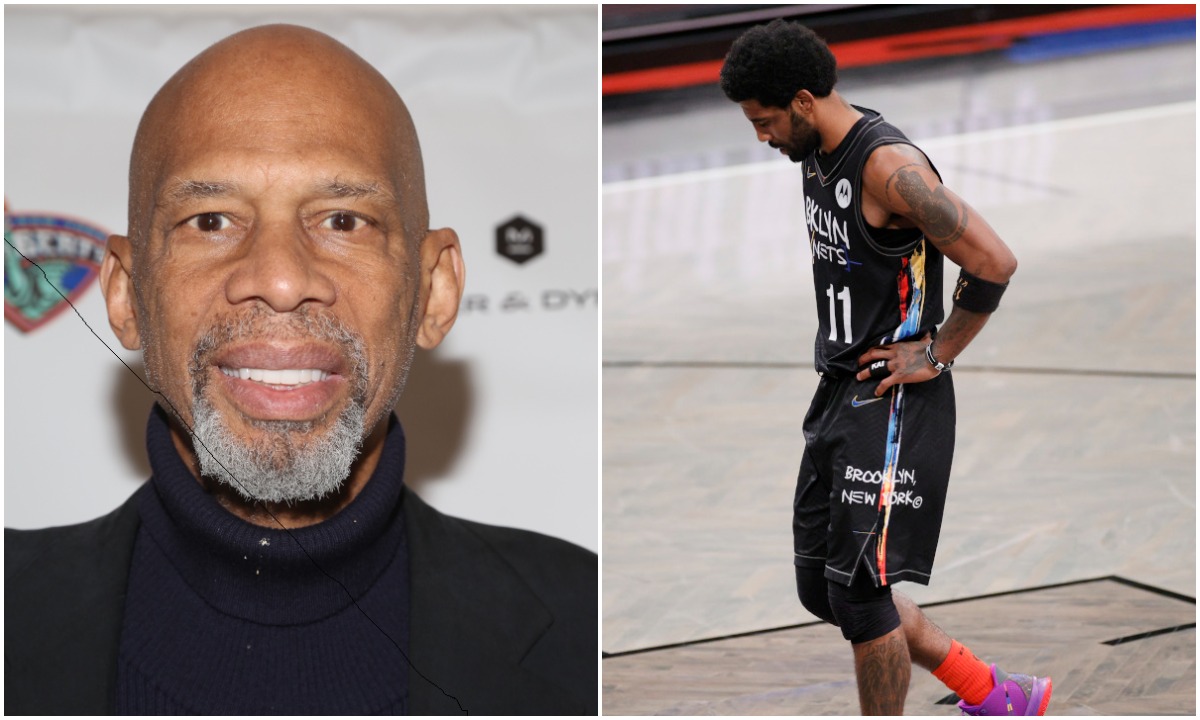 At age 74, Kareem Abdul-Jabbar has been an outspoken proponent of vaccination. He's done public service campaigns urging people to get the injections and appeared on camera when receiving his inoculation. Abdul-Jabbar has been similarly unrelenting about the effects vaccine hesitancy is having among Black Americans.
He believes the stance taken by Kyrie Irving and other NBA players is irresponsible and antithetical to the belief that Black lives matter. In his column, published at Kareem.Substack.com, Abdul-Jabbar pointed out some grim statistics that fly in the face of anti-vaccine rhetoric.
"Just so we're clear: a recent study concluded that 90,000 deaths since June were preventable," he wrote. "We're all mourning the loss of lives that could have been saved. And the financial cost for medical treatment for all those preventable deaths is $5.7 billion. We're all paying the bill."
Abdul-Jabbar also believes players remaining silent on the issue are complicit in the problems experienced among Blacks.
Abdul-Jabbar wonders why players are choosing to let Kyrie Irving slide
Kareem Abdul-Jabbar understands why fellow NBA players aren't calling out Kyrie Irving over his vaccination stance. But he doesn't like it.
"They just want the controversy to end," Abdul-Jabbar wrote.
But he questions whether players choosing to remain neutral inadvertently signifies they support Irving's position:
"This tepid kid-glove handling from players who have all gotten the vaccine appears more an attempt to preserve a congenial working relationship than true support for making asinine choices. They're like the Real Housewives pretending they've got Erika Jayne's back in her legal woes because they still have to go to dinner parties with her. Though they don't mean to, by not strongly condemning Irving, they are signaling passive support, which is as damaging as joining him on the bench as a vaccine-denier."

Kareem Abdul-Jabbar
Particularly galling to Abdul-Jabbar is the way Irving is getting support from the very people he claims to oppose on issues such as systemic racism and political violence.
"A source close to Irving explained, 'Kyrie wants to be a voice for the voiceless,'" Abdul-Jabbar wrote. "The 'voiceless' include former President Trump and Sen. Ted Cruz, both of whom have publicly supported Irving. It also includes the governors of Texas, Florida, and several other states fighting against mandates. Who are these voiceless again? Maybe the 723,754 dead who can no longer speak."
Those are strong words from the Sky Hook King.
Kareem Abdul-Jabbar won't back down against Irving
In his column, Kareem Abdul-Jabbar took issue with the notion of Kyrie Irving playing the role of victim.
"Let's not pretend Irving is just an innocent martyr asserting his rights," Kareem wrote. "Yes, he is making a stand and is willing to spend millions to do so. That kind of commitment may seem admirable until you realize how many people he influences (with 15.4 million Instagram followers) to do themselves and others harm by not getting vaccinated. The fact that he refuses is the only encouragement the uniformed need."
While claiming he also wants to stop talking about COVID-19 and vaccination mandates, Abdul-Jabbar said more pressing issues warrant consideration.
"I'd like to drop the whole discussion, too," he wrote. "But tomorrow, 2,000 more people will die from COVID-19, 97% of them unvaccinated. With 66 million eligible Americans still not vaccinated, the death toll will just continue to rise and rise. I can't just sit on the bench and watch it happen."
It's a position Kyrie Irving appears, if not comfortable, then undoubtedly willing to take. As Kareem Abdul-Jabbar continues to point out, respecting individual decision-making sounds patriotic. But not at the expense of public welfare.
Like Sportscasting on Facebook. Follow us on Twitter @sportscasting19.
RELATED: LeBron James' Controversial Comments Get Passionately Slammed by an Iconic NBA Legend: 'LeBron Is Just Plain Wrong'