Kareem Abdul-Jabbar Thinks Athletes Avoided Standing up for Colin Kaepernick out of Fear
Professional athletes have always been high-profile people in America. Throughout the decades, many athletes have used their fame to speak out on topics about which they were passionate, even crossing over into activism at times. Former NBA great Kareem Abdul-Jabbar is one such athlete who has a history of taking advantage of his platform to do good.
Now, long after his playing days have ended, Abdul-Jabbar still gets his opinions out to the public. Among the thoughts he has shared are those regarding Colin Kaepernick and the aftermath of the former NFL player famously kneeling during the national anthem. Abdul-Jabbar has even gone so far as to state that he believes other athletes haven't stood up to defend Kaepernick because of fear that they can face the same backlash he did if they speak out.
Colin Kaepernick started kneeling during the national anthem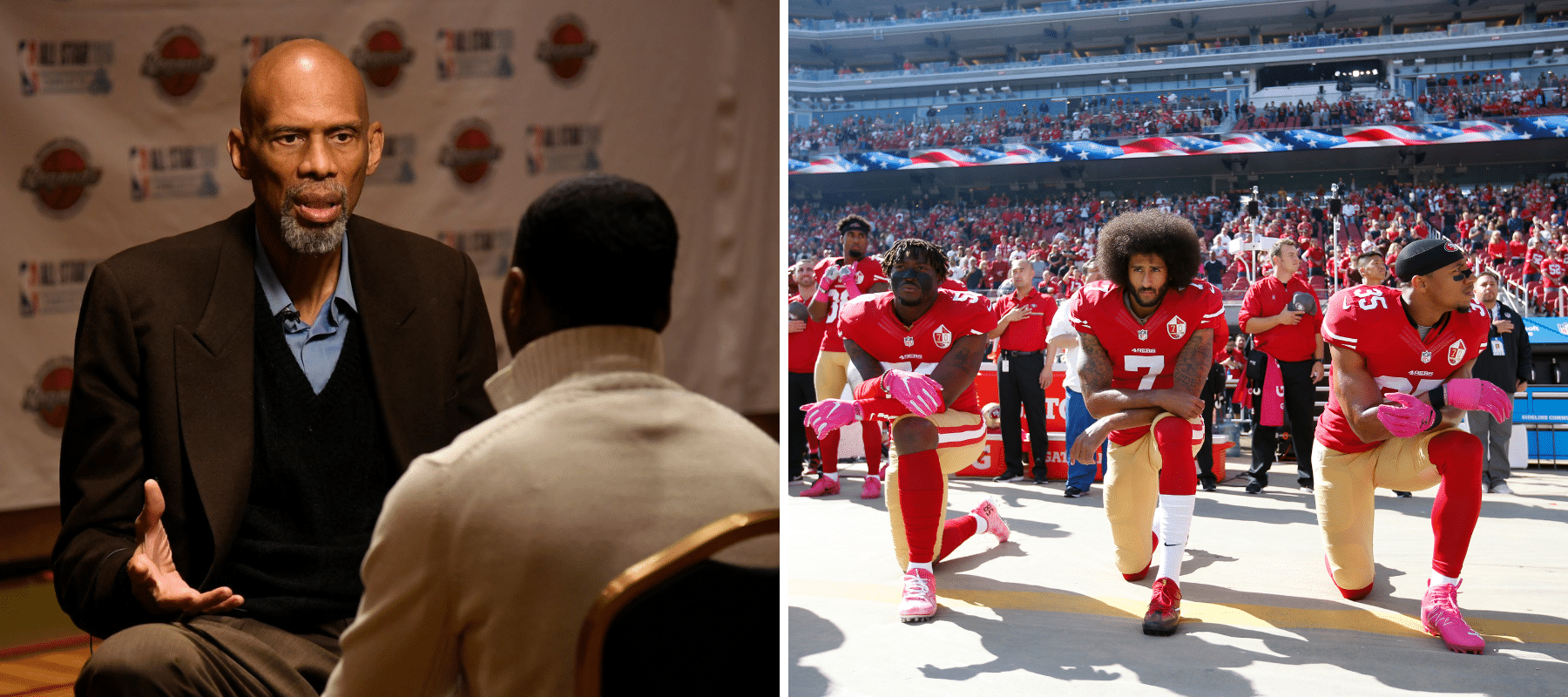 Britannica recaps the controversy over Colin Kaepernick's kneeling. It began during the 2016 NFL preseason when Kaepernick started to sit during the playing of the anthem, and he eventually switched to kneeling. At the time, the quarterback explained his reasons for making that decision. "I am not going to stand up to show pride in a flag for a country that oppresses Black people and people of color. To me, this is bigger than football."
As the season went on, other NFL players — and some in other sports — joined Kaepernick in kneeling during the anthem, which became a topic of discussion during that year's presidential election. Kaepernick went on to lead the 49ers to a 1-10 record in his 11 starts that season and has not played another game in the league since then. Even though he doesn't have the large platform he used to, Kaepernick continues his activism today while still trying to return to the NFL.
Kareem Abdul-Jabbar discusses athletes' lack of support for Kaepernick
In an interview with NPR, Kareem Abdul-Jabbar discussed Colin Kaepernick, and the topic of other athletes not supporting Kaepernick was broached. The Hall of Famer believes other people had similar views as Kaepernick but "didn't want to deal with the consequences with other people that they knew" so they stayed silent about it. Abdul-Jabbar believes they thought "he's probably – he might be right, but I don't want to have anything to say about it."
He went on to say that, while some guys eventually got behind Kaepernick, "sometimes it's hard for guys to have the courage to make a statement." It is especially difficult when it's a polarizing issue like race, and players' merch sales could potentially be affected if they alienate a portion of their fan base. That potential lost revenue leads to players not being as outspoken as athletes in the past may have been, which hurts the progress that could be made on the issue if more athletes publicly joined with Kaepernick.
Abdul-Jabbar's own history of activism
Kareem Abdul-Jabbar is qualified to speak on the topic of activism because he has a history of using his popularity to talk about issues that are important to him. The Washington Post reminds us that Abdul-Jabbar's activism included promoting cultural heritage when he was a high school basketball star in Harlem, as well as refusing to participate in the 1968 Summer Olympics because he didn't "feel very patriotic" following the assassination of Martin Luther King Jr.
Abdul-Jabbar's legacy as an activist was forever cemented in 2021 when the NBA introduced the Kareem Abdul-Jabbar Social Justice Champion award. He says his criteria for choosing finalists for the honor include "someone who has seen issues, problems … within his community and has done something about it using his platform as a professional athlete."
RELATED: Colin Kaepernick Sets Social Media Ablaze After Comparing NFL Training Camps to Purchasing Slaves in New Netflix Special: 'What's Being Established Is a Power Dynamic'