Kareem Hunt's Father Joins Baker Mayfield Roast Session After the Browns' Painful Loss: 'He's Scared to Throw the Ball'
The Cleveland Browns are falling apart before our very eyes, and Baker Mayfield is the center of attention. After a devastating loss to the Baltimore Ravens on Sunday Night Football, the Browns dropped to 6-6. As frustration grows, so does the criticism of Mayfield. Running back Kareem Hunt's father is the latest to roast the Browns signal-caller on social media.
Kareem Hunt Sr. blasted Baker Mayfield after loss to the Ravens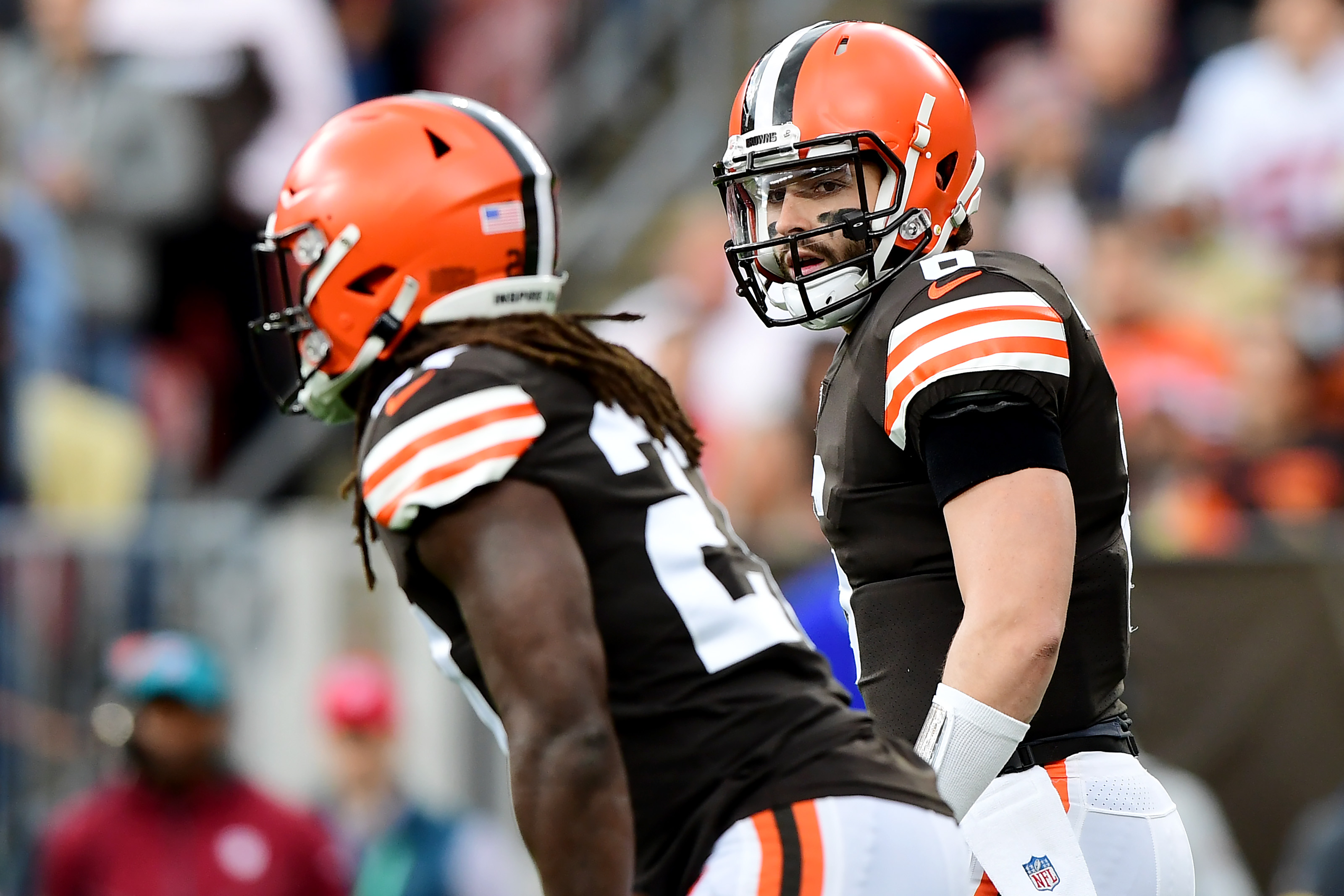 Baker Mayfield has played worse games than he did against Baltimore, but he didn't do enough to get the job done. Kareem Hunt played just 38% of Cleveland's offensive snaps, but his father was active on social media with his thoughts about the game.
Kareem Hunt Sr. took to Facebook during the game to slam Mayfield and the Browns' offense, per Pro Football Talk.
"I'm stating facts on football and what we see," said Hunt. "He's limping, he's scared to throw the ball, and they know he's hurt."
Hunt doesn't care if people disagree with his sentiments, either.
"If people don't like what I'm saying, unfriend me," he added. "I'm not jeopardizing nothing. I got a right to speak. I ain't posting no videos. Have a good day. Go Browns, hopefully."
Hunt is following in the footsteps of Odell Beckham Sr., who controversially posted a video criticizing Mayfield's on-field relationship with Odell Beckham Jr.
Between Hunt, Beckham, and Emily Mayfield, social media is causing unnecessary distractions for a team fighting for a playoff spot.
The Browns QB can't catch a break
The 2021 NFL season has been a roller coaster of emotions for Baker Mayfield and the Cleveland Browns.
A preseason favorite to come out of the AFC has become a colossal disappointment trying to sneak into the postseason. Several factors have contributed to the Browns' struggles.
The Mayfield-OBJ saga came to a head, as the on-field chemistry was irreparable. Cleveland released Odell Beckham Jr., but it looks more like he was just a scapegoat for early struggles as the weeks go by.
With Beckham gone, the attention has turned to the fourth-year quarterback. Mayfield recently called out Browns fans for booing during the game against the Detroit Lions.
The former Oklahoma standout has struggled with injuries throughout, and he just can't seem to get healthy. Watching Mayfield against the Ravens on Sunday Night Football, it was easy to see that he wasn't himself. You have to give Mayfield some credit, though. He clearly has heart and wants to put it all on the line.
However, a hobbled Baker Mayfield is a recipe for disaster in Cleveland.
Cleveland needs to consider benching the injured Mayfield
Bumps and bruises are one set of problems. However, Baker Mayfield's ailments appear much more severe.
Mayfield has been dealing with a torn labrum for most of the 2021 season. He's also suffered injuries to his knee, foot, and groin. The effects of those injuries were on full display against Baltimore.
The 26-year-old quarterback completed 18 of 37 pass attempts for 247 yards and one touchdown. He didn't throw any interceptions, but he did lose a costly fumble.
The loss wasn't all Mayfield's fault, but he certainly didn't help their cause not being at full strength.
At some point, head coach Kevin Stefanski will need to consider if a hobbled Baker Mayfield is a better option than a healthy Case Keenum.
Keenum, although a career journeyman, filled in admirably in his lone start against the Denver Broncos.
According to NFL.com, Stefanski has no plans of benching Mayfield.
However, if the offense doesn't get going soon, the Browns will be undoubtedly be watching the postseason from their couches.
All stats courtesy of Pro Football Reference