Kareem Hunt's Lofty Goal Could Turn Into the AFC's Worst Nightmare
The statement that was typically said in a joking manner for the past two decades is now 100% true: The Cleveland Browns are dangerous. Behind the play of Baker Mayfield and their two running backs, Kareem Hunt and Nick Chubb, Cleveland could potentially have the most balanced offense in football in 2021, which could make for a great season and a deep playoff run.
As the 2021 season nears, though, Hunt recently discussed a pretty lofty goal the Browns have for the upcoming campaign. If accomplished, it could ultimately help Cleveland turn into the AFC's worst nightmare.
Kareem Hunt and Nick Chubb helped lead the Browns to the playoffs in 2020
It had been 18 years since the Browns had made the playoffs and 26 since they had actually won a playoff game.
That changed in 2020.
While Baker Mayfield cut down on his turnovers, the Browns' running game carried them into the postseason. Chubb ran for 1,067 yards and 12 touchdowns in only 12 games. Hunt, on the other hand, recorded 1,145 yards from scrimmage and 11 rushing/receiving touchdowns.
Overall, Hunt and Chubb accounted for about 40% of the Browns' total yards gained in 2020. Their production played a significant role in Cleveland finishing 11-5 and reaching the playoffs.
Kareem Hunt and the Browns have a lofty goal for the 2021 season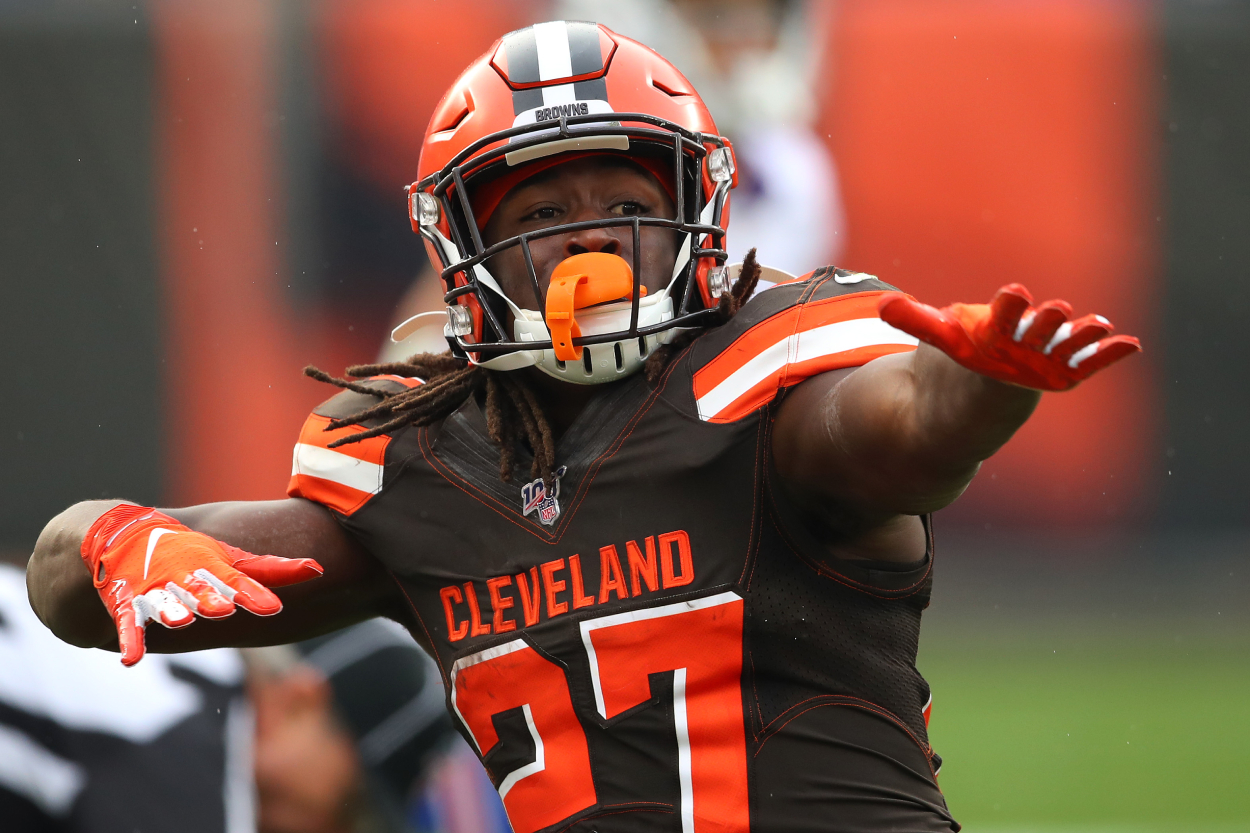 Kareem Hunt and Nick Chubb failed to accomplish one thing for the Browns last season. While they both recorded 1,000-plus yards from scrimmage, only Chubb gained over 1,000 rushing yards. Hunt had 841 yards on the ground.
Seeing both of them reach 1,000 yards rushing in 2021, though, could be a major possibility, especially with there being an extra game on the schedule this season.
Hunt thinks it can happen, too.
"I believed it was possible last year, too, but some things happened," Hunt recently said to Cleveland.com at his youth football camp, per ProFootballTalk. "We'll learn from it and get better and hopefully continue to put in good work this year."
This, of course, won't get in the way of accomplishing the bigger goals the offense has for itself as a whole.
"Whatever [head coach Kevin] Stefanski calls, either Nick or I are going to make it work," Hunt said, per ProFootballTalk. "So if that's both of us on the field at the same time, that's both of us on the field at the same time. We're going to find a way to make it work and get the job done. That's just how we've got to look at it. It doesn't matter if we're on the field or not together, we're going to find a way to get the job done."
The Browns' offense could become the AFC's worst nightmare
The goal for both Hunt and Chubb to both reach 1,000 yards rushing could turn into the AFC's worst nightmare. 
Their success on the ground opened up the passing game for Mayfield and company last season and helped lead the offense to its 25.5 points per game scoring rate. If Hunt and Chubb are both running the ball even more effectively in 2021, the Browns won't just score more points, but Mayfield will have more opportunities for success through the air, which will, in turn, help the offense as a whole.
Cleveland's offense proved it was a force to be reckoned with last season. After dominating the Pittsburgh Steelers in the wild-card round of the playoffs by nearly dropping 50 points in a 48-37 win, the Browns went toe-to-toe with the Kansas City Chiefs in the divisional round. Luckily for them, they will pretty much return all of those pieces from that 2020 offense this upcoming season.
Mayfield, Chubb, Hunt, Jarvis Landry, and Austin Hooper will all be back, in addition to their entire offensive line returning, including Pro Bowl left guard Joel Bitonio and All-Pro right tackle Jack Conklin. However, the Browns will also get Odell Beckham Jr. back from injury. He could ultimately be a direct beneficiary of Chubb and Hunt's success on the ground, and they could also benefit from his success in the passing game.
If all stay healthy, Cleveland's offense could be near unstoppable in 2021.
The Browns showed how dangerous they can become last season. Another year of experience in second-year head coach Kevin Stefanski's system, and the return of Beckham, could make the Browns the AFC's worst nightmare in 2021. 
That offensive success, though, begins and ends with the running game.
Stats courtesy of Pro Football Reference