Kareem Hunt Reveals One Major Flaw of Browns Coach Freddie Kitchens
At the beginning of the 2019 season, the Cleveland Browns were generating a lot of excitement. They had a new coach in Freddie Kitchens. Baker Mayfield was their talented young quarterback, and they had Pro Bowl wide receivers in Odell Beckham Jr. and Jarvis Landry. They had talented running backs in Kareem Hunt and Nick Chubb.

It looked like a promising year for the Cleveland Browns. There was hope. Yet, with their loss in Week 16 to the Baltimore Ravens, the Browns fell out of the playoff chase. What's left is a season that's gone off the rails. What happened? Kareem Hunt says he knows.

Kareem Hunt says Browns 'Waited for them to punch us'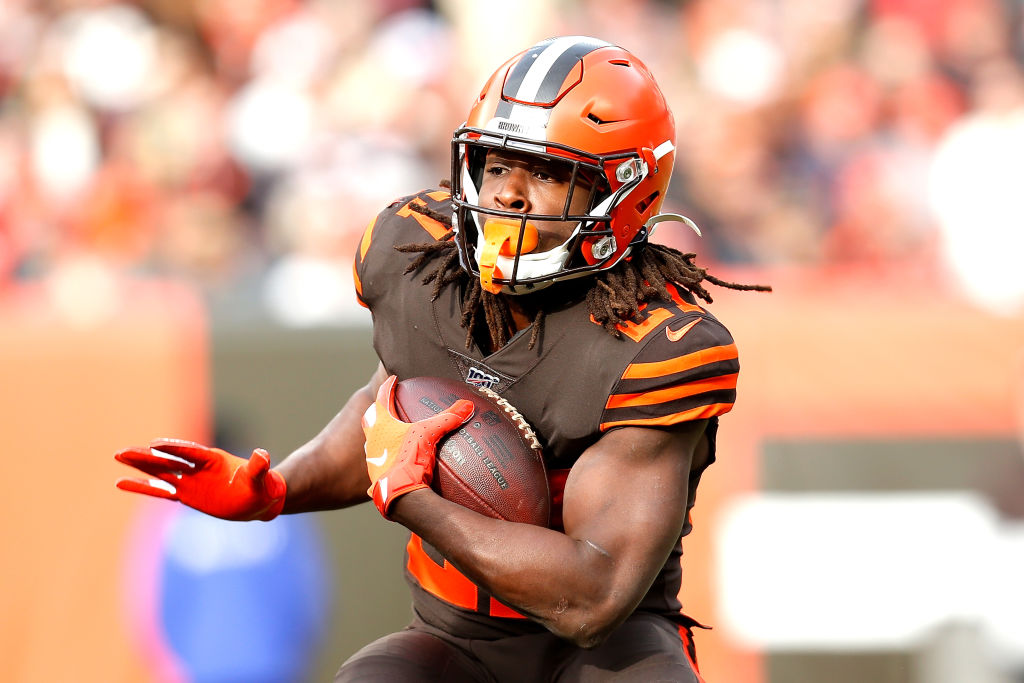 After a Week 15 loss to the Arizona Cardinals, Hunt spoke out about the state of the team as he saw it.

Speaking with WKYC after the game, Hunt said the issue was clear as day:

"We pretty much waited for them to punch us," Hunt said. "At halftime, we came out fighting and stuff like that, but you can't wait that long. … We can't come out flat, and then, something makes us mad and everybody wants to start playing hard. We can't wait for somebody to hit us to start playing hard."

The Browns can come out swinging after halftime and made a game of it, he said, but the team couldn't afford to wait that long. Hunt believes the fight should start on the opening kickoff. That the team was starting slow and flat each game, waiting until something angered them to get motivated, is what Hunt believes plagued what could have been an impressive season.

The Browns' strategy might have sabotaged their season
The Browns were in the running for a playoff spot all the way to Week 16, which, for a franchise as woebegone as Cleveland's, is progress. But nine losses overshadow one of the good things the team accomplished — seeing Nick Chubb lead the NFL in rushing yards.

The season ended in chaos for the Browns. Baker Mayfield flourished under former quarterback coach Ken Zampese but seemed to lose that progress as the season went on. The entire offense was a catastrophe, and the defense struggled too. The lack of discipline on the team would seem to back up Kareem Hunt's assessment.

In mid-November, defensive end Myles Garrett hit Mason Rudolph with his helmet after a scuffle. Other players like Landry and Odell Beckham have allegedly told players on other teams things like, "come get" them. There are rumors that OBJ is unhappy in Cleveland.

Even for the Browns, the situation is bad.
Is Freddie Kitchens a one-and-done coach?
For a squad that seemed locked and loaded for a big season, the 6-9 record heading into the season finale is hard to justify. If Kitchens and his staff can't manage the talented team and guide them to a playoff spot, perhaps new leadership is needed. If what Kareem Hunt says is true, Kitchens has little control of his team on and off the field.

While shedding a coach after just one season might make the search for a replacement tricky, hiring someone with more experience may be the best move the Browns can make. Someone who can handle the various personalities and challenges to keep the team on track for the season could make the 2020 season the one fans were hoping for in 2019.
As Hunt pointed out, an NFL team with big aspirations can't sleepwalk through 30 minutes of each game. In such a scenario, the coaching staff must accept accountability. A successful team needs a structured setting and discipline.
Safety Damarious Randall refused to give Kitchens a vote of confidence. It likely had a lot to do with the fact that Kitchens benched him in early December for an unspecified violation. However, he's played since then and claims everything is worked out now.

While the 2015 first-round pick hasn't exactly lived up to the hype surrounding him, he's still a reliable starter for the Browns. Whether or not he stays in Cleveland depends on money and Kitchens' future with the team.
What can the Browns do to get back on track?
What could the team do between now and the 2020 season to better their chances of a winning season?
The offensive line could use some help, and the Browns have a first-round pick that will probably be in the teens. They also have an additional third-round pick from the Texans to cash in. Could they possibly grab Alabama's offensive tackle Jedrick Wills Jr. or Alex Leatherwood? USC's Austin Jackson, Iowa's Tristan Wirfs, and several other blockers are also going to be available.

The Browns might also consider strengthening their secondary, particular with Randall's future being questionable. Another wide receiver to give more depth in that area might also be something the team should consider.
Maybe general manager John Dorsey should consider a coaching change instead of changing out players in vital positions. With the right coach, one who can repurpose a struggling team into a winning team and use his players to their best potential, the Cleveland Browns could find themselves in the playoffs next year having their best season in years.